Rose McGowan Was Suspended on Twitter for Posting "a Private Phone Number"
The actress's account was reinstated midday Thursday.
---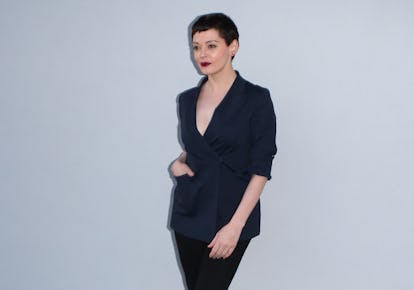 Paul Archuleta/Getty Images
On Wednesday night, Rose McGowan was suspended from Twitter. The actress, who became one of the most outspoken critics of Hollywood misogyny and complicity in the wake of the accusations against Harvey Weinstein, posted a screenshot of the message she received from Twitter to her Instagram: "We have determined that this account violated Twitter rules," it read. "You can start your countdown and continue to Twitter once you: Delete Tweets that violate our rules."
"TWITTER HAS SUSPENDED ME. THERE ARE POWERFUL FORCES AT WORK. BE MY VOICE. #ROSEARMY #whywomendontreport," McGowan captioned the image. Her purportedly offending tweets were still visible on her page, but she was prevented from posting further, liking other tweets, or retweeting. (She can, however, send direct messages.)
By mid morning Thursday, the account @twittersafety posted that McGowan had been reinstated after "one of her Tweets, which included a private number"—thus violating the terms of service, apparently—had been deleted.
"We will be clearer about these policies and decisions in the future," it wrote in a subsequent tweet. "Twitter is proud to empower and support the voices on our platform, especially those that speak truth to power. We stand with the brave women and men who use Twitter to share their stories, and will work hard every day to improve our processes to protect those voices."
McGowan has filled her Twitter feed amplifying the message that has swept across social media in the wake of the reports by the New York Times and the New Yorker on the allegations levied at Weinstein. In addition to her own accounts—including one post alleging Ben Affleck, who recently posted a statement that he was "saddened and angry," knew about Weinstein's misconduct—she also retweeted from the likes of Asia Argento, who was one of the subjects of the New Yorker expose, and Anthony Bourdain, Argento's boyfriend, as well as from outlets who reported on the story.
But it's perhaps unsurprising that McGowan was suspended, as Twitter has historically had some trouble identifying where its trolls really are. When Leslie Jones was targeted by a contingent of racist users, it took two days for Twitter to ban white nationalist figurehead Milo Yiannopoulos—at which point Jones had already stated she was leaving the platform. (She returned several days later, because "who else is gonna live tweet Game of Thrones!!") Plus, there's the small matter that Donald Trump, the President of the United States, who regularly baits North Korea, undermines the credibility of journalists (sometimes calling them out by name), and tweets patent falsehoods from his account, will likely never be suspended. If only they had posted private numbers.
Margot Robbie is here to show you what vegemite really sounds like: