Italian Tabloids' Treatment of Asia Argento Only Reinforces the Misogyny That Harvey Weinstein Thrived In
Tabloids in the actress's home country are trying to discredit her following accusations against Harvey Weinstein.
---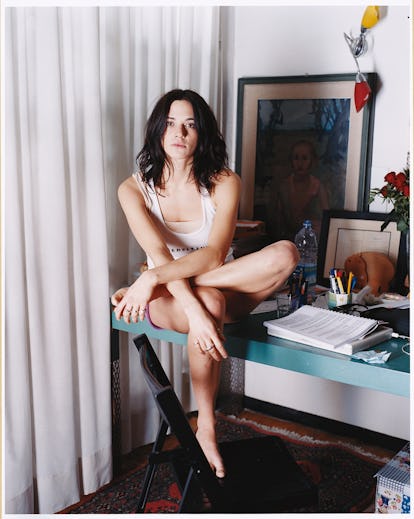 Emma Hardy
"In the movie I wrote," Asia Argento told reporter Ronan Farrow in the recent New Yorker exposé that revealed decades of sexual assault allegations against film mogul Harvey Weinstein, "I ran away."
According to the story, Argento said Weinstein assaulted her at the Hôtel du Cap-Eden Roc in 1997, shortly before the release of her Miramax-distributed film B. Monkey. He forced oral sex on her and continued to pursue her for months after the incident; she acquiesced to his advances out of fear he would damage her career if she did not. In 2000, Scarlet Diva, the film she wrote, directed, and starred in, was released. It features a Weinstein-esque character who attempts to assault Argento's character—but in the film, unlike in real life, she manages to get away. It's one of the most gutting moments in a harrowing piece of reporting.
In the intervening 20 years between Argento's own assault and the recent series of stories in the New Yorker and New York Times, countless other women experienced Weinstein's unwelcome and abusive advances, and with her story on the record at last, Argento has become something of a figurehead for the resistance movement sweeping across not only Hollywood, but other industries that tend to be dominated by a few powerful men—that is, most of them. This week alone, allegations of sexual misconduct have been levied at, for example, the magician David Blaine and the editorial director of Vox Media, while the viral hashtag #metoo has prompted women to share their stories of sexual harassment across the internet. Argento posted her own #metoo, accompanied by the Italian and French versions of the hashtag, #balancetonporc and #quellavoltache.
And while an overwhelming tide of support has greeted Argento in many corners—Hollywood peers like Jessica Chastain and Rose McGowan, as well as her boyfriend Anthony Bourdain, have been particularly outspoken—there is a notable exception: The tabloids in her home country, Italy, have been unrestrained in their criticism, and, to be frank, their slut-shaming, of Argento.
As Italian journalist Claudia Torrisi wrote in a recent op-ed, "The Italian media has devoted significant space to the scandal—but they have failed, once again, to focus on the alleged perpetrator, and the systems of power and abuse that run through Hollywood and work environments everywhere." Many outlets have questioned why she waited two decades to come forward (ignoring, of course, not only the power Weinstein wielded over her career, but also the deep feelings of responsibility and shame internalized by many victims of sexual assault); the art critic and commentator Vittorio Sgarbi told the Italian arm of the Huffington Post that Argento's ex-husband, the musician Morgan, believes Argento "suffered no trauma," while conservative commentator Renato Farina compared her relationship with Weinstein, in the right-wing tabloid Libero, to a form of prostitution (and even goes so far as to paraphrase Argento's own father to prove his point). It's become so deafening, Argento has decided to relocate from Italy to Berlin to avoid such tabloid scrutiny.
"We live in a country based on a deeply patriarchal system where the social and economic power is completely on the male side," writer Giulia Blasi told Torrisi. "We treat harassed and raped women as [if] they were guilty; we put them on a 'public trial.'"
"Until 1996 rape was considered a crime against morals, not against a person," Argento told Variety, describing the behavior of the tabloids as reflective of "the Italian mentality" that persists two decades on. "In Italy last night, I was so disturbed to hear how people were blaming the victims. @AsiaArgento was one of the first to speak out. #hero," Jessica Chastain tweeted in response to Torrisi's op-ed, which Argento posted on her Twitter feed. "After she spoke up dozens of women have come forward. She should be acknowledged for starting this conversation & removing Harvey from power."
Such skewed tabloid coverage is, of course, unsurprising in Italy, but not only there; it reflects the same victim-shaming tendencies that colored the perception of model Ambra Battilana Gutierrez's claims after she came forward with her own allegations against Weinstein in 2015. At the time, tabloids like the New York Post's Page Six column, which has not held back in its condemnation of Weinstein in recent days (despite publishing a not-entirely-unflattering interview with him the day after the New York Times story went to print), and the Daily Mail speculated Gutierrez made up her story in order to land a part in a Weinstein-produced film. In fact, the continued incredulity directed at women who, like Argento, have been sexually harassed or assaulted in the workplace only underline the systems that allowed Weinstein to go unpunished for three decades. The culture of complicity, like that among those who worked in Weinstein's orbit—who turned a blind eye to the whispered, or not-whispered, allegations, or who even participated—persists, for all this appears to be a watershed moment for women speaking out against their abusers.
Related: How Tabloids Dragged Ambra Gutierrez Through the Mud After She Accused Harvey Weinstein of Groping Her
"Women's rights are human rights":