Paz de la Huerta's Allegations Against Harvey Weinstein May Finally Provide Enough Evidence to Convict Him
Paz de la Huerta alleges that Harvey Weinstein raped her twice, and has provided evidence to the New York Police Department.
---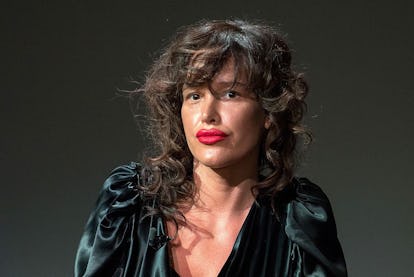 Mike Pont/Getty Images
Actress Paz de la Huerta alleges that Harvey Weinstein raped her, twice within the same year, according to a new Vanity Fair report. In November 2010, after running into Weinstein at a New York city hotel, he offered a 26-year-old de la Huerta a ride home, ultimately forcing himself into her apartment and sexually assaulting her. She describes another incident from December 2010 when he appeared in her apartment lobby, and once again forced himself inside of her home and raped her, then offered her a role in an upcoming play. De la Huerta, who first met Weinstein on set of The Cider House Rules when she was 14, told Vanity Fair that her "self-destructive" behavior in the years following her encounters with Weinstein are a result of the trauma she experienced from being raped, leaving her "scarred for many years."
Nicholas DiGaudio, a New York Police Department detective leading the investigation of the allegations against Weinstein (there have been at least 60 reports so far), has interviewed de la Huerta about the incidents. Both incidents occurred within the statute of limitations for rape in the first degree according to New York law, and DiGaudio believes that there is enough evidence finally to pursue a case against Weinstein. According to the Vanity Fair report, the N.Y.P.D. are not the only department looking into the case—Los Angeles and London police officers are contributing to the investigation as well.
In addition to her story, de la Huerta provided evidence to the New York District Attorney's office in the form of a letter from her therapist, SueAnne Piliero, whom she told about the incidents at the time. She has also provided a 2014 recording with a journalist, wherein de la Huerta describes the assaults in detail but eventually requested the interview be scrapped so as to not negatively impact her career.
In contrast to the NYPD's prior stance that the cases of other women, including recordings from Ambra Battilana Gutierrez, an Italian model who was groped by Weinstein, "insufficient evidence," the New York D.A.'s office now believes that de la Huerta's evidence in the form of a letter and a recording alleging a forceful rape that occurred after June 2006 makes prosecutors more willing to take her case. De la Huerta's recording and letter may have provided enough evidence for prosecutors to pursue her case, and if more women come forth with evidence from within New York's statute of limitations, there may be enough of a case to convict Weinstein on at least one account.
Related: Lana Del Rey Confirm "Cola" Was Partially Inspired By Harvey Weinstein
See W's most popular videos: