Lana Del Rey Confirms "Cola" Was Partially Inspired By Harvey Weinstein
And says she will no longer play it.
---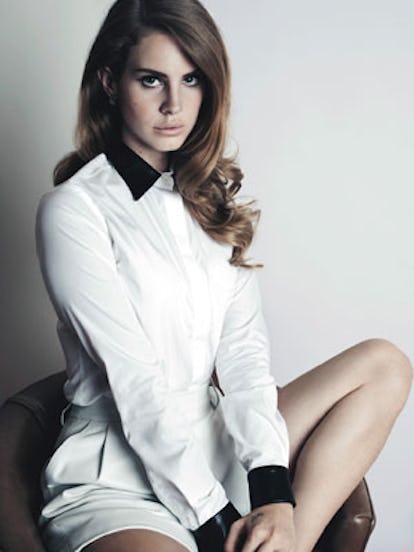 As the flood gates open wider post-Ashley Judd's sexual harassment accusations against Harvey Weinstein, dozens of other celebrities have come forward with their own stories about the infamous film executive. One of the latest to do so, Lana Del Rey, however, is elaborating on statements she made five years ago in her controversial song "Cola" — the one where she likens the taste of her nether regions to the fizzy drink. Weinstein or a figure like him is present throughout most of the song in lines like "I got sweet taste for men who're older/ It's always been so it's no surprise/ Harvey's in the sky with diamonds/ And it's making me crazy/ All he wants to do is party with his pretty baby" and "I know your wife and she wouldn't mind," perhaps referencing Marchesa designer Georgina Chapman, who has left her husband in the wake of the many sexual abuse allegations against him. While Page Six was one of the first to guess that the song was about Weinstein, some confusion remained over its subject matter. TMZ maintained the "Harvey" lyrics was actually "Ah, he's," and the song wasn't about the accused film exec. Well, del Rey is finally confirming that she was, at least in part, inspired by Weinstein.
"When I wrote that song, I suppose I had a Harvey Weinstein/Harry Winston-type of character in mind," she told MTV. "I envisioned, like, a benevolent, diamond-bestowing-upon-starlets visual, like a Citizen Kane or something. I'm not really sure. I thought it was funny at the time, and I obviously find it really sad now. I support the women who have come forward. I think they're really brave for doing that."
Some of those women, aside from Ashley Judd, include Angelina Jolie, Gwyneth Paltrow, Kate Beckinsale, Lena Headey, and Asia Argento, who has compiled a list of Weinstein's sexual abuse allegations from 82 women and counting. Of course, Weinstein isn't the only male in Hollywood to be accused of sexual misconduct — ever since the accusations against him began rolling in, director James Toback has been accused of sexual harassment by dozens of women. Plus, Kevin Spacy was recently accused of making unwanted sexual advances by actor Anthony Rapp when Rapp was just 14, leading to the cancellation of Spacey's Netflix series House of Cards.
Given this, Lana Del Rey has announced that she will no longer perform "Cola" live. When asked if she will retire the song, she said, "Definitely. That would be the only right thing to do." Watch her speak about "Cola," Weinstein, and retiring the song below at the 12:16 mark.
Back in 2012, Del Rey was spotted leaving a lunch with Weinstein during Paris Fashion Week, though the pair were not alone. At the time, there was some spurious rumors that Weinstein wanted her for a film role, but that never came to pass. In 2014 she did contribute two song sto the soundtrack of Tim Burton's Weinstein Company-distributed film Big Eyes. Though, she wrote the tunes after Burton screened the film her.
Related: Lana Del Rey Casually Confirms She Indeed Hexed Donald Trump
See What's Trending in W Video: