Lindsay Lohan Has a Point: Why Didn't More People Care When Her Ex-Fiancé Was Abusing Her?
The actress's latest deleted Instagram sheds some light on her comments about Harvey Weinstein.
---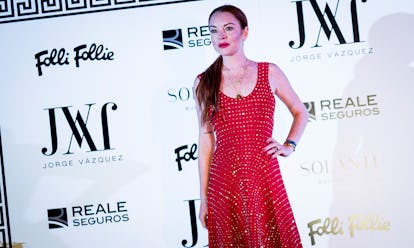 Samuel de Roman/Getty Images
On Wednesday night, Lindsay Lohan posted a photo of herself from her glory days—circa the Parent Trap—on Instagram, with a focus square around her mouth and a caption that currently reads, "Whatever anyone says, I am FOR #womenempowerment #strongwoman #BESTRONG #karma will always takes its toll."
It's an ordinary enough statement for any celebrity in the continuous deluge of stories of sexual assault in the wake of the allegations against Harvey Weinstein, and especially so for yet another celebrity who's had to clarify the original opinions they offered on the scandal. Last week, Lohan posted a bizarre series of Instagram stories defending Weinstein, saying he'd never harmed her and she felt "very bad" for him, before clarifying her sentiments with a statement that she was "saddened" by the allegations, and that she advocated for women to report their experiences "to the relevant authorities," rather than letting them be "played out in the media."
Even before her semi-apology, Rose McGowan, one of Weinstein's most outspoken critics, urged her followers to "go easy" on the actress," because "being a child actor turned sex symbol twists the brain in ways you can't comprehend."
But Lohan herself offered another reason for her unexpected response in the original caption of her Instagram on Wednesday night, which she's since edited down considerably from the version above (a screen grab of the original below). The original reads: "Whatever anyone says, I am FOR #womenempowerment as if most women in America cared how I was abused by my exfiancé… when not one person stood up for me while he was abusing me… you could only imagine what it feels like to come out as a #strongwoman."
Lohan is of course referring to Egor Tarabasov, her then 22-year-old ex-fiancé who was documented abusing her last year in two videos, one of which appeared to show an altercation that led neighbors to call the police after Lohan said that Tarabasov strangled and "almost killed" her. (No charges were pressed.) Shortly after, Lohan then did exactly what she urged Weinstein's alleged victims not to do earlier this week: She went to the press. "I wanted to do this interview because it's time to tell the truth," Lohan told the Mail on Sunday last August. "There have been so many lies printed about me recently. I've kept quiet for so long but now I'm scared of what Egor might do to me and to himself."
Lohan also expressed frustration about the very thing many of Weinstein's accusers have pointed to: that hard evidence is often needed for women to be believed, even though abusers rarely operate in public—and that even when it does exist, it's often still not enough to be believed. "It's not the first time. That's the problem. But this time, someone saw," Lohan said of the physical abuse that was captured on video. "I realize now you can't stay in a relationship just for love. No woman can be hit and stay with that person if that person isn't prepared to say sorry."
So why didn't more people care last year about her fiancé's abusive behavior when Lohan spoke about it repeatedly, and even had documented proof? Many seemed to write it off as another example of Lohan's well-documented downward spiral, which included fights played out in public, like when she posted a video of her fiancé captioned that "he cheated on me with hooker," and pregnancy rumors that she claimed her father, Michael Lohan, was spreading. Lohan and Tarabasov were, after all, eight years apart, making it much easier to write off the latter as a harmless boy toy and accuse Lohan, whose posts were often eccentric and full of typos, of drunken theatrics or untruthful calls for attention.
Sure, Lohan is unpredictable. She has a very complicated political history, which includes defending Donald Trump, and since splitting from Tarabasov, she's taken up speaking in an utterly strange accent, studying the Quran, apparently converting to Islam, and consistently posting strange and often spiritual Instagrams. None of those eccentricities, however, should have undermined the seriousness of Lohan's public struggle with abuse, or led them to be written off as her latest antics. Ironically enough, Lohan is now one of those guilty of addressing abuse improperly. All things considered, though, she's simply doing it the way society taught her to.
Once Upon a Time, Lindsay Lohan Had Your Ultimate Early '00s Wardrobe
Lindsay Lohan during Mean Girls World Premiere at Cinerama Dome in Hollywood, California, United States.

Getty
indsay Lohan arrives for the premiere of Herbie: Fully Loaded at the El Capitan Theatre on June 19, 2005 in Hollywood, California.

Getty
Lindsay Lohan departing the Metropolitan Museum of Art Costume Institute Benefit Gala "AngloMania: Tradition and Transgression in British Fashion" at the Metropolitan Museum of Art May 1, 2006 in New York City.

Getty
Lindsay Lohan attends the MTV's Iced Out New Years Eve celebration on December 31, 2004 in New York City.

Getty
Lindsay Lohan attends a party for Calvin Klein.

Getty
Lindsay Lohan at the Tommy Hilfiger Paris Store on Rue Saint Honore in Paris, France.

Getty
Lindsay Lohan attends the Cartier Charity Love Bracelet Party in June 2006.

Getty
Lindsay Lohan during Saved Los Angeles Premiere at The National in Westwood, California.

Getty
Lindsay Lohan attends the 2004 Teen Choice Awards.

Getty
Lindsay Lohan attends the 2004 MTV Movie Awards.

Getty
Lindsay Lohan during Movieline's Hollywood Life 7th Annual Young Hollywood Awards.

Getty
Lindsay Lohan during Mr. And Mrs. Smith Los Angeles Premiere.

Getty
Lindsay Lohan during Cartier Celebrates 25 Years in Beverly Hills in Honor of Project A.L.S. at Cartier Store in Beverly Hills, California.

GEtty
Lindsay Lohan stops by TRL at the MTV Studios on December 6, 2005.

Getty
Lindsay Lohan during 12th Annual Race to Erase MS Themed "Rock & Royalty to Erase MS" – Arrivals at The Westin Century Plaza Hotel & Spa in Los Angeles, California.

Getty
Lindsay Lohan during 12th Annual Premiere Women in Hollywood in Beverly Hills, California.

Getty
Lindsay Lohan visits TRL at MTV Studios in New York City on May 8, 2006.

Getty
Lindsay Lohan during 14th Annual Elton John AIDS Foundation Oscar Party Co-hosted by Audi, Chopard and VH1 – Arrivals at Pacific Design Center in Hollywood, California.

Getty
Lindsay Lohan during 2005 MTV Movie Awards at Shrine Auditorium in Los Angeles, California.

Getty
Related: What MTV Airing Ben Affleck Groping Hilarie Burton in 2003 Says About the Sexual Assault Conversation
"Women's Rights Are Human Rights": 62 Fashion Insiders Speak Out: