Lindsay Lohan, Now a Donald Trump Defender, Has a Very Complicated Political History
Lindsay Lohan once called Sarah Palin a "narrow minded, media obsessed homophobe." Now she calls Donald Trump "good people."
---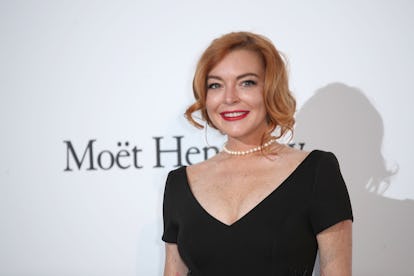 Mike Marsland/WireImage
Lindsay Lohan does not have a simple history on just about any front, and a timeline of her political views are no exception. The actress's electoral outlook has fluctuated just as wildly as her level of fame, and over the weekend she seemed to align herself with the Trump train less than a year after she emerged as a surprising anti-Brexit voice. She sent out several Tweets defending Donald Trump, retweeted a post praising his selection of conservative Justice Neil Gorsuch to serve on the Supreme Court, and even seemed to excitedly dub Russian President and suspected election meddler Vladimir Putin "#theman."
Though, the most talked about Tweet was one in which she called out CNN to stop "bullying" President Trump. This, of course, comes on the heels of the President tweeting a video of himself clotheslining a personification of CNN, and almost certainly stretches the meaning of the word "bullying" to the point that it's meaningless. She also praised Trump, wife Melania, daughter Ivanka and son Donald Jr. as "good people." No word on what she thinks of Barron and Eric.
Lohan's tweets were met with anger from some, support and acceptance from the MAGA crowd, and a "Uhhh… ok, then" by most. Lohan, of course, has made a handful of political comments throughout her time in the public eye, and perhaps it should not be surprising that they haven't been consistent.
Her career peak, of course, came in tandem with George W. Bush's presidency and the Iraq war, two things the actress never commented on directly, but she did once tell Elle magazine that she hoped to partner with then-Senator Hillary Clinton to visit troops in Iraq.
"I've been trying to go to Iraq with Hillary Clinton for so long. Hillary was trying to work it out, but it seemed too dangerous," Lohan told the magazine. (At the time a representative for Clinton did not confirm the story, and instead recommended Lohan should reach out to the USO).
In 2008, Lohan, then in the midst of some of her more notable public troubles, attempted to reach out to the campaign of Barack Obama to offer her help but was politely declined, according to a Chicago Sun-Times column. An anonymous source said Lohan "is not exactly the kind of high-profile star who would be positive for us." A John McCain spokesman picked up on the report, and used it as an excuse to bash Obama, telling ABC News at the time, "So let me get this straight—they turned away Lindsay Lohan, but Barack Obama has friends like unrepentant terrorist Bill Ayers and convicted felon Tony Rezko? Maybe LiLo is just too upstanding for Barack Obama."
Despite this, Lohan remained committed to the Democratic party, and even called out then-Vice Presidential candidate Sarah Palin in a post on her MySpace blog.
"I find it quite interesting that a woman who now is running to be second in command of the United States, only 4 years ago had aspirations to be a television anchor. Which is probably all she is qualified to be… Also interesting that she got her passport in 2006… And that she is not fond of environmental protection considering she's FOR drilling for oil in some of our protected land… Well hey, if she wants to drill for oil, she should DO IT IN HER OWN backyard. This really shows me her complete lack of real preparation to become the second most powerful person in this country," she wrote at the time.
"Is our country so divided that the Republicans' best hope is a narrow minded, media obsessed homophobe?"
After Obama's win, Lohan celebrated by telling Access Hollywood, "It's an amazing feeling. It's our first, you know, colored president." (The NAACP ultimately gave her a pass in this instance, if you're wondering).
Fast forward to 2012, and Lohan remained, at first, squarely in the Obama camp, but caused some curious double takes when she tweeted at Obama to consider cutting taxes, "for those that are listed on Forbes as 'millionaires' if they are not, you must consider that as well."
A few weeks after that Tweet, Lohan then surprisingly came out in favor of Mitt Romney. "I just think employment is really important right now," she said at the time. "So, as of now, Mitt Romney. As of now."
Yet, a couple weeks after that, she was back to tweeting and then deleting pro-Obama messages. No one did manage to track down who exactly Lohan ultimately voted for in 2012, because, well, there's more important things. Though, we do know for certain that Lohan remained a fan of Barack Obama's dog during his second term. She once posted a photoshopped picture of her and Bo Obama together on her personal website.
In 2016, Lohan remained loyal to the woman she once tried to travel to Iraq with all those years ago by endorsing Clinton for President during the Democratic primary. Lohan has since deleted all of her old Instagram pictures, but at the time she posted a picture of a Clinton quote with a caption reading, "Couldn't understand you more."
Of course, Lohan's more notable 2016 political endorsement was her impassioned Twitter rant in favor of keeping the United Kingdom in the European Union.
Yet, here we are, with Lohan now a Trump defender in the style of Kanye West. Of course, if her political history is any indication, she may not hold that view for long. Give it a few more months and she'll probably end up headlining a "Jill Stein 2020" fundraiser.
Related: Lindsay Lohan Is Launching a Lifestyle Website for People Who Want to Live Like Lindsay Lohan
See What's Trending in W Video: