Lindsay Lohan Is Launching a Lifestyle Website for People Who Want to Live Like Lindsay Lohan
From party girl to lifestyle guru.
---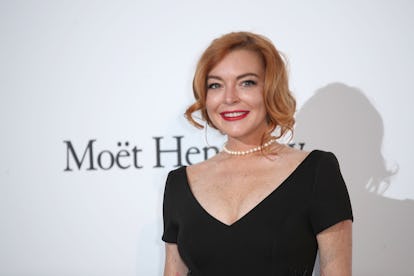 Mike Marsland/WireImage
If teenage you bought army pants and flip-flops because Cady Heron bought army pants and flip-flops, good: Lindsay Lohan is launching a lifestyle brand, so now adult you can finally copy everything adult Lohan does.
On Tuesday, the 30-year-old actress announced the launch of "Preemium," a $2.99-a-month lifestyle website dedicated to all things Lindsay Lohan, People reports. On Twitter, Lohan teased fans to "Come see what I'm really up to" alongside a headshot and link to Preemium's sign-up page.
So what sorts of things can you expect from a $2.99/month lifestyle site created by one of Hollywood's most notorious bad-girls-gone-good?
"I will give you access to all my exclusive content and tell you all my secrets and breaking news before anyone else," Lohan writes on the site. "You will get personal diaries, video updates, exclusive personal photos, fashion and beauty tutorials, shopping guides, behind the scenes content, my favorite products and much more. To get an all-access pass to my life, Preemium is must-have for all my fans and followers."
This latest project marks big changes in Lohan's life. She recently began studying Islam and wiped her social media slate clean. "I am in a period of renewal and that's why I deleted all my posts from Instagram," the 30-year-old actress explained on her first post to the site, People reports.
The site's content is locked, and unless you're a member, you can't see more than a headline and a blurred-out image. But as of now, Preemium is filled with "behind the scenes" videos from the star's life, which range from a photoshoot in Milan to footage in a London Underground station, where she's currently filming Sick Note alongside Rupert Grint.
Lohan isn't the first leading lady to try her hand at the whole "lifestyle guru" thing. On one end of the spectrum, there's Gwyneth Paltrow's GOOP, Jessica Alba's Honest Company, and Lauren Conrad's Pinterest-worthy personal blog. Other celebs, however, haven't found the same success, like Blake Lively's Preserve. Lohan's project sounds a bit more like one of the Kardashian sisters' "apps" than a full-fledged "lifestyle site" in the traditional sense (especially given the steep price tag), but it remains to be seen what kind of content she'll be putting out.
Though, at this point in her life, we assume a tutorial on how best to match heels to an ankle bracelet monitor is out.
Related: Lindsay Lohan's Little Brother, Dakota Lohan Opens Up About His Newfound Modeling Career
6 Rising Male Models from Famous Families Share Their Biggest Pet Peeves: