Lindsay Lohan Joins the Cast of Sick Note, a Rupert Grint-Led British TV Show
"Sick Note" is set to premiere this fall.
---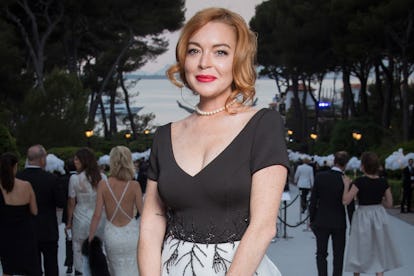 Pascal Le Segretain/amfAR2017/WireImage/Getty Images
Seeing as Hollywood has yet to offer Lindsay Lohan her dream role of Ariel in The Little Mermaid, she has decided to hop on the television trend and accept a small screen gig in the meantime. As reported by Deadline, the actress is joining the new British comedy series Sick Note, starring another famous redheaded former child actor, Rupert Grint of Harry Potter fame.
As explained by Deadline, Sick Note stars Grint as Daniel Glass, a "compulsive liar" stuck in a bad relationship and a boring job, who is diagnosed with a terminal illness. When he finds out he was misdiagnosed and is actually fine, his doctor persuades him to allow his family, friends, and coworkers to continue to think he is terminally ill. (If you're a big Lindsay Lohan fan, the plot of the show may feel reminiscent of the 2009 ABC Family movie Labor Pains, in which Lohan played a woman pretending she was pregnant to prevent her boss from firing her.) The news outlet also said that Lohan will play Katerina West, the daughter of Grint's character's boss. Incidentally, her dad is played by Dakota Johnson's real life father, Don Johnson.
The show is set to premiere this fall, but Lohan's scenes won't air until the second season, which will come out sometime next year. It's unclear if Lohan's character will require her to put to use that British dialect she utilized in The Parent Trap or if she'll be playing an American character. Or, maybe she'll bring back the accent she famously made up late last year, which sounded vaguely European and definitely weird.
Lohan, who has been on hiatus from the entertainment industry over the past few years, seems excited about the new role. On Monday, she tweeted a photo of herself, Grint, and their costar Nick Frost on set. "Jokes with Rupert Grint and @nickjfrost on set of my new show Sick Note," she captioned the shot.
Related: Lindsay Lohan's Little Brother, Dakota Lohan Opens Up About His Newfound Modeling Career
6 Rising Male Models from Famous Families Share Their Biggest Pet Peeves:
Photographer: Michael Thompson
Atelier Versace sequined blue silk chiffon gown; Vince gray cashmere sweater; Armand Diradourian cap; Prada hosiery; Louis Vuitton boots.

Photographer: Michael Thompson
Yves Saint Laurent sequined black cotton dress; Calvin Klein Collection cotton shirt.

Photographer: Michael Thompson
Photographer: Michael Thompson Stylist: Alex White
Calvin Klein Jeans Original's blue cotton jeans, at Macy's, Dillard' and Urban Outfitters nationwide; XT Trunk by Calvin Klein Underwear's white polyester and lycra spandex briefs, cku.com. Lynn Kiracofe tiara; Frye boots.

Photographer: Michael Thompson Stylist: Alex White
Photographer: Michael Thompson Stylist: Alex White
Photographer: Michael Thompson Stylist: Alex White
Photographer: Michael Thompson Stylist: Alex White
Photographer: Michael Thompson Stylist: Alex White
Photographer: Michael Thompson Stylist: Alex White