Donna Karan Apologizes for Her "Inappropriate" Initial Remarks About the Harvey Weinstein Scandal
She originally suggested that sexual violence survivors are "asking for it."
---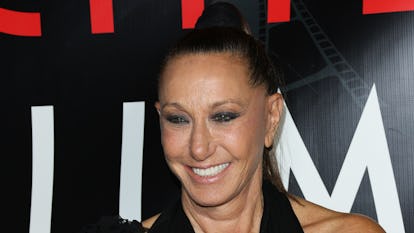 Paul Archuleta/FilmMagic/Getty Images
Not long after suggesting to the Daily Mail that victims of sexual harassment and assault are "asking for it" in the way they "present [themselves] as women," Donna Karan has continued to fully walk back and apologize for her comments. Her initial statements came shortly after allegations of Harvey Weinstein's history of sexual violence came to light.
In a new interview with WWD, Karan said that the statement she made to the Daily Mail on October 8 absolutely does not reflect her actual feelings on the matter. "It was not what I meant. I [so regret] that that came out of my mouth," she said. "I am really, really apologetic. I have been dressing women for 40 years and I show their sensuality, I have done it in my advertising campaign, I have shown it as a mother, as a grandmother, as a woman, [I've shown] her legs and her hosiery and her bras and her fragrance. And I have always had men and women together."
Karan, who said she was "pretty embarrassed" to talk to her grandchildren about the regretful sound bite, continued, "It was inappropriate and I just went off. And I shouldn't have done it. I was exhausted, I was tired and — [when] it came back to me, I was shocked that I even said this myself…And I just went off on something that I shouldn't have, and I apologize profusely. I regret it so strongly." She also spoke to WWD about her friendship with Weinstein's now-estranged wife, Marchesa designer Georgina Chapman, and said that she had "never, never, never" heard rumors of Weinstein's inappropriate behavior before The New York Times published its initial report on October 5.
While walking the red carpet at the CinéFashion Film Awards in Hollywood on Sunday, October 8, Karan was asked about the allegations against Weinstein. "I think we have to look at ourselves," she told the Daily Mail at the time. "How do we display ourselves? How do we present ourselves as women? What are we asking? Are we asking for it by presenting all the sensuality and all the sexuality? And what are we throwing out to our children today about how to dance and how to perform and what to wear? How much should they show?" She continued, "You look at everything all over the world today and how women are dressing and what they are asking by just presenting themselves the way they do. What are they asking for? Trouble."
On Monday, October 9, Karan released a statement in which she apologized for the remarks. "I have spent my life championing women. My life has been dedicated to dressing and addressing the needs of women, empowering them and promoting equal rights," she wrote. "My statements were taken out of context and do not represent how I feel about the current situation concerning Harvey Weinstein. I believe that sexual harassment is NOT acceptable and this is an issue that MUST be addressed once and for all regardless of the individual. I am truly sorry to anyone that I offended and everyone that has ever been a victim."
Related: Saturday Night Live Took On Weinstein With Another Actress Roundtable
See What's Trending in W Video: