Bill Cosby Had "a Lot of Fun" with His Fans at His First Public Performance in Two Years, Perfectly Demonstrating Just How Far We Have to Go
The comedian, whom nearly 60 women have accused of sexual assault, was met with cheers instead of boos in public.
---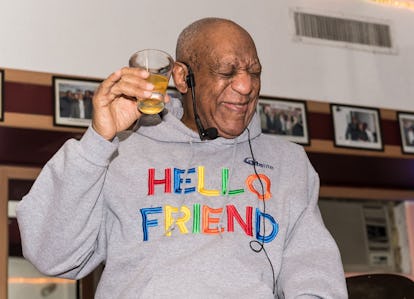 Gilbert Carrasquillo/Getty Images
The end of 2017 saw Time magazine choosing the "silence breakers" of the #MeToo movement as its Person of The Year, an award announced with a cover that paired celebrities like Taylor Swift with the nonfamous, like an agricultural worker named Isabel Pascual. Most notably, though, there was also a woman only visible by her elbow in the lower right-hand corner of the cover: a nod to the women who aren't yet able to speak out about their experiences with abuse, just like the chair that was intentionally left empty on New York magazine's award-winning cover featuring portraits of the 35 women who brought to light Bill Cosby's alleged systematic predation on women he's reportedly been drugging and assaulting en masse since the 1960s.
The New York cover story was not published in 2017, aka the year that will be remembered as the year of speaking out about sexual assault. That report broke in July of 2015. Why, then, two and a half years later—after Cosby has admitted in court that he acquired prescription Quaaludes to give to women he wanted to have sex with; after at least two dozen more women have accused him of assault; after Hollywood and many other industries have finally been swept up in what appears to be a watershed anti-harassment and anti-abuse movement that could arguably be traced back to the Cosby exposé—is Bill Cosby not only back to performing stand-up routines, but also being cheered on by his audience?
It may be a big deal in Hollywood, but outside the coastal media bubbles, the movement looks to be much smaller than it appears. Try as the likes of Reese Witherspoon might to respond to the 700,000 female farmworkers who expressed solidarity in Hollywood's speaking out against powerful men like Harvey Weinstein by taking care to include them and women across other industries in the their promised actions with the new Time's Up initiative, the attention to and action against the widespread sexual harassment and assault that women face has largely been limited to major fields like Hollywood, restaurants, politics, and media—the arenas covered by the media. This overlooks the working-class industries where help is most needed; where, even just simply from an economic standpoint, many women quite literally can't afford to speak out.
And so, just a day after a weekend of women's marches stretching from New York to Las Vegas, Cosby gave his first public performance in more than two years—an event at LaRose Jazz Club in Philadelphia on Monday which his Facebook page, which has recently started posting about his public appearances and "loyal supporters," billed as his "returning to the stage" and "honor[ing] his fans"—because yes, Cosby still has plenty of them. Indeed, many responded to the announcement with a flood of supportive comments like how it's "too bad a bunch of idiots damaged your career, but hope to see you do great things from here on!"
Many of his fans also showed up to the event—despite the fact that in April, Cosby is set for a retrial in the alleged rape of Andrea Constand in 2004, after the jury was unable to reach a unanimous verdict in his last appearance in court in June 2017. (Prosecutors have asked the case judge for 19 women of the 50 women they've spoken to who've all accused Cosby of sexual assault to speak at the upcoming April trial.)
Monday night was just the most recent example. Throughout the long tail of his exposé, it's not just Cosby's fans and those indifferent to the comedian who've been remiss—the message doesn't look to have gotten through to even Cosby himself. After spending an hour performing his routine, sharing stories, making jokes about his visual impairment, and playing the drums, he actually wanted to answer NBC 10 Philadelphia's question about whether he had any comments about the looming retrial. "No wait, I'll answer that," he began—until one of his reps shut down this line of questioning from the reporter.
"No ma'am," Cosby then said. "I came here tonight to enjoy being with my friends and musicians and the people who came," he went on, describing the night as "a lot of fun."
Cosby, who's 80 and was wearing a hoodie that said "hello friend" in rainbow, all-caps letters, also dispelled any notions that it might be difficult for him to go into public these days: "No. No. No. Because this is life, and life changes. And so it's not to be feared to go out—I go out."
This casual brush-off of the consequences of his wrongdoing came shortly after Cosby brought onstage the 11-year-old son of the bassist who was performing. When Cosby asked him if he knew who he was, the boy simply said, "You used to be a comedian."
No one would expect or hold an 11-year-old accountable for not acknowledging or even knowing about the mass allegations that Cosby faces. But the boy's ignorance of, or unwillingness to acknowledge, the issue—which seems to suggest the same is true for his teachers and parents—demonstrates just how isolated the anti-harassment movement is, and how much progress there still has yet to be made.
It's boys like the one Cosby had join him onstage, after all, who'll grow up to be the men in power that will either continue the tradition of abusing their positions, or hopefully, at a certain point, turn things around by changing their actions. How ever can they do the latter, though, if they aren't raised to know that abuse is wrong?
Related: Why 2017 Will Be Remembered as the Year of Speaking Out Against Sexual Assault
"Women's Rights Are Human Rights": 62 Fashion Insiders Speak Out: