Uma Thurman Isn't Done Speaking Out Just Yet About Quentin Tarantino and Harvey Weinstein
After calling out Harvey Weinstein and Quentin Tarantino, the actress took to Instagram to name the others responsible for the abuses she's faced.
---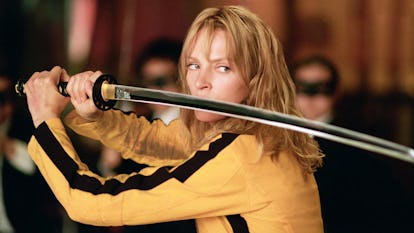 Miramax Films
Since November, the world has been waiting with bated breath to hear Uma Thurman's side of things. That's when the actress, who helped create Harvey Weinstein's Miramax lore by starring in Pulp Fiction and Kill Bill, gave a seething red carpet interview in which she declined to comment on sexual harassment; and, later that month, posted an Instagram wishing a happy Thanksgiving to everyone except for Weinstein and all his "wicked conspirators."
Finally, on Saturday, Thurman opened up. The New York Times published a story with the headline "This Is Why Uma Thurman Is Angry," which not only detailed Thurman's experience being harassed by Harvey Weinstein, but also covered the harm she endured while working with Quentin Tarantino, the director of both Pulp Fiction and Kill Bill who acknowledged in October that he knew enough about Weinstein's predatory behavior that he should "do more than [he] did."
Tarantino, it turns out, has also abused Thurman. Not sexually, but certainly physically. Thurman told the Times that Tarantino insisted she drive the famous rickety blue convertible in Kill Bill down a sand road herself—even when Thurman said she didn't feel comfortable doing so and would prefer a stunt person to do it. Tarantino was "furious," Thurman recalled, and she was "scared," so she relented—and, in a video published in the Times, and now on Thurman's Instagram, ended up getting in a crash that caused her to suffer a concussion, a bruised head, damaged knees, and had her in a neck brace. It was, to Thurman, "dehumanization to the point of death"—and an experience she's constantly reminded of thanks to permanent pain in her neck and knees.
"I Will Not Be Silent": Hollywood's Biggest Names Pledge to Speak Their Minds:
In the Times story, Thurman said that she confronted Tarantino and that they had a "terrible fight for years." It started with Tarantino completely denying Thurman's claims that he was trying to kill her, and reached its climax in 2004, when they got into yet another shouting match about Tarantino's unwillingness to release the footage of the crash. In the end, of course, it did end up in Thurman's hands—the crumbling of the Weinstein empire certainly helped—and is now digging into it more than ever, returning to expand her side of the story on Instagram on Monday afternoon.
Though Thurman wrote that she was posting the video to "memorialize it's [sic] full exposure" in the Times, and emphasize that "the circumstances of this event were negligent to the point of criminality," she also wanted to clear some things up. She does not, in fact, believe that it all happened "with malicious intent."
"Quentin Tarantino, was deeply regretful and remains remorseful about this sorry event, and gave me the footage years later so i could expose it and let it see the light of day, regardless of it most likely being an event for which justice will never be possible. he also did so with full knowledge it could cause him personal harm, and i am proud of him for doing the right thing and for his courage," she wrote, taking some heat off Tarantino but then quickly making it clear not everyone involved should be absolved.
"THE COVER UP after the fact is UNFORGIVABLE. for this i hold Lawrence Bender, E. Bennett Walsh, and the notorious Harvey Weinstein solely responsible," she continued, naming two of the producers behind Kill Bill. "They lied, destroyed evidence, and continue to lie about the permanent harm they caused and then chose to suppress. the cover up did have malicious intent, and shame on these three for all eternity."
Thurman also continued to call out her former agency Creative Artists Agency, which she told the Times was connected to Weinstein's predatory behavior, and added on Instagram that CAA "never sent anyone to Mexico," where she was injured. "I hope [CAA] look[s] after other clients more respectfully if they in fact want to do the job for which they take money with any decency," she concluded. It seems Thurman truly does have a real capacity to forgive—Tarantino, after all, also performed degrading on set stunts like choking Thurman and spitting on her—but in this case, the director seems to be the only one getting off easy.
Related: Uma Thurman Breaks Her Silence On Weinstein, And Tarantino