Rachel McAdams and Selma Blair Share Their Sexual Harassment Encounters With James Toback
"I did not want to talk about this ever again."
---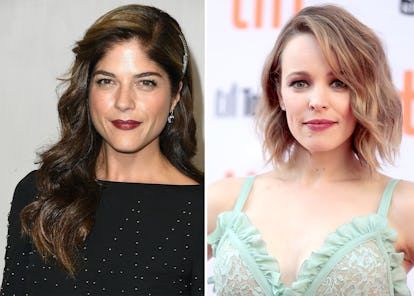 Steve Granitz/WireImage/Getty Images; Rivera Simon/Getty Images
After nearly 200 women came forward this week to share how director and writer James Toback has been a serial sexual harasser throughout his career, Rachel McAdams and Selma Blair are also bravely speaking out about their own experiences about Toback's harassment.
In separate interviews with Vanity Fair, both actresses shared a similar pattern that Toback would follow to lure young women into doing sexual favors for him: He would invite them to his hotel room, simultaneously flatter them and say they need vast improvements, and then casually bring up the topics of masturbation and pubic hair. After that, he would then request that they do something with their bodies that would make him ejaculate into his pants.
"I went in the room feeling a little off-balance about the arrangement, but he seemed nonplussed," Blair explained, saying that Toback made her audition for his 2001 film Harvard Man without a top on so he could see how her "body moves"— despite the character being a lawyer who would always be fully clothed. "I thought, 'Well, my representation sent me to see him. He must be really important.' I took off my sweater… I was just trying to block it all out. He said, 'Wow, you need a lot of work.'" It was then when things took an even darker turn for Blair. "He started to rub his penis through his pants and asked, 'Would you f*ck me?'…I went to leave and he got up and blocked the door. He said, 'You have to do this for me. You cannot leave until I have release.'" In order to get out of the situation safely, Blair made the judgement to let him "press against" her leg so he could ejaculate, and when he finished, he threatened her with bodily harm if she told anyone what transpired.
For McAdams, she says she was also lured to Toback's hotel room for the same Harvard Man role after meeting him earlier in the day in the company of other people. While alone together, Toback allegedly brought up masturbation almost immediately. "Pretty quickly the conversation turned quite sexual and he said, 'You know, I just have to tell you. I have masturbated countless times today thinking about you since we met at your audition,'" McAdams said. "Then he went to the bathroom and left me with some literature to read about him. When he came back he said, 'I just jerked off in the bathroom thinking about you. Will you show me your pubic hair?' I said no." She excused herself to leave almost immediately, and although she tried to "rationalize" what occurred, she says she quickly realized that it was nothing short of harassment.
Despite a significant amount of women sharing similar stories—most prominently in the Los Angeles Times, which broke the story—Toback has categorically denied all of the claims, citing to the Times it's "biologically impossible" for him to to engage in such behavior due to various health problems. McAdams and Blair's claims also come weeks after two bombshell stories revealed Harvey Weinstein's decades-long sexual assault and harassment against women in the industry, dozens of whom have come forward with harrowing stories of their own.
Related: Over 30 Women Accuse Director James Toback of Sexual Harassment
"Women's Rights Are Human Rights": 62 Fashion Insiders Speak Out in a Powerful Video for International Women's Day: