Harvey Weinstein's Ex-Assistant Says He Used His Wife and Kids as His "Get Out of Jail Card"
Zelda Perkins broke her NDA to expose the details of his systematic abuse.
---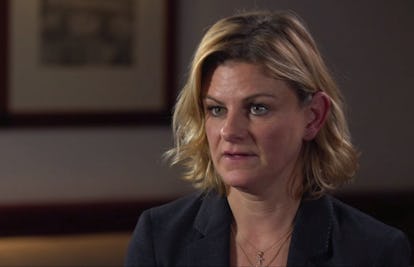 BBC
It's been more than two months since the New York Times published its bombshell story exposing the former Hollywood mogul Harvey Weinstein as a sexual predator, sparking what seems like an endless number of actresses, including names like Angelina Jolie, Salma Hayek, and Gwyneth Paltrow, to come forward with their own stories of his abuse. It says something about the true degree of the depths Weinstein went to to keep his decades of abuse quiet, not to mention just how powerful he was in the industry, then, that the stories are still coming out—most recently from Zelda Perkins, one of Weinstein's assistants in the '90s, who gave her first televised interview to the BBC on Tuesday.
Speaking on the program Newsnight, Perkins told the story of how Weinstein attempted to rape one of her coworkers at the Venice Film Festival in 1998. Following which the victim, shaking and in shock, was convinced she shouldn't tell anyone of the matter. Still, Perkins says that she pulled Weinstein out of a business meeting to confront him—at which point he pulled "his best get-out-of-jail card that he used quite a lot": swearing on the life of his wife and children that nothing at all had happened. (Perkins says she also approached her superiors at Miramax about the incident, who—surprise!—did not take any action.)
Perkins and her colleague soon resigned, expecting to take the matter to court, but it wasn't long before her legal team "made it very clear that we did not have many options, because we hadn't gone to the police when we were in Venice, we had no physical evidence, and ultimately it would be two under-25-year-old women's word against Harvey Weinstein, Miramax Film Corp. and, essentially, the Disney Co."
Eventually, Perkins signed a nondisclosure agreement and was paid around $170,000 for her silence—a settlement that, now that she's broken it, is causing her to call for a public discussion about the use and abuse of NDAs, which Weinstein's employees were required to sign, ensuring they keep their mouths shut about Weinstein's abusive behavior. The so-called "agreements" have now proven destructive in other ways, too: Perkins, for example, said she was not allowed to see an accountant or even a therapist without first consulting Weinstein's minions at Miramax. (Part of their agreement was that Weinstein would have to attend therapy, and that Perkins would attend the first session, but that apparently never came to fruition.)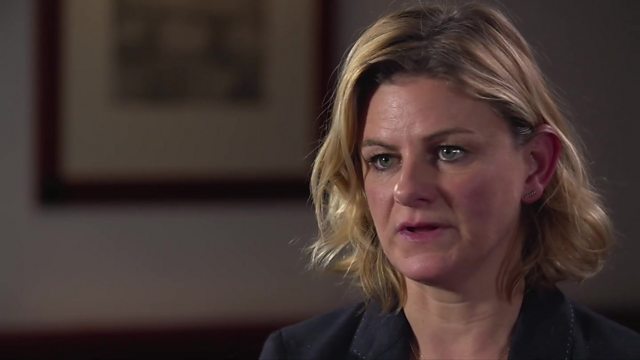 It's the gag orders Weinstein imposed on his former employees attempting to come to terms with the trauma he induced, though, that adds an even more disturbing dimension to his systematic abuse. Earlier this month, the Times also reported that his low-level assistants had to put together "bibles" on how to facilitate Weinstein's sexual demands, with guides ranging from how to deal with Weinstein's wife—instructions in answering her phone calls included to "be sensitive" and say he was "in a meeting"—to how to procure his penile injections for erectile dysfunction.
One former assistant told the Times that Weinstein gave her a bonus for getting him the injections, which she delivered to him in brown paper bags, kept a supply of at her desk, and at times brought them to the hotels where he met with women whom he likely sometimes assaulted. Another assistant recalled having to use Weinstein's corporate card to rent him a furnished apartment and stock it with lingerie, flowers, two bathrobes, and extra clothes. More recently, another said she was fired after she confronted him about his behavior in 2012, and two more said they had to escort him to sex addiction therapy in 2015.
To be forced to be so complicit in Weinstein's abuse—or else face unemployment, being bankrupted by lawsuits, potentially being blacklisted in the industry, not to mention death!—no doubt took a toll on those stuck working with Weinstein, especially since that was all of course on top of the trauma of simply witnessing and/or being close to his predation. That they've had to go decades living with that information, keeping it to themselves because of what the Times called "unusually restrictive" NDAs that prohibited them from sharing any information about both Weinstein brothers and their "family members, friends and/or business associates" without their written consent, is maybe the clearest example of the harm Weinstein inflicted on the entertainment industry at large, from its A-list actresses all the way on down.
Now that so many stories have come out, it's hard to imagine anyone object to Weinstein being described as a villain, but it's important to recognize that he was able to act in such a way not just because he was and likely still is a "master manipulator," as Perkins put it. "Harvey, now, everyone sees as this sort of repulsive monster, which he was and is on one hand, but I think what is interesting and what isn't maybe brought forward is that he was also an extremely exciting, brilliant, stimulating person to be around," Perkins said of the former mogul.
What's more, she added her voice to the backlash against Pamela Anderson, who blamed Weinstein's victims by saying, "You know what you're getting in to if you go to a hotel room alone." Perkins explained, "It wasn't as simple as that. Everybody went to his hotel. This is where he did business. It wasn't in his bedroom; it was in his suite. You had top agents, top movie stars, male and female, coming in hourly for meetings."
"With Harvey there was no such word as 'no' and that's really the crux of the matter," Perkins continued, describing how her boss would become angry and threatening when meetings weren't a guarantee. Which leads to the other real crux: That Weinstein was and likely still is a "power addict."
"That was what drove him: his overarching need for power," she said. "Everything that drove him was about dominance with men and women. He put an enormous amount of energy into humiliating men and an enormous amount of energy into getting women to submit." Including to, of course, his legal code of silence.
Related: Salma Hayek Says Harvey Weinstein Threatened to Kill Her for Rebuffing Him
"I Will Not Be Silent": Hollywood's Biggest Names Pledge to Speak Their Minds: