Gwyneth Paltrow Issues a Reminder Not to Mess With Her, Accusing Harvey Weinstein of Wielding an "Assault Weapon" in Lying About Having Sex With Her
The actress joined Lena Dunham and Tina Brown in plainly denouncing the Hollywood predator.
---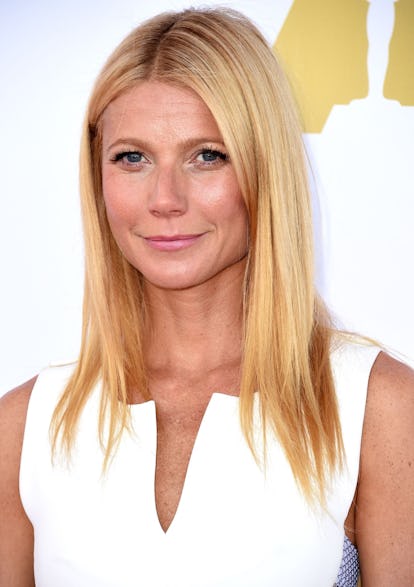 Photo by Getty.
Lately, the news surrounding Gwyneth Paltrow has finally shifted from the endless fascination of her pursuit of wellness with Goop to the actress's engagement to Brad Falchuk—not to mention her then having a friendly brunch with her fiancé and her ex Chris Martin. And on Tuesday night, in the New York Times's latest exposé on the ultra-predator that is Harvey Weinstein, Paltrow reminded the public that just because she's an advocate of "conscious uncoupling" doesn't mean she's a pushover; in fact, she's quite capable of being a full-on force to be reckoned with.
In October, Paltrow responded to the criticism that she hadn't yet spoken out against the former Hollywood mogul who's credited with launching her career by suddenly not only breaking her silence, but coming forward with Angelina Jolie about her own experience with Weinstein's harassment. Understandably enough for someone forced to revisit trauma in the public eye, Jolie did not go into any detail about her experience with Weinstein, but Paltrow recalled being "petrified" and telling her then-boyfriend Brad Pitt about his harassment, at which point Weinstein threatened her to stay silent.
On Tuesday, however, Paltrow, whose career Weinstein is credited with launching and was at one point known as the "first lady of Miramax," went further by expressing a fiery anger about the abuse she and other women endured. Weinstein's manipulative tactics—which included a literal army of spies—made sure that his predatory behavior was only ever an "open secret" in Hollywood, and throughout the two-plus decades since Weinstein harassed her, he also attempted to coerce other budding actresses into engaging with him sexually by bragging about the other stars he'd slept with, Paltrow, who won an Academy Award for her performance in Miramax's Shakespeare in Love, chief among them.
And so it turns out, Paltrow has spent recent weeks discovering just how far Weinstein went in not only tarnishing her reputation but using her as a tool to claim more victims, speaking with women who've told that her that he used her as evidence that sleeping with him was "the best thing you can do for your career now," complete with showing off photos of the actress. The phone calls Paltrow has been making, she told the Times, have been devastating—and enough to accuse Weinstein of essentially waging an armed war against women. "He's not the first person to lie about sleeping with someone," Paltrow said. "But he used the lie as an assault weapon." (For the record, Weinstein denied having said he slept with Paltrow.)
Compared to, say, Rose McGowan's official statement "CHECK MOTHERF—ING MATE PIGFACE," Paltrow's words weren't too harsh. But Paltrow is hardly the only one not to mince words in the Times story. One of Weinstein's tactics was to support liberal causes, whether through taking the anti-AIDS group amfAR under his wing or supporting Hillary Clinton, ranging from donating to her husband's lawyer to attempt to halt his impeachment to fundraising for her runs for president to promoting her image as a feminist figurehead—which of course served to tie him to feminism, too.
Whether Clinton knew about Weinstein's predatory behavior is unknown, but Lena Dunham, who was a vocal supporter of Clinton during her run, told the Times that she explicitly warned Clinton's campaign team about working with Weinstein in 2016. "I just want you to let you know that Harvey's a rapist and this is going to come out at some point," she said she told Kristina Schake, the deputy communications director of Clinton's campaign. "I think it's a really bad idea for him to host fund-raisers and be involved because it's an open secret in Hollywood that he has a problem with sexual assault."
When no action appeared to have been taken, she also warned Adrienne Elrod, a Clinton spokesperson who was working with celebrities, who also did not take action—and now, communications director Nick Merrill is somehow placing the blame on Dunham: "Only she can answer why she would tell them instead of those who could stop him."
Dunham, it turns out, was not the first high-profile woman to warn Clinton's team: When Clinton ran for president in 2008, the writer and magazine personality Tina Brown, who worked closely with Weinstein for roughly three years on the magazine Talk, also cautioned someone in Clinton's inner circle. "I was hearing that Harvey's sleaziness with women had escalated since I left Talk in 2002 and she was unwise to be so closely associated with him," Brown told the Times. (Clinton, for her part, said last October that she was "shocked and appalled by the revelations" about Weinstein, apparently claiming no prior knowledge about his behavior.)
Back at Weinstein's offices, though, it's increasingly clear that it was out in the open as far back as 1990, when his brother and business partner Bob began negotiating payoffs with Weinstein's victims. Meanwhile, low-level assistants put together "bibles" on how to facilitate Weinstein's sexual demands, with guides ranging from how to deal with Weinstein's wife, Georgina Chapman—instructions in answering her phone calls included to "be sensitive" and say he was "in a meeting—to how to procure his penile injections for erectile dysfunction. Weinstein's assistants were particularly involved with the latter: He gave one of them a bonus for getting him the medication, which she said she had to keep a supply of at her desk and hand over to him in brown paper bags, sometimes delivering them to the hotels where he met with women whom he presumably then assaulted.
Sandeep Rehal, the then 28-year-old assistant who was particularly tasked with the latter, reportedly also had to rent her boss a furnished apartment and stock it with lingerie, flowers, two bathrobes, and extra clothes for Weinstein, all purchased with his corporate credit card—the same card he used, to his accountant Irwin Reiter's displeasure, to pay off adventures like picking up a model on a yacht in Europe where the tip to the crew alone amounted to $27,000.
At a certain point, Weinstein's activity accumulated to what seems to have been a breaking point within the company, whose executives grew increasingly fed up with his then well-known behavior. (Two of Weinstein's former assistants, for example, also said they also had to escort Weinstein to sex addiction therapy in 2015.) Still, for fear of personal retribution or being fired, as one assistant was shortly after she confronted Weinstein in 2012, none of them spoke out—in part because Weinstein also had his employees sign what the Times called an "unusually restrictive" NDA that prohibited them from sharing any information about both Weinstein brothers and their "family members, friends and/or business associates" without their written consent.
All in all, what's clearer than ever now is that Brown wasn't so far off in comparing Weinstein and other predators to Saddam Hussein, and Paltrow was far from exaggerating when accusing Weinstein of wielding an assault weapon.
Related: Ranking the Absolute Worst Apologies by Men Accused of Sexual Assault in Post-Harvey Weinstein 2017
"Women's Rights Are Human Rights": 62 Fashion Insiders Speak Out in a Powerful Video for International Women's Day: