Tina Brown on the Post-Harvey Weinstein Reckoning: "It's Like Watching the Statues of Saddam Hussein Being Pulled Down"
The legendary media personality reflects on her past and present relationships with Charlie Rose, Harvey Weinstein, and Donald Trump.
---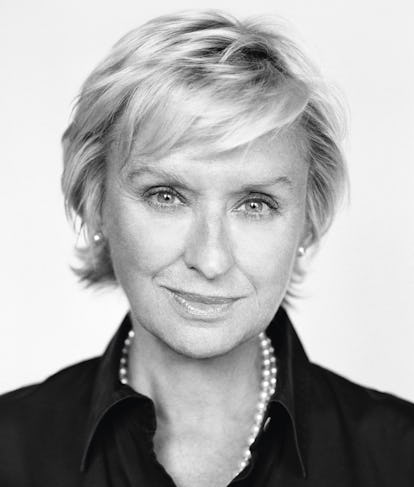 Brigitte LaCombe
"I don't know what it is about the world now—people just seem to have just gotten older in their jobs," Tina Brown said casually earlier this week, sounding nonplussed that one of the most prominent reactions to her new tell-all book, The Vanity Fair Diaries: 1983-1992, has been that she took over the magazine at just 30, which, in news to her, is now thought of as "extremely young." From the very beginning of her long, legendary tenure as a magazine writer and editor, though, Brown has always been rather matter-of-fact about her success: She became editor-in-chief of the then ailing Tatler at just 25, and turned it around so successfully that Condé Nast bought the magazine—and brought her in to revitalize Vanity Fair.
It's that type of frank confidence that made Brown one of the the first women to truly break through the media boys club. But these days, unfortunately, all that success in the worlds of media and celebrity also means Brown has been up close and personal with many of the men who've fallen from power in the recent wake of sexual harassment scandals, with Harvey Weinstein—Brown's cofounder in launching Talk magazine in 1999—chief among them. Though Brown never liked Weinstein, and was only ever just amused by a then-harmless Donald Trump, she has been "dear" friends with Charlie Rose, another personality who's recently faced a scandal of his own. She talks grappling with the aftermath of the continuous revelations and the sexism she's encountered throughout her career, plus her enthusiasm for everything from the upcoming royal wedding to horoscopes in her culture diet, here.
There are so many stories told in the book, and I'm sure experiences you had outside of it too, that were seen as so ordinary back then, and only now are being called out as sexist. Have any in particular that you didn't think much of at the time stood out to you while looking back? There was a wonderful moment from earlier that made it into the book, when the managing director of Condé Nast in London [Bernie Leser] talked about how my successor at Tatler had had to leave and didn't work out. He said, "She didn't have what you had." And I said, "What was that?" And he said, "Your looks and your lifestyle." I said, "Wow." That's what my five years of turning around Tatler was attributed to—my "looks and lifestyle." I thought that was really rich.
Have you been at all irritated by how much the attention around your book has actually been about its stories of Donald Trump, like the wine pouring incident? No, I think the Donald Trump stuff is a lot of fun. People do like hearing about that—they do like hearing about in the '80s, and actually the fact that I liked him in the '80s. I found him brash and a kind of cartoon character from the great tradition of Daddy Warbucks slash businesspeople. To me, at that time, I thought that he was a comic character.
You get in so many amazing digs at people in the diaries, like calling Julian Schnabel a "predatory starfish." Were there any people you hesitated publicly calling out in that way these days? [Laughs.] Well, you know it's just the way I think about people. I realize one of the things people keep mentioning is that I call Al Taubman a halitotic dolphin. One of the reviews [of the book] described this bizarre bestiary of people—they're always being likened to dolphins and starfish and crabs. I don't know what it is, but in my mind, it's a kind of comic menagerie of high society.
You also write about how a lot of your role models growing up were men. Mhm, because they had the jobs I wanted—my role models were Clay Felker, Harry Evans, and Jann Wenner. But I also had Carmel Snow, the great editor of Harper's Bazaar, and Diana Vreeland as my role models, so I had a lot of women I loved, too. But the things that I most wanted were the things that were most run by men.
Who do you think will dominate TV now that Charlie Rose and Matt Lauer are gone? It's astounding, isn't it? An entire generation is being—it's like watching the statues of Saddam Hussein being pulled down. [Laughs.] I don't know who it'll be that'll kind of reshape the landscape, but I hope it'll go so that it's a real opportunity for women to rise. I hope to see diversity, in terms of age and ethnicity and of course gender.
You actually spoke with Charlie Rose shortly before the stories on him came out—and about Harvey Weinstein's predatory behavior, no less. I did, and as a matter of fact, I had another taping with him about my book in the bag that didn't come out. I didn't know anything about it, actually, and at the time, I didn't [notice anything strange about Rose]. I was so exercised and energized about what had just happened to Harvey that I was focused on him—I wasn't looking around for everybody else that I knew for, well, what's happening now. [Laughs.] You know, listen: It's a sad thing when a very dear friend falls like that. I haven't talked with [Rose] after the fall, since the outing, but I think friendship exists through the bad times as well as the good. I mean, what is friendship about if you're not also a friend when things go wrong for people? But at the same time, we're at a moment that's kind of a revolution, and this revolution does need to happen.
Speaking of diversity going forward, Radhika Jones taking over Vanity Fair seems to be quite a good example of that. What do you think of her appointment? I think it's fantastic. I love the fact that she's a young woman, has a very good literary background, and has been an accomplished magazine maker already at the New York Times Book Review. She's a magazine professional, which I think is important. There is a real particular skill set in actually editing a magazine that's underestimated—you can't just have an editor or a journalist be the editor of a magazine. I think she has that skill set, and as a fresh face with intelligence, I think she was absolutely the right pick.
Have you ever had your own fox tights moment—when the story about her moving into the offices ended up being dominated by criticism of the outfit she wore that day? Oh my god. I mean, Condé Nast was full of those hissy, old… [editor] Leo Lerman would have absolutely made that type of comment. He was just hissy beyond belief. I think it's a really retro, no-shame, old-style meanie way of looking at the world. And I thought in fact it made her into a figure—everyone at that point wanted her to succeed. [Laughs.]
Was there a point in your career where those types of comments stopped? No. There was a lot of mean stuff actually about how badly I dressed in the [2001] book that was written about me and [Brown's husband] Harry [Evans], which I've never actually gone through. There was a lot of off-the-record, hissy stuff like, "She wore the wrong dress to the Oscars." [Laughs.]
Getting into the culture diet questions, what's the first thing you read in the morning? Nowadays, it's Axios.
What books do you have on your bedside table? A good range—one by Alison Pearson called How Hard Can It Be?, which is coming out next year, but came out in London and is terrific. Then there's Lawrence O'Donnell's book about the 1968 election [Playing with Fire: The 1968 Election and The Transformation of American Politics]. And I'm look forward to Jann Wenner's real memoir [as opposed to his the new biography about him by Joe Hagan, Sticky Fingers], which he will write—I know so.
What TV shows have been keeping you up at night? Oh god, I'm such a kind of Netflix ghoul. I'll tell you what I loved, which is very surprising and is actually on Amazon: To Walk Invisible. It's a PBS two-part dramatization of the lives of the Brontë sisters, and it's fantastic.
What's the last movie you saw in theaters? Three Billboards Outside Ebbing, Missouri, which I absolutely adored. Frances McDormand is absolutely just magic, magic, magic. And I can't wait for The Post—that I will go to the theater for. But I'm such a streaming lunatic. I so much enjoyed the Joan Didion documentary. She was forever cool, and she's cool now. But I'm really waiting for December 8 when The Crown comes out.
Are you getting into the royal wedding now, too? Oh yes, it's irresistible, and thank god for it so we can pick ourselves up off the floor with everybody we know toppling and crashing from either sexual harassment or just Trump fatigue. Another royal wedding is just in time, and a biracial, divorcée American—what could be better?
Is there a release coming up you're eagerly anticipating? I'm looking forward to whenever Adele wants to make another album. I love her. I'm looking forward to her vocal problems being over.
What's the last song you had on repeat? Probably some ancient T.Rex song on the treadmill. Vintage T.Rex is the only thing that gets me going.
What's the last concert you went to? I don't go to concerts.
How do you get your news? I love the Washington Post, and I like France 24 and the BBC. I still go to Drudge and the Daily Beast and Vox. I just read so much on my phone.
Do you read any magazines in print these days? I still read the New Yorker and the Atlantic on paper, and I like the Harvard Business Review, too.
What's the last thing you googled? To see if I could get a really late shuffle back to Washington tomorrow, or whether I'm doomed to spend the night here.
How much are you on social media? What are your favorite accounts to follow? I tweet, but I'm not as much on Facebook as I'd like to be because I just don't have the time. I do like to look at my Twitter feed, and I like to follow the news people—people like Jake Tapper. I'm a political junkie as far as the news.
Do you read your horoscope? All the time, every day—I always have. I'm a Scorpio. Today was about not offending people you don't have to offend, which could be the story of my life, and brings us full circle to the Vanity Fair Diaries. [Laughs.] But the great thing about when you soar past 55 is that you become increasingly reckless. The reason I don't tweet more is just that I'm so reckless that if I started to tweet a lot, I'd be in big trouble.
What's the last thing you do before you go to bed? I watch TV until I'm nearly asleep, and then I say to Harry, "Where is the effing remote?" Normally it's yet another noir drama, but I watch everything—even Mindhunter, that one about serial killers. But after that one, I got so wired I had to take two Ambien for the entire week I was watching it. [Laughs.]
Related: Why the "Me Too" Moment is Just the Start of a Necessary Cultural Shift
See W's most popular videos: