Joan Didion Is Now Streaming on Netflix This Fall
The famously private 82-year-old author is the subject of a new documentary coming to Netflix.
---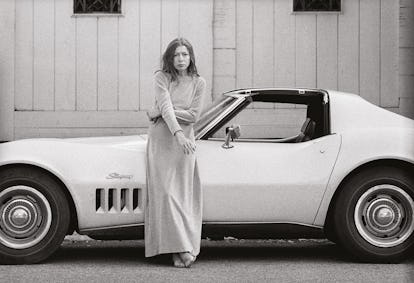 As always, Netflix has been keeping busy raking in talent: In the past week, the streaming service has not only nabbed Shonda Rhimes from ABC, but also welcomed 82-year-old author Joan Didion. This October, after its premiere at the New York Film Festival, Netflix will be the home of Joan Didion: The Center Will Not Hold, the documentary that the legendary writer's nephew Griffin Dunne has been toiling away on for the past six years.
"I've never had such a high-stress screening," Dunne, whom you may recognize most recently as Kathryn Hahn's semi-neglected husband on Jill Soloway's Amazon series I Love Dick, told W earlier this year of showing the documentary to his aunt herself, whom he considers "sort of the last person from that generation."
Evidently, the famously private author approved: From there, Dunne found more archival footage and interviewed figures like Hilton Als. Plus, of course, he could draw on his first-hand experience growing up with his aunt, including parties at her house like one for the release of Tom Wolfe's The Electric Kool-Aid Acid Test, which found Dunne hanging out with Janis Joplin at just age 12. All this came together create a 50-plus year account of Didion's life and career, from her essays, novels, and criticism like Slouching Towards Bethlehem to her screenplays for the likes of The Panic in Needle Park, which she cowrote with her husband John Gregory Dunne.
There are also, of course, extensive interviews with Didion herself, which IndieWire reports include stories of everything from hanging out in the recording studio with Jim Morrison to cooking dinner for one of Charles Manson's cult members to her own times partying with Joplin. Her tales are interwoven with more told by everyone from Harrison Ford to former students of hers, as well as shots of Didion reading excerpts of her work aloud. Here's hoping Dunne also managed to squeeze in some behind-the-scenes footage from her internet-breaking Céline campaign, too.
Related: Griffin Dunne on Mixing Art With Life in I Love Dick and in His Documentary About His Aunt, Joan Didion
See W's most popular videos: