Even If You're Not a Motorcycle Junkie…
Having been obsessed with both design and motorcycles all my life, one exhibit I was not going to miss was "Chicara Liquid Chrome," a show by Japanese graphic designer-turned-motorcycle master Chicara Nagata of four of...
---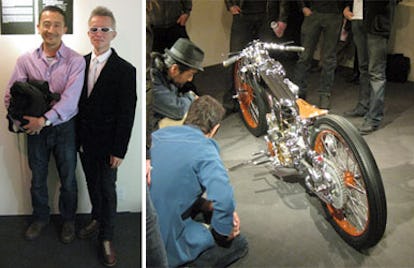 Upon entering Chelsea's Ippodo Gallery for the opening last week, my friends and I were immediately greeted with Asahi beer and traditional Japanese snacks — but my only interest was to see these moving metal sculptures that Chicara has created, which meld both the futuristic and traditional worlds of design.
Each (totally functioning) Chicara motorcycle is comprised of almost 500 individual parts and took the artist approximately 7,500 painstaking hours to create. The end result is some of the most exquisite and tasteful pieces of industrial design I have ever seen. This is the first time Mr. Nagata's machines have seen in the U.S. and they will be on view at until the January 31.
The price, you ask? $1.5 million each. Enjoy!
Top left: Hiromi Yoshida, President Dentsu USA (left), with Chicara Nagata. Top right: Spectators marvel at the craftsmanship.
Photographs by Rena Ohashi