Everything Beautiful Is Far Away Trailer Premiere: See Julia Garner's Latest Transformation in the Quirky Sci-Fi Romance
The actress last seen in the gritty Netflix series Ozark makes another 180.
---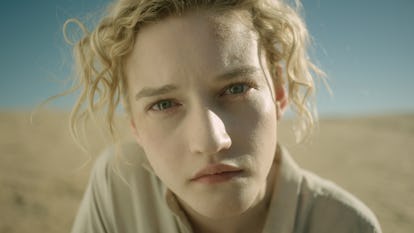 Courtesy The Orchard
"Lernert. Lernert. Lernert," a tinny, android voice repeats in the first moments of the trailer for Pete Ohs and Andrea Sisson's directorial debut, Everything Beautiful Is Far Away. "Who is the girl?"
The girl, to answer the question of the disembodied cyborg head Susan, is Rola, a young woman played by actress Julia Garner of Ozark and The Americans. Stranded in the middle of a desert on an alien planet, Rola is on the hunt for a "great lake of freshwater"; the mythic body of water promises renewed resources, both emotional and physical, to press on against the desolate landscape. (All we know, it seems, is there's a city on the horizon, a lake somewhere past it, and everywhere else, a massive expanse of desert.) So she joins forces with Lernert (Joseph Cross, last seen in Big Little Lies and Mindhunter, a comic illustrator and writer who has been wandering the desert seeking a suitable torso and limbs for Susan, because he appears "to know a lot about the desert," she tells him.
"Rola, I've been out here a long time," he warns her, "and I've never seen any traces of any lake." Nevertheless, they set out on their Godot-like quest to find the mythic body of water. It may be futile—"Just keep walking in the same direction?" Rola wonders; "It's better than walking in circles," Lernert tells her—but as the radiant, endless landscape sprawling out before them, sliced through with lens flare, there's also, naturally, a hint of burgeoning romance.
Everything Beautiful Is Far Away premiered in June of this year at the Los Angeles Film Festival, where it won the Best U.S. Fiction Cinematography prize. The film features a twinkling score by Alan Palomo of Neon Indian (their first film score) set against the Algodones Dunes of Southern California. Its expansive, impregnable setting also makes it the perfect backdrop for the film's meditation on isolation as hints of attraction spring up between the two travelers. (And then, there's Susan, who incidentally shares a name with the actor who voiced the ubiquitous Siri.)
Everything Beautiful Is Far Away is yet another addition to Julia Garner's already impressively varied 2017 resume; she has played the conniving Ruth Langmore opposite Jason Bateman in Netflix's money-laundering drama Ozark, the daughter of a spy, Kimberly Breland, in the FX spy series The Americans, and co-ed Catherine in the festival-approved indie One Percent More Humid. Now, she transforms into an ingenuous young science fiction star in a small but promising indie debut feature.
The trailer for Everything Beautiful Is Far Away premieres exclusively here on W; the film is out Tuesday, December 5.
See five of Daniel Day-Lewis's most transformative performances: