Meet Hannah Gross, the Wild, Brainy Partner-in-Crime-Solving of Mindhunter's Jonathan Groff
The Canadian actress is the funny, free spirit Netflix's new serial killers series needs.
---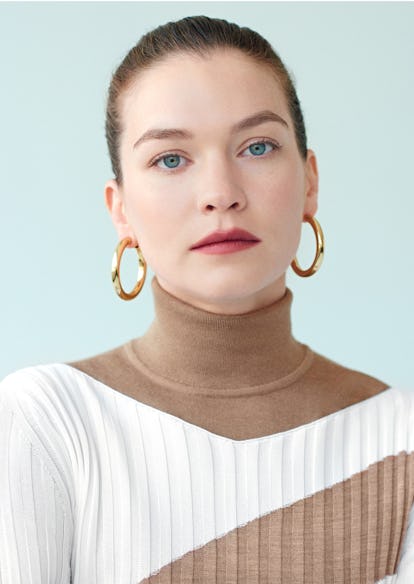 Photograph by Bruno Staub, Styled by Clare Byrne; Hair by Shingo Shibata for Rodin by Recine at The Wall Group; Makeup by Georgi Sandev for Chanel at Streeters; Digital Technician: Jordan James; Photography assistant: Evan Browning; Fashion assistant: Emma Litvack
There are two things for which David Fincher can be counted on: his knack for discovering talented young actresses (see: Rooney Mara, Kristen Stewart) and a perfectionism that can result in grueling triple-digit takes (see: horror stories as told by every actor from Jake Gyllenhaal to Robert Downey Jr.).
The 27-year-old Canadian actress Hannah Gross is the beneficiary of the former and the victim of the latter—even if Gross, who stars in Fincher's new Netflix thriller series, Mindhunter, welcomed the torture. Before starring in the show, which premiered on Friday, Gross had been a fixture on the indie-film scene, where, she said, time is money. "It's two takes and, 'Okay, we got it!'" She laughed. "That's not even the beginning for David."
Mindhunter stars Jonathan Groff as an FBI agent and hostage negotiator named Holden Ford, who pivots to a much more "frowned upon" role, as his dinosaur of a boss puts it, as an investigator into the motives of serial killers around the time the term was still being put into use. (The show, which is based on true crimes, takes place in 1977, the year that David Berkowitz was arrested for the Son of Sam murders.)
It's Gross, playing the grad student Debbie Mitford, who has a large part in effecting Holden's new career path, after they meet at a bar on her 24th birthday and she promptly accuses him of being a narc. (Groff's look on this show—standard side part, shapeless dark suit and tie—is so unremarkable and milquetoast that it has to be purposeful.)
The pair continue to flirt, which, for Debbie, means asking questions. "So what do you think about Durkheim's labeling theory on deviancy?" she tests him. And for Holden, that means accepting a hit from her bong while attempting to suppress his coughing fit. Soon enough, though, they're sharing popcorn and armrests at a showing of Dog Day Afternoon and having surprisingly colorful sex; and more importantly, with Debbie's encouragement Holden's approach to criminals begins to incorporate academia's of-the-moment ideas.
Despite the show kicking off with a man blowing his head off, there's actually very little blood on-screen. Instead, Mindhunter is much more procedural, as Holden sets off on the seemingly impossible task of understanding why a person would commit horrific crimes without a clear and present motive (it's a compelling question, especially in the wake of events like the Las Vegas shooting). It's a good thing Gross, as Debbie, is there to provide much of the light touch the show needs on occasion; when Holden complains to her that the "sad f—ing hippies" won't help him in his FBI work, she replies that it's because "they'll never forgive you for putting a tail on John and Yoko."
Though Debbie stays clear from most of the real action as Holden's investigations continue, off camera, Gross is quite a fan of mysteries herself. She's clearly amused and even delighted, for example, by the misinformation out there about her on the internet. "I grew up in Toronto, despite what my IMDb says," she said with a laugh. "It seems to be an amalgamation of three Hannah Grosses. I was not born in Michigan in 1995, and I unfortunately am not the one who did Survivor: Fiji."
Gross spent much of her childhood on sets. Her parents, Paul Gross and Martha Burns, are both working actors, and she appeared as an extra in a lot of their projects, uncredited. (Gross declined to say whether she'll be appearing in Netflix's order of Mindhunter's second season.) It wasn't until she appeared in a school production of Macbeth that she realized acting was in fact her calling, too. Even though that role was almost invisible—she played a servant in an apparition—it gave the self-described "extraordinarily shy" Gross an outlet, which eventually led to her leaving Toronto to study acting at New York University.
It didn't take long until things came full circle, and she found herself playing a Macbeth-like specter in a flashback scene in the recent film Marjorie Prime. Only this time, her scene partner was a little more memorable. "I just got to bask in Jon Hamm's beauty for a few hours," she said.
Related: Mindhunter, Netflix's New Serial Killer Series, Will Keep You Up at Night
See W's most popular videos: