Jake Gyllenhaal and Tatiana Maslany Bring the Waterworks in the Stronger Trailer
The film is about the 2013 Boston Marathon bombing.
---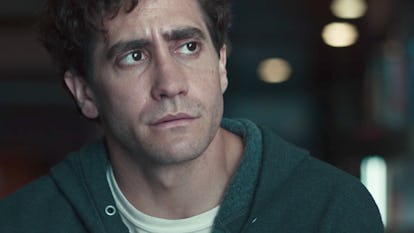 RoadsideFlix/Youtube
With awards season heating up in America just as quickly as muggy summer temperatures, may we present you with a new film hoping for possible Oscar glory: Stronger.
Starring the dream team of Jake Gyllenhaal and Orphan Black's Tatiana Maslany, both armed with Boston accents, Stronger is the latest film to depict the horrific 2013 Boston Marathon bombing. (A previous film about the tragedy, Patriots Day and starring Boston's finest Mark Wahlberg, was a box-office disappointment but was decently received by critics.)
The premise revolves around the true story of Jeff Bauman (Gyllenhaal), a Boston man who "captured the hearts of his city and the world to become the symbol of hope" following the bombing. As the narrative unfolds, Bauman turns up at the marathon in the hopes of winning his ex-girlfriend (Maslany) back. As he waits by the finish line, the fatal blast occurs, and he loses both of his legs in the explosion. Though he's able to survive the attack, Bauman's physical recovery and emotional journey—and not to mention, the crippling PTSD of it all—understandably proves to be an arduous process. Still, he perseveres with the full support of his family and his ex-girlfriend, and ends up becoming an iconic symbol of strength in the city.
Gyllenhaal, who also produced Stronger, recently elaborated on the lengths he chose to go as an actor when he took the role. "I spent all of my days in a wheelchair. Simulating the idea of having lost my legs above the knee, which Jeff did," he said to Deadline. "I ran then, too. At a certain point when we were in Boston, even when we were in preproduction, throughout that journey, I was running almost 10 to 15 miles sometimes."
The film is set to hit theaters on September 22.
Related: Watch Jake Gyllenhaal Sing in This New Video Directed by Cary Fukunaga
One Scene In "Jerry Maguire" Makes Jake Gyllenhaal Cry Every Time:
Jake Gyllenhaal's Style Evolution, from Donnie Darko to Tom Ford Heartthrob
18 year-old Jake received his first big Hollywood break in film 'October Sky'. Here he was sighted outside of 'Saturday Night Live' in a very causal look featuring a denim jacket, plaid button up and blue slacks completed with a book bag.

Getty Images
At the Cachet's One Year Anniversary, the young actor arrived in a more formal blazer and slacks look. He began to show his interest in mens style as he accessorized with a yellow wool scarf.

Getty Images
Remaining true to his relaxed youthful style, Jack attended the 9th Annual Kids for Kids Celebrity Carnival dressed in a pastel- stripped polo shirt, black over jacket, blue jeans and sneakers.

Getty Images
Not afraid of wearing a piece twice, Jake re-styled and rocked his pastel stripped polo under a blazer and paired with a dark blue jean and brown shoe for the 18th Annual IFP Independent Spirit Awards a year later.

Getty Images
Becoming accustom to mixing his casual pieces with formal on the red carpet, the actor opted for a white t-shirt, blazer and blue denim jeans for the LA premiere of 'Donnie Darko'.

Getty Images
A more mature Jake was reveled at the 2005 premiere of 'Jarhead' in NYC. The featured actor posed on the red carpet in a black two-piece suit with a v-neck shirt and sweater combo underneath.

Getty Images
Jake looked dapper dressed in black tuxedo and bowtie at the 78th Annual Academy awards.

Getty Images
At the 2007 premiere of 'Rendition', Jake looked business-ready as he donned a light grey plaid suit, soft blue button up and burgundy tie on the red carpet. He completed his look with a pair of black leather shoes.

Getty Images
Dressed to perfection at the world premiere of his film 'Prince of Persia', Gyllenhaal opted for a classic three-piece black suite accessorized with a black tie and shoes.

Getty Images
A full bearded Gyllenhaal opted for a brown-on-brown double breasted ensemble for the New Eyes for the Needy 80th Anniversary Gala, where he was honored.

Getty Images
Jake donned a tailored blue suit with a black button-up at the 2014 premiere of his film 'Nightcrawler'. He opted for a more casual brown boot to complete his look with a modern-relaxed touch.

Getty Images
The bachelor dropped jaws and sent girls hearts a flutter as he posed on the red carpet at the 2015 premiere of 'Demolition'. His choice of wearing a tailored dark grey suit with the pairing of a burgundy tie and black detailed oxfords was perfect for the evening.

Getty Images
At the award winning actor arrived to the 70th annual Tony Awards rocking an incredibly rare double breasted tuxedo.

Getty Images
Stylishly dressed at the screening for his latest featured film 'Nocturnal Animals', Jake opted for a tailored navy blue suit, light blue button up, olive green tie and black leather shoes.

Getty Images