The Forbes Celebrity 100 Doesn't Include a Single Female Movie Star
Not Jennifer Lawrence, not Emma Stone, not even a single female movie star made Forbes' Celebrity 100.
---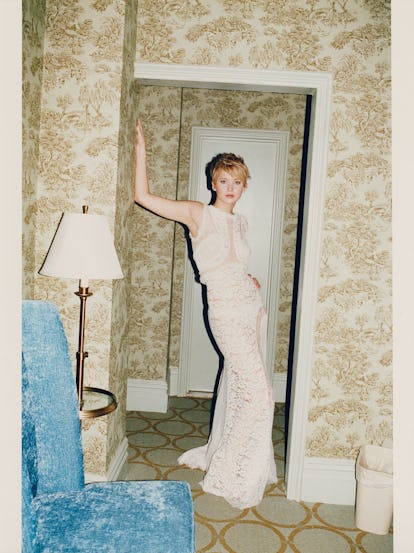 Photographed by Juergen Teller, styled by Edward Enninful; W magazine February 2014.
In the hierarchy of American celebrity, movie stars sit at the top of the heap. Yet, the A-list doesn't necessarily correspond neatly to the list of top earners. Just take a look at this year's Forbes Celebrity 100, an annual listicle that purports to rank which famous faces pulled in the most money over the past year, and you'll see very few stars of serious cinema.
Mark Wahlberg is the highest ranking traditional movie star, and even then he only comes in at 20th place. In fact, not a single female movie star is even on the list. Sure, there's a few women on the list who have starred in movies (namely, Beyoncé, Jennifer Lopez, Amy Schumer and Sofia Vergara), but none of them count "movie actress" as their primary job title, nor did they derive most of their paydays from the box office.
That means there's no Emma Stone on the list, no Jennifer Lawrence nor other young superstars. Nor are there A-list veterans like Angelina Julie, Julia Roberts, or Charlize Theron. Instead, the list is mostly populated by musicians, athletes, TV and radio hosts, and a handful of superstar standup comedians (including Schumer).
In fact, it was Sean "Diddy" Combs who took the top spot. He had a surprisingly good year, what with headlining the Bad Boy Family reunion tour, but Forbes notes he made the biggest chunk of his change by selling a one-third stake of his Sean Jean clothing like for a tidy $70 million. Beyoncé, meanwhile, takes the second spot thanks in large part to her Formation world tour. J.K. Rowling continues to print enough cash from the Harry Potter franchise to take third place, and Drake comes in fourth.
Though, the rest of the list isn't anywhere near as gender-balanced as that top four would suggest. Just 16 percent of the list is female. Though other notable women to make the cut include Adele at 18th place, Judge Judy Sheindlin at 43rd, Kim Kardashian West at 47th, and Taylor Swift at 49th. Kylie Jenner makes her debut on the list at 59th. It also turns out that Dolly Parton (71st) actually still makes a bit more than Rihanna (77th)—then again, Rihanna doesn't own a theme park.
Of course, the list, as so many of Forbes lists are, is based on estimations and best guesses. We don't even know how much our President is really worth, let alone if there is any real way to accurately report the incomes of everyone in Hollywood. The list is really more of an aggregation of reported celebrity financial news (concert ticket sales, speculations about movie and television paydays, endorsements deals and the like) mixed in with some educated guesses.
Still, the lack of female movie stars does make a certain amount of sense, sadly. Forbes reports that the gender imbalance "reflects the gender pay gap across industries." Far fewer female actresses get the big paydays associated with starring in world-conquering blockbuster franchises like male movie stars Wahlberg, Tom Cruise, and Robert Downey, Jr., all of whom made the list. And A-list movie stars tend to be more careful than most celebrities about cashing in on endorsement deals (unless it's for high fashion brands … or in Europe or Japan).
Of course, it does take a lot of money to make it on the list in the first place. The low bar this year was an annual take of $32 million.
Related: It's Time to Know Fan Bingbing and Deepika Padukone, Two of the World's Highest Paid Actresses
See What's Trending in W Video: