It's Time to Know Fan Bingbing and Deepika Padukone, Two of the World's Highest Paid Actresses
Forbes' rankings of the world's highest paid actresses also includes Jennifer Lawrence, Scarlett Johansson, and Charlize Theron.
---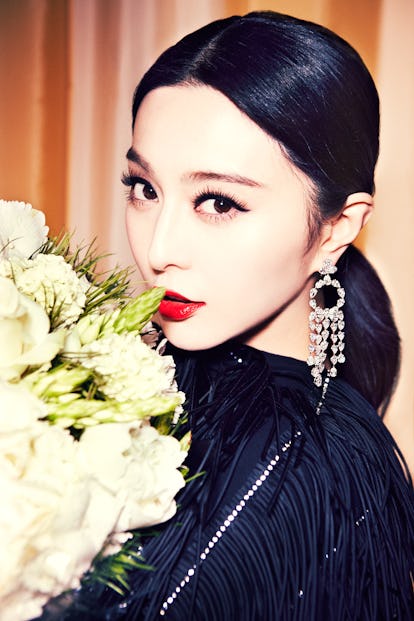 Photograph by Ellen von Unwerth
Forbes released its list of the world's highest paid film actress today, and it's mostly full of names familiar to any North American movie goer. The top spot, for one, isn't much a surprise. America's reigning sweetheart Jennifer Lawrence takes the lead with a total $46 million earned over the past year. Melissa McCarthy, Scarlett Johansson and Jennifer Aniston also made the list.
Though, for the first time in a while, the list features two foreign-born actresses who, thanks to the ever-growing importance of the foreign box office, are now earning as much as Julia Roberts and Charlize Theron. First is Chinese actress Fan Bingbing at number five. It's the movie star's second appearance on the list in a row, and the $17 million she's collected in the past year helped to keep her in the top half. Fan isn't completely unknown to Americans. She snagged the role of Blink in X-Men: Days of Future Past back in 2014, but has mostly stuck to Chinese films since.
"Can the actress ever be as popular in America as she is in China?" W's Editor at Large Lynn Hirschberg asked when she hung out with the international star back in 2013 for a story in the magazine. Maybe, maybe not, but that doesn't appear to matter much when it comes to collecting checks. Forbes notes that her paydays mostly come from local films like Skiptrace (which also starred Johnny Knoxville and Jackie Chan) and Lady in the Dynasty, but that her bottom line is supplemented by endorsement deals with Chopard and L'Oreal.
Rounding out the list at number is ten is Bollywood superstar Deepika Padukone, thanks to the $10 million she's pocketed over the past year. Like Fan, Padukone has cashed in on numerous endorsements, including a viral ad for Nike.
The Indian superstar may be unknown elsewhere, but she has her eyes set on Hollywood. She'll appear in XXX: Return of Xander Cage alongside Vin Diesel and Samuel L. Jackson next year, and reportedly will pursue more roles in L.A. Reportedly, she's partially inspired by the crossover success of her friend Priyanka Chopra (Indian tabloids are already painting the two as feuding rivals, because, you know, ridiculous tabloid coverage is a worldwide phenomenon).
While it's great that the two Asian superstars have now firmly planted themselves on the list amongst their Hollywood counterparts, it's maybe more than a little bit telling that they're only women of color to make the cut. No Black, Hispanic or Asian actresses are currently being cut the kinds of checks from Hollywood studios that could put them on the list. Halle Berry hasn't been listed for years, and Cameron Diaz fell off the list after last appearing in 2014.
Sure, actresses of color are dominating television right now in some of the most-watched or critically acclaimed shows. Think the likes of Kerry Washington on Scandal, Viola Davis on How To Get Away With Murder, Taraji P. Henson on Empire, Jennifer Lopez on Shades of Blue, or the aforementioned Chopra on Quantico. Unfortunately, that hasn't translated to opportunities to headline those big bucks-earning studio flicks and endorsement deals.
It's sad, but maybe it's just more evidence that blockbuster Hollywood movies are "out" while TV and foreign films are definitely "in." Last year Forbes also listed the world's highest paid television actresses. Sofia Vergara took the top spot on that list with a net earning of $28.5 million, more than all but two of the women listed here.
Here's the complete list of the world's highest paid actresses.
Jennifer Lawrence, $46 million
Melissa McCarthy, $33 million
Scarlett Johansson, $25 million
Jennifer Aniston, $21 million
Fan Bingbing, $17 million
Charlize Theron, $16.5 million
Amy Adams, $13.5 million
Julia Roberts, $12 million
Mila Kunis, $11 million
Deepika Padukone, $10 million
Watch Jennifer Lawrence reveal her cinematic crush: