The Shooting on a Music Festival in Las Vegas Echoes Attacks in Paris and Manchester
Like attacks earlier this year, Sunday night's shooting in Las Vegas struck another venue where people came together to peacefully listen to music.
---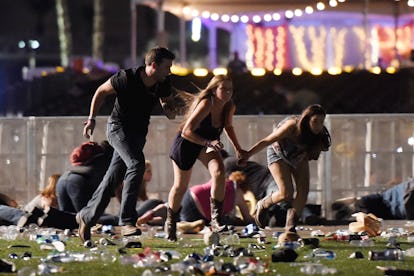 David Becker/Getty Images
At least 50 are confirmed dead and more than 400 more injured after a shooter opened fire on the Route 91 Harvest Festival music festival in Las Vegas, Nevada Sunday night. The shooter, who has been identified as a Mequite, Nevada resident named Stephen Paddock, 64, began firing from the 32nd floor of the nearby Mandalay Hotel just after 10 p.m. Sunday, while the festival's headliner, the country musician Jason Aldean, was playing his set. In videos taken from the crowd, Aldean can be seen departing the stage shortly after gunfire broke out; festival-goers took shelter among their seats, in the shadows of the barricades, and in nearby hotels as the shots rang out. Police cleared the adjacent floors at the Mandalay and reportedly fatally shot Paddock around midnight.
"It was a horror show," one concert attendee, Ivetta Saldana, told the Las Vegas Review-Journal. "It was relentless," another, Robyn Webb, said.
Nevada has some of the least stringent gun control laws in the country, and the state has consistently defied efforts to pass stricter legislation. It permits open carry of assault rifles; there are no background checks conducted for potential gun owners; and buyers can purchase as much ammunition as they like in a single go. In the wake of the attack on the festival, Hillary Clinton took to Twitter to express her condolences—"we are grieving with you," she wrote—and to advocate for politicians to take a renewed stand against the National Rifle Association, the main group lobbying group for the gun industry.
It's natural, and in fact necessary, to use a mass shooting—of which the United States has had 273 so far this year, according to gun control activist Igor Volsky—as evidence of the need for stricter gun control. This happened in the wake of Sandy Hook five years ago; after Charleston two years ago; and after the Pulse nightclub shooting last year. It's become rote: In the wake of an attack, politicians send out their "thoughts and prayers" tweets, while gun control reform seems to gain traction and momentum. And yet the United States continues to have the highest rate of mass shootings in the world, according to a report by CNN last year.
But the Las Vegas shooting is also specific in its terror. Paddock targeted the crowd at a music festival, a group of people who came together because they love the same thing. There is no music that is experienced alone. There is no fan base that is siloed. An audience attending a concert by a favorite musician is fused by the incantation of singing the same lyrics to the same beloved songs.
Though the shooting has been described as singular, among the deadliest mass shootings in American history, and though most have yet to describe it as an act of terror (likely because the shooter is a middle-aged white male, an individual far more likely to be described as "lone wolf" than "terrorist"), Sunday night's events bear marked similarities to recent terrorist attacks in Paris and London.
Like the shooting at Paris's Le Bataclan last year, where a gunman opened fire during an Eagles of Death Metal concert, or the bombing at the Manchester Arena earlier this year, where an Ariana Grande concert was entering its final stretch, Sunday night's shooting is an attack on an event during which individuals came together, intrinsically and voluntarily partaking in a community because they have the same favorite song, even if for entirely different reasons. It's something that transcends the politics of the musician (and, sometimes, of their fans), the genre of their music, or the makeup of its fan base—all of which differ radically among Grande, Aldean, and the members of the Eagles of Death Metal and their fans.
It even echoes the shootings at the Pulse nightclub in Orlando, Florida, last summer; each separate act of violence is not just a violation of human life, but also an infringement upon a space where total strangers shared a bond. Or, as New York Times reporter Katie Rosman wrote on Twitter, "Coming together with strangers who love the same songs as you is the height of community and humanity."
"It is particularly despicable that this attack was carried out during a concert, transforming an evening of music and celebration into a heartbreaking and horrific night of violence," said Nancy Pelosi, the California representative and minority leader for the House Democrats. "Our nation will never allow fear and violence to bow us or break our spirits."
Related: Las Vegas Shooting: Jason Aldean, Celine Dion, and More Mourn Latest Senseless Tragedy