Las Vegas Shooting: Jason Aldean, Celine Dion, and More Mourn Latest Senseless Tragedy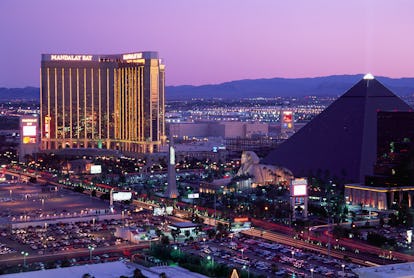 Richard Cummins/Corbis/Getty Creative
In the wake of a fatal shooting in Las Vegas on Sunday night, celebrities are using their platforms to share condolences and, in some cases, push for gun control legislation.
According to the New York Times, a single gunman on the 32nd floor of the Mandalay Bay Resort and Casino opened fire on the Route 91 Harvest Festival, an outdoor country music festival that was taking place across the street, just after 10 p.m. on October 1. At least 50 people have been confirmed dead (including the shooter, 64-year-old Stephen Paddock, who reportedly killed himself after a standoff with police), and hundreds more are injured—making this one of the deadliest mass shootings in U.S. history.
Since news first broke of the tragedy, countless celebrities have taken to Twitter and Instagram to express their condolences over Sunday night's events and pledge their thoughts, prayers, and support to the victims, their families, and the city of Las Vegas. Jason Aldean, who was performing at the festival at the time of the attack, posted a photo of the Las Vegas strip emblazoned with the words "Pray for Las Vegas" to Instagram late Sunday night.
"Tonight has been beyond horrific. I still dont know what to say but wanted to let everyone know that Me and my Crew are safe. My Thoughts and prayers go out to everyone involved tonight. It hurts my heart that this would happen to anyone who was just coming out to enjoy what should have been a fun night. #heartbroken #stopthehate," he captioned the photo.
Other country stars who were present at the event tweeted about their experiences, including Chris Young and Jake Owen, who had just finished performing and was still on stage when the shooting began. "Gun shots were ringing off of the stage rigging and road cases. No one knew where to go," Owen wrote on Twitter.
Many more celebrities around the world commented on the shooting on social media, with some of them using it as an example of the need for stricter gun control. "I mourn this senseless loss of life. What will it take, #Congress, for you to act?" Julianne Moore tweeted. Gigi Hadid also chimed in. "It sickens me the ease in which a TERRORIST can be sold a GUN. Is the ease really worth all these lives ?! This needs to stop," she wrote.