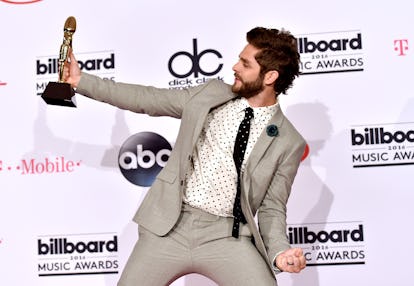 David Becker
"I've always hated directions," said Thomas Rhett, who on Tuesday became the first country singer to top the Billboard 200 this year.
It was last Friday, just days before Rhett's accomplishment officially marked him as a major crossover artist, and he was between dates on a nationwide stadium tour supporting third album Life Changes. Doing things his own way is clearly working for the 27-year but when we spoke he was referring to his family and his two young daughters, both just under 2.
"We've gotten a whole bunch of stuff lately like strollers and cribs and my wife is always, like, 'Hey, wait, get the directions. But I won't do it," he said, laughing. "I would rather sit there for seven hours and figure it out by myself. But I get it done."
Bucking convention has made Rhett one of country music's top new stars over the course of three albums, and his latest further tiptoes into mainstream music, mixing pop hooks and guitar rock to create a modern country sound. "Country music is changing so much," Rhett said. "It's interesting to see this shift in people who love pop and hip-hop music starting to come to country music concerts and find a blend of everything they love."
Banking on his new commercial success, Rhett is extending into fashion with a pop-up collaboration alongside the Los Angeles streetwear designer Daniel Patrick, a favorite of other music personalities like Justin Bieber, Kendrick Lamar, Big Sean and Teyana Taylor.
"I've never seen anyone else in country music do a pop-up store," Rhett said, adding he doesn't see any reason why these two worlds can't fit together. "If you ask anybody how country artists dress, they would think probably a belt buckle and a cowboy hat. And there still are those people," he said. At his pop-up shop, officially dubbed "Daniel Patrick X Thomas Rhett," they'll be able to buy anorak track pullovers, shorts and caps. "But, the people at my concerts, a lot of them are wearing Gucci T-shirts." (The pop-up opens at L.A.'s Fairfax Melrose district on Friday, the same day as Rhett's concert at the Greek Theatre, and runs through Sunday.)
As Rhett sees it, country fans want to embrace better merchandise, which in his view has been in a rut. "In country music, all we ever do is sell face-T's," he said, "and a lot of them are terrible, things that I would ever wear, ever." So, he's following in the footsteps of major pop stars, from Bieber to Kanye West and Rihanna, who are beefing up the quality of their merch by partnering with the likes of Fear of God and Alexander Wang.
Initially, Rhett met with some resistance from designers. "The response is always, our market is not country music, " he said. But he argues that's a missed opportunity to reach a huge and eager untapped audience.
"The biggest goal of the pop-up store is to put country music on that map, trying to get kids who want to be into fashion a way to start somewhere," he said. "People could say, that's not country. But, what is country? The goal is to change the sense that all we are is cars and dust and trucks."
Style Wars: Bieber, Beyoncé, and Kanye Merch Vs. Spring 2016 Collections
Watch: Gigi Hadid, Karaoke Star, Takes On "Baby" by Justin Bieber
Gigi Hadid, Karaoke Star, Takes On "Baby" by Justin Bieber