Teyana Taylor is Having the Best Fashion Week—As a Model
It's no surprise she has a fierce walk.
---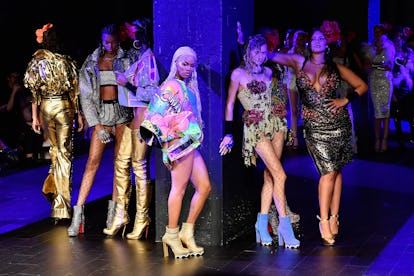 Frazer Harrison
This time last year, Teyana Taylor was an omnipresent face among the New York Fashion Week front rows. This year, she's still very much busy, but you're more likely to see her on the runway. Anyone who has seen her in Kanye West's "Fade" video already knows she has the moves. So it's no surprise she has a fierce walk.
On Tuesday night, Taylor opened the show for the pop world's favorite costume designers the Blonds (a show she where had sat front row a year before) in a high thigh-cut latex one-piece and a Lisa Frankenstein-like jacket. Taylor stood with her back to the crowd for about a minute while the lights flickered around and the music pumped up to create anticipation. Then, the lights came out, and she turned around to do her thing on the catwalk.
Then, just when you thought she was done she walked back around for another lap before positioning herself on the front of the stage. She'd spend the rest of the show striking poses as sharp as her cheekbones by a pillar while other models walked by, and was eventually joined by the others as well.
Of course, she documented the show on her Instagram.
Earlier in the week, Taylor closed the show at Philipp Plein by literally crawling, somersaulting and vogueing down the runway in a highlight moment in an over-the-top show that was full of them.
Though, Taylor's Fashion Week modeling exploits began even earlier at GCDS, where she closed the show like a boss lady on a mission. Or, as she put it in the Instagram caption, "When u heard McDonald's brought the chicken selects back and they're butter milk."
Non-professional models who are better known for other things are increasingly common on runways nowadays. Designers are recruiting celebrities, celebrity's children, Instagram influencers, customers, friends and more to show their clothes, and that can be great. Except, sometimes some of these people may prove to be more captivating on Instagram than they are on the runway. Taylor can more than hold her own.
Taylor has found time to do more than just walk. She did return to the front row to take in Kith Sports, helped Noami Campbell judge a vogue battle at Pat McGrath's Mothership Ball, and hit up a slew of parties alongside her NBA player husband Iman Shumpert through out the week as well. Though, this might be known as the fashion week that Taylor owned the runway, and other designers might be well advised to retain her catwalking services in the future.
Related: Teyana Taylor Channels Janet Jackson's 1995 MTV VMAs Look at This Year's Awards
See What's Trending in W Video: