Teyana Taylor's Performance at Philipp Plein Rivaled Her Dance in Kanye West's "Fade" Video
Plus, everything that happened at the spectacle: Tiffany Trump sightings, Fifth Harmony in the front row, a salty Nicki Minaj performance.
---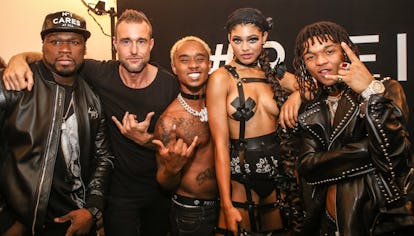 Thaddaeus McAdams
Two weekends ago all anyone in America could talk about was the Mayweather vs MacGregor fight and Taylor Swift's new music video. It's notable that Philipp Plein clothing played a part in both divisive pop culture spectacles. Floyd Mayweather fought in custom Plein, and announced a multi-year deal with the label just before the fight. Meanwhile, the furry-armed romper "New Taylor" wore at the climax of her "Look What You Made Me Do" video while standing atop a mountain of her past selves was also Plein.
The piece, barring Plein's name instead of Swift's customized "Rep," had debuted in February at the designer's "Make NYFW Great Again" debut show in New York (which, incidentally, featured first daughter Tiffany Trump in the front row).
Plein may be most popular in the Russian and Asian markets, but his intent of moving his show from Milan to New York to drum up brand awareness in America certainly seems to be working. His show on Saturday night served as another divisive pop culture spectacle of its own that can only lead to more name recognition on our shores.
In fact, edited down, the event at Manhattan's Hammerstein Ballroom would make for a thoroughly entertaining one-hour television special. He is perhaps one of the few designers who has the chutzpah to even dare compete with Victoria Secret's annual bash in pure pop culture entertainment and over-the-top exuberance.
The front row alone included all four members of Fifth Harmony (done up in head-to-toe Plein of collections past), 50 Cent, Fabolous, Paris Hilton, confounding starlet Bella Thorne and, once again, Tiffany Trump. This time the First Daughter wore one of the designer's creations, too. You could tell because his name was spelled out twice in Swarovski crystals at the hem of Trump's black minidress.
Burlesque queen Dita Von Teese served as the amuse bouche for the evening by doing her trademark martini glass routine, which was followed by Plein's own customary speech. It was notably shortened in comparison's to last season's fashion filibuster.
"It's become actually a monster," he said of his own brand. "Out of control, as you can see."
He confessed that when he started in fashion he was worried no one would want to come to his shows, but then boasted that there might be up to 2,000 people outside still waiting to get it (not quite, but, yes, there were scores of invited guests who were left on the outside).
The rapper Future, who earlier this year pulled off the feat of having back-to-back number one albums, then came out in a giant silver Plein puffer jacket to provide the live soundtrack for the show. Behind him, dancers stood on multi-level scaffolding performing in silhouette, "Jailhouse Rock"-style.
The model-world headline of the show will undoubtedly be that Irina Shayk made her return to the runway after giving birth to her first child with Bradley Cooper earlier this year, but there were certainly other storylines unfolding in the lineup: Adriana Lima opened the show; Beefcake male model Matthew Noszka walked shirtless down the runway with the charisma and crowd work that recalled a professional wrestler making his way to the Wrestlemania ring; both Snoop Dog's son Cordell Broadus and Snoop Dog's father Vernell Varnado walked; rappers like Rich The Kid, Metro Boomin, 21 Savage and the members of Rae Sremmurd all walked.
It was Teyana Taylor, though, who closed the show in a one-piece with a spectacular dance performance that rivaled her work in Kanye West's "Fade" video.
The afterparty, a coproduction with Chelsea lounge 1 Oak and held in the same space, featured a hotly anticipated performance by Nicki Minaj, who ran through hits and recent work, and was joined at times by 21 Savage and Yo Gotti. She would later give way to Rae Sremmurd, who performed a surprise rendition of their hit "Black Beatles."
Minaj's onstage banter didn't disappoint either. She gave shout outs to all five boroughs of New York, and her independent woman. "There's only one thing a [man] can give to me, and sometimes they can't even give that," she quipped. She also got serious when talking about Plein.
"Designers get really big and really rich off of our culture, and then you don't see a motherf—–, that look anything like us in the front row half the time, you understand?" Minaj said. "So let's make some noise for Philipp Plein tonight."
Say what you will about Plein, but it is admirable that his approach leads to an unforced diversity both on his runway and on the guest list. It's worth mentioning that while none walked last night, his fall ad campaign is one of the few that featured a trans model. In Plein-land, people of all types are welcome.
Assuming, of course, they can brave the door and get in.
Yes, it seems almost indulgent to complain about the headaches of attending a fashion show, but there was a whole lot that transpired last night that would have been cut from the theoretical TV special version (and the social media version that maybe played out on Instagram Stories). The crowded door situation almost requires a "Don't you know who I am?" attitude for anyone who wishes to get in quickly and to the seat they had actually been assigned to. It seems to recall the old Vegas club promoter trick of keeping a large line outside even if the club inside is relatively empty. The show started more than an hour late, and had a few interruptions. Stage hands had to come out with towels to dry up the water of Von Teese's martini bath. At the after party, the company had transformed the Hammerstein's stage into a VIP section but seemingly forgot they needed to make room on the stage for Minaj to make her entrance and perform. The music was cut for about 25 minutes as they figured it out. "Ain't not party like a Philipp Plein party 'cuz a Philipp Plein party don't stop" shouted an MC during the long stretch during which the party had practically stopped.
And the clothes? Well, it might have been Plein's most casual collection yet. Many looks featured t-shirts (or flirty t-shirt dresses) emblazoned with the "Good Gone Bad" and gagged Disney Princess logo of the evening. Others were heavy on jeans and leather jackets. There were a few evening dresses and even a ballgown skirt, and the notable fashion flourish of the evening were intricate leather harnesses.
Though, unlike other designers, you can't accuse Plein of showing pieces he doesn't intend to actually sell in stores. He also deserves credit for never banning a writer for a less-then-stellar write up, as at this point, pointing out the issues of the night is basically a tradition among the press.
Yes, we just compliment sandwiched Philipp Plein, but that's kind of what attending his show feels like: wading through the stress and standstills to get to the entertainment highs. We all knew what we were getting into. Those highs made for great 'Gram fodder, and will look amazing playing on screens at Plein's boutiques. We'll also be able to say we were there for the debut when a piece form this collection inevitably makes its way into some Swift or Mayweather-level pop culture moment.
Plein's arrived in America, and there's no stopping him now.
The Best Behind-the-Scenes Photos of New York Fashion Week Spring 2018
Inside the VFILES show on Wednesday, September 6th at Barclays Center during New York Fashion Week. Photographed by Serichai Traipoom for W Magazine.

SERICHAI TRAIPOOM
Inside the VFILES show on Wednesday, September 6th at Barclays Center during New York Fashion Week. Photographed by Serichai Traipoom for W Magazine.

SERICHAI TRAIPOOM
Inside the VFILES show on Wednesday, September 6th at Barclays Center during New York Fashion Week. Photographed by Serichai Traipoom for W Magazine.

SERICHAI TRAIPOOM
Inside the VFILES show on Wednesday, September 6th at Barclays Center during New York Fashion Week. Photographed by Serichai Traipoom for W Magazine.

SERICHAI TRAIPOOM
Kaia Gerber making her debut at Calvin Klein Show on Thursday, September 7th at the Calvin Klein headquarters during New York Fashion Week . Photographed by Serichai Traipoom for W Magazine.

SERICHAI TRAIPOOM
Inside the VFILES show on Wednesday, September 6th at Barclays Center during New York Fashion Week. Photographed by Serichai Traipoom for W Magazine.

SERICHAI TRAIPOOM
Inside the VFILES show on Wednesday, September 6th at Barclays Center during New York Fashion Week. Photographed by Serichai Traipoom for W Magazine.

SERICHAI TRAIPOOM
Inside the Calvin Klein show on Thursday, September 7th at Calvin Klein Headquarters during New York Fashion Week. Photographed by Serichai Traipoom for W Magazine.

SERICHAI TRAIPOOM
Inside the VFILES show on Wednesday, September 6th at Barclays Center during New York Fashion Week. Photographed by Serichai Traipoom for W Magazine.

SERICHAI TRAIPOOM
Inside the Adam Selman show on Thursday, September 7th at Skylight Clarkson during New York Fashion Week. Photographed by Serichai Traipoom for W Magazine.

SERICHAI TRAIPOOM
Tinashe at the VFILES show on Wednesday, September 6th at Barclays Center during New York Fashion Week. Photographed by Serichai Traipoom for W Magazine.

SERICHAI TRAIPOOM
Inside the VFILES show on Wednesday, September 6th at Barclays Center during New York Fashion Week. Photographed by Serichai Traipoom for W Magazine.

SERICHAI TRAIPOOM
Inside the VFILES show on Wednesday, September 6th at Barclays Center during New York Fashion Week. Photographed by Serichai Traipoom for W Magazine.

SERICHAI TRAIPOOM
Inside the VFILES show on Wednesday, September 6th at Barclays Center during New York Fashion Week. Photographed by Serichai Traipoom for W Magazine.

SERICHAI TRAIPOOM
Inside the Adam Selman show on Thursday, September 7th at Skylight Clarkson during New York Fashion Week. Photographed by Serichai Traipoom for W Magazine.

SERICHAI TRAIPOOM
Inside the Adam Selman show on Thursday, September 7th at Skylight Clarkson during New York Fashion Week. Photographed by Serichai Traipoom for W Magazine.

SERICHAI TRAIPOOM
Inside the Adam Selman show on Thursday, September 7th at Skylight Clarkson during New York Fashion Week. Photographed by Serichai Traipoom for W Magazine.

SERICHAI TRAIPOOM
Inside the Calvin Klein show on Thursday, September 7th at Calvin Klein Headquarters during New York Fashion Week. Photographed by Serichai Traipoom for W Magazine.

SERICHAI TRAIPOOM
Inside the Tory Burch show on Friday, September 8th at the Cooper Hewitt during New York Fashion Week. Photographed by Serichai Traipoom for W Magazine.

SERICHAI TRAIPOOM
Inside the Tory Burch show on Friday, September 8th at the Cooper Hewitt during New York Fashion Week. Photographed by Serichai Traipoom for W Magazine.

SERICHAI TRAIPOOM
Tory Burch SS18. Photographed by Serichai Traipoom for W Magazine.

SERICHAI TRAIPOOM
Inside the Tory Burch show on Friday, September 8th at the Cooper Hewitt during New York Fashion Week. Photographed by Serichai Traipoom for W Magazine.

SERICHAI TRAIPOOM
Inside the Tory Burch show on Friday, September 8th at the Cooper Hewitt during New York Fashion Week. Photographed by Serichai Traipoom for W Magazine.

SERICHAI TRAIPOOM
Inside the Tory Burch show on Friday, September 8th at the Cooper Hewitt during New York Fashion Week. Photographed by Serichai Traipoom for W Magazine.

SERICHAI TRAIPOOM
Inside the Brandon Maxwell show on Friday, September 8th at The Doubles Club during New York Fashion Week. Photographed by Serichai Traipoom for W Magazine.

SERICHAI TRAIPOOM
Inside the Brandon Maxwell show on Friday, September 8th at The Doubles Club during New York Fashion Week. Photographed by Serichai Traipoom for W Magazine.

SERICHAI TRAIPOOM
Inside the Brandon Maxwell show on Friday, September 8th at The Doubles Club during New York Fashion Week. Photographed by Serichai Traipoom for W Magazine.

SERICHAI TRAIPOOM
Inside the Brandon Maxwell show on Friday, September 8th at The Doubles Club during New York Fashion Week. Photographed by Serichai Traipoom for W Magazine.

SERICHAI TRAIPOOM
Inside the Brandon Maxwell show on Friday, September 8th at The Doubles Club during New York Fashion Week. Photographed by Serichai Traipoom for W Magazine.

SERICHAI TRAIPOOM
Inside the Brandon Maxwell show on Friday, September 8th at The Doubles Club during New York Fashion Week. Photographed by Serichai Traipoom for W Magazine.

SERICHAI TRAIPOOM
Fall Fashion Advice from a Very Young Stylist: