In the Fight of the Year, Versace Picks Conor McGregor, Philipp Plein Goes with Floyd Mayweather
For the epic Floyd Mayweather Jr. vs Conor McGregor brawl scheduled for Saturday, it may be a decidedly more high fashion affair pitting Versace against Philipp Plein.
---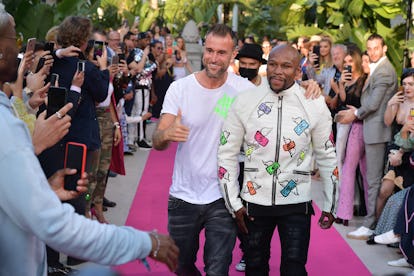 George Pimentel
Normally in sporting events, the fashion fight is between Nike and Adidas. For the epic Floyd Mayweather Jr. vs Conor McGregor brawl scheduled for Saturday, it may be a decidedly more high fashion affair pitting Philipp Plein against Donatella Versace.
Yes, not only will Mayweather be decked out in custom Plein trunks and a robe for the fight, but, as per WWD, the designer and the boxer will use the event to herald in a two-year collaboration. In addition, Mayweather's entire team will be wearing Plein.
This should not come as much as a surprise in retrospect. The German-born designer recently held his Resort fashion show in Cannes, and it was Mayweather who walked alongside him, in a custom leather jacket no less, during the finale.
The Plein brand is said to be particularly popular in the Asian and Eastern European market, but has recently set its eyes upon the American market. After showing in Milan for years, in February the designer showed during New York Fashion Week for the first time. The resulting fashion show-cum-bacchanal (which you can read all about here) featured performances by Nas and 2 Live Crew, included Madonna, Kylie Jenner and Tiffany Trump in the front row, and featured notables like Pete Wentz, Young Thug, and Jeremy "Hot Felon" Meeks actually walking on the runway (well, in this case, through the halls of the New York Public Library where the event was held). The afterparties (yes, plural) featured Paris Hilton dancing on table tops while Fat Joe looked on upstairs, while guests drove bumper cars in a library hall downstairs. This is all to say, Plein is a flashy, celebrity-friendly brand. The linkup with Mayweather makes complete sense.
"[Floyd's] fashion sense and fearless attitude perfectly match the Philipp Plein mood and lifestyle," the designer said in a statement released to WWD. The designer will be showing during New York Fashion Week in September.
Meanwhile, McGregor has Donatella Versace in his corner, though it's not entirely clear yet if he'll be wearing Versace on the night of the fight. Though, earlier this month, McGregor posed in a custom Versace robe. "Thank you @donatella_versace for this amazing gift this morning," he wrote.
McGregor is also known for his flashy out-of-the-ring style as well and has become something of a GQ obsession.
If, you've mostly read through this story for the fashion and have no idea why this fight is such a big deal in the first place, you might need to know that Mayweather is an undefeated champion boxer who was the biggest draw in the sport before his 2015 retirement (or "retirement" so it were). McGregor, a mixed martial arts fighter, is both UFC's reigning lightweight champion and the promotion's biggest star. Basically, it's an unconventional, cross-sport face off with both men walking away with hefty paychecks (and viewers at home being charged $99 to watch on pay-per-view).
Still not sure why people care so much? This is like the fashion equivalent of Victoria Beckham and the Olsen twins engaging in a rumored feud through pointed Page Six items. You can imagine how excited fight lovers are.
Related: Justin Bieber, Man of God, Unfollowed Boxer Floyd Mayweather on Instagram
Kathryn Newton, HBO's Next Big Star, Leaves It All in the Ring: