The Key Lessons Calvin Harris Can Learn From DJ Khaled
The summer of 2017 has brought us two super-producer super-albums, DJ Khaled's Grateful and soon Calvin Harris' Funk Wav Bounces Vol. 1. Whose tentpole is taller?
---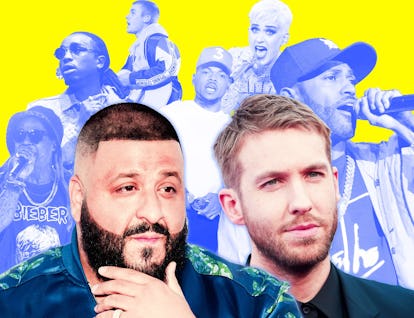 DJ Khaled, a former DJ and current full-time meme, recently secured his first no. 1 song by bringing Justin Bieber, Chance the Rapper, Quavo, and Lil Wayne together for "I'm the One," a single almost too big to fail. And Calvin Harris, a full-time DJ and former half of a pop power couple, just got Big Sean, Katy Perry, and Pharrell together for "Feels," which came with a fabulist music video that packed all its stars onto one desert island. Ever since Harris kicked the summer off with "Slide," which not only featured Migos (which of course includes Quavo) but also the ever-reclusive Frank Ocean, these two superproducers have been flexing their way to the top of the charts. In fact, most of the advance album press for Khaled's Grateful, which came out last week, and Harris's Funk Wav Bounces Vol. 1, out tomorrow, has revolved around the impressive talent line-ups of both projects—even if Khaled, with a decade-plus experience doing this, appears a little more sure of himself in this arena than Harris.
Calvin Harris arrived to American pop listeners in 2011 with "Feels So Close," but it was Rihanna's "We Found Love" later that year that gave the Scottish producer his first American no. 1 hit. The song arrived during the peak of the first wave of EDM pop, a couple years after French DJ David Guetta showed that you didn't need to be the person singing the song to front a pop hit. These guys—and they are all guys—were getting the attention and accolades that used to be accorded to the female pop stars. Soon enough, Guetta and Harris had more competition, as the next wave of EDM producers—Avicii, the Chainsmokers, Kygo, Swedish House Mafia, Zedd—flooded the landscape with songs featuring less famous vocalists, which allowed the producers to put their own names even more front and center.
DJ Khaled, for his part, came up with southern rap's rise to dominate mainstream music, and offered a unique voice as a DJ who was actually making hit singles. DJ Drama, an Atlanta-by-way-of-Philadelphia DJ and radio personality, released his own albums featuring big-name collaborators, but none of them reached anywhere near Khaled's level of pop-cultural saturation. DJ Felli Fel, DJ Scream, and others also tried to replicate the golden Khaled formula, but few possess his larger-than-life persona, which has allowed him to prosper in a market and a lane that he created, with little space for others.
I Changed A Lot, Khaled's 2015 album, had him trying to show personal growth after a decade of releasing what amounts to the same album. A couple songs ("Hold You Down" and "How Many Times") went gold, but that narrative wasn't enough to really make a dent. A few months later, Khaled's Snapchat account became a source of endless memes, jokes, and brand new catchphrases ("Major Key Alert"). Not only did that Snapchat fame result in new partnerships and deal, but Major Key, his ninth album, was able to go no. 1 with the help of stronger singles and a stronger, repackaged narrative for his new fans.
Grateful, which came out last Friday, continues to stretch the limits of Khaled's personal brand in a post-social media age. This particular moment represents the peak of his career, but even on Grateful we got yet another new narrative with the birth of Khaled's son Asahd, who is credited as an executive producer on the album and is featured on the cover. Not unlike his Snapchat channel, baby Khaled provided new memes to support the product—which just so happens to be an album—that Khaled is selling.
A true double album (23 songs!), it covers little new ground outside of the street rap that Khaled's long perfected. There are the strident song-of-summer plays with "I'm the One" and "Wild Thoughts," which both debuted at or near the top of Billboard's Top 100. But, for Khaled, who at this point has been close to an-album-a-year schedule for more than a decade, these projects are now less about stretching his legs musically, and more guideposts for the next iteration of the DJ Khaled brand. Last year was about Snapchat; 2017 is all Asahd; for 2018, Khaled is probably already looking for a new tactic.
That level of strategic cunning is absent so far from the early singles Calvin Harris released. There is no narrative to Funk Wav Bounces Vol. 1; instead, it's Katy Perry's out-of-sorts singing on "Feels," or the mismatched pairing of Future and Khalid on "Rollin." Where Khaled's narrative through line with his album promotion masks a record that is essentially by-the-numbers DJ Khaled for the 10th outing in a row, Harris is teasing a musical through line of 70's cruiseline funk, which was already dated back in 2013 when Daft Punk put out "Get Lucky."
The last couple of years, Khaled learned that people need to care about him in order for the music to connect—star power alone, even though he continues to harness it, isn't enough. He understood the need to present a story that was bigger than a single song, artist, or even album. For now, the story Calvin Harris is telling is still that his name is consistently next to the other big names on the credits, even as that list grows longer and starrier. Harris may always has another one, but Khaled always has "Another one."
Migos, Rihanna, and More Modern-Day Rockstars Are Wearing Kurt Cobain's Iconic White Sunglasses
Takeoff of Migos wears white sunglasses to the "Rei Kawakubo/Comme des Garcons" Costume Institute Gala at the Metropolitan Museum of Art.

Ray Tamarra/Getty Images
Sofia Richie is seen on March 02, 2017 in Los Angeles, California wearing white sunglasses styled casually with a t-shirt and jeans.

BG011/Bauer-Griffin/Getty Images
Lil Yachty attends TIDAL X: 1015 on October 15, 2016 in New York City wearing round white sunglasses under his braids.

Larry Busacca
Pharrell Williams performs onstage with Hans Zimmer during the Coachella music festival wearing round white sunglasses and a yellow Adidas sweatshirt.

Frazer Harrison/Getty Images
Wiz Khalifa performs onstage during the Spotify Best New Artist Nominees celebration at Belasco Theatre in Los Angeles, California wearing white sunglasses.

Charley Gallay/Getty Images
Rihanna is seen arriving at the Carlyle Hotel before the Met Gala wearing white sunglasses, white boots, and a blue fur stole.

Roy Rochlin/Getty Images
Lil Uzi Vert attends the MDW Day Party at Compound in Atlanta, Georgia wearing white sunglasses with a Goyard bag.

Prince Williams/Getty Images
Pixie Lott wears white sunglasses to contrast her bright pink hair while stepping out at BBC Radio in London, England.

SAV/Getty Images
Emily Ratajkowski is seen in Paris, France wearing Raen's white square lens sunglasses with a white overcoat, floral top, and jeans.

Marc Piasecki/Getty Images
The former vlogger and model Amanda Steele is seen wearing white sunglasses and a bandeau top by the pool this spring.
Related: Calvin Harris Thought He Was Being 'Belittled' By Taylor Swift After Their Break-Up
See a 7-year-old interview Katy Perry: