Katy Perry, Calvin Harris, Pharrell, and Big Sean Are Deserted Together in New Video for 'Feels'
If you were stuck on a desert island with Big Sean, Calvin Harris, and Pharrell…
---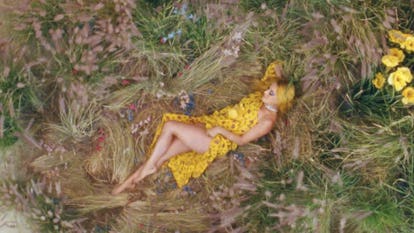 CalvinHarrisVevo/YouTube
After fighting through the jungle cats in her "Roar" video (remember "Roar"? Times were simpler…), Katy Perry has landed on a tropical island, or at least, a stylized set of a tropical island. In the video for Calvin Harris' "Feels," Katy, Calvin, Big Sean, and Pharrell Williams are chilling (and, in Harris' case, slapping the bass) on a psychedelic island that's one part Gilligan to two parts Rainforest Café. Everyone has colorful glasses, Ft. Lauderdale-worthy button-down patterned shirts and not a care in the world. As Perry, cornflower-yellow hair matching her dress and sporting a stunning sparkling choker, tells us she knows we're "not afraid to catch feels," we tour the isle: Katy's in a meadow, Calvin's in a field, Pharrell's by the water, and prince of parrots Sean is near some trees.
But then (spoiler!) at the end we find out that they've been in the same place all along, right next to each other…
The video was directed by Emil Nava, who's also done work for Ed Sheerhan, Jessie J, and Rita Ora.
To the semi-trained eye, it looks like the "Feels" video was shot on real film, not on digital, but maybe it was just manipulated to … feel that way. (Sorry.) "Feels" is from Harris' upcoming album Funk Wav Bounces Vol. 1, out this week, and judging by this track list full of famous collaborators, we're expecting more celeb-packed videos soon.
Perry's been on a "small" PR blitz lately to promote her fifth album, Witness, so it's kind of nice to see her take if not a back seat, at least an ensemble role here. Her Gwen Stefani-esque cooing here blends nicely with Pharrell's and Big Sean's, and the whole thing has a relaxed vibe that's a refreshing departure from the amped-up EDM pop that has tended to dominate the airwaves.
Whatever the case, the Perry and Harris collaboration did not turn out to be the Taylor Swift dis track the world at first anticipated.
Related: Katy Perry Uses About 200 Words to Claim She Has Nothing to Say About Taylor Swift
A 7-Year-Old Interviews Katy Perry: