Exclusive Music Video Premiere: In "Too Far," Laurel Finds a Partner in Heartbreak
The British singer-songwriter connected with a French photographer over her intensely personal new single.
---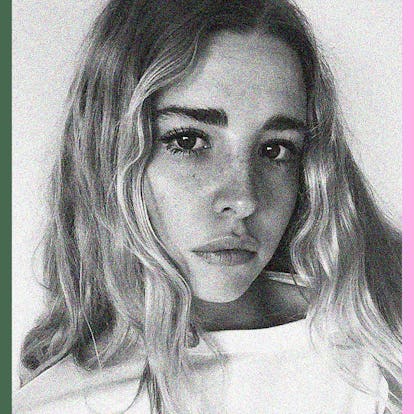 By her own admission, Laurel Arnell Cullen, better known as Laurel is something of a control freak—she writes and produces her own music, and even shot and edited some of her music videos—so surrendering her vision to another artist might not have seemed a natural move. But when the French photographer Kimbra Audrey approached her with a stark black-and-white video soundtracked by "Too Far," a track off Laurel's debut EP Park, the British singer recognized a simpatico vision.
Audrey primarily works in self-portraiture. "It forces you to really look at your relationship with yourself," she explained. Laurel, for her part, works in self-portraiture of her own variety: Her lyrics are intensely personal, and "Too Far" opens with a quietly thumbed guitar line and a vivid scene from her own life: "Clenched teeth, stare at the ceiling, I know how you're feeling," she sings in a hushed alto. Later, she cries out, "Then I'm on my back, he says, 'Shut up and don't speak to me.'"
The video for "Too Far," which premieres exclusively below, combines the two narratives, anchored both by Audrey's mournful stare and Laurel's lyrics printed across the bottom. The two artists connected through a mutual friend, the photographer Katie Silvester, who introduced Audrey to Laurel's music.
"Too Far" is a song about being forced to come to terms with the demise of a relationship. It's something that, four months ago, Laurel found herself confronting. "You keep giving it your all," she explained, "and there's a point where you realize you've gone too far to go back."
Audrey connected with the song after the end of a relationship of her own. She made the video shortly after: In the grainy monochrome image, she's naked, visibly holding back tears, staring off to the side, occasionally leveling her gaze at the camera. She lights a cigarette, smoking forward and then in reverse. "I also wanted to play with the idea of being able to redo something," she said.
Though "Too Far" is almost diaristic, for Laurel the presence of another artist "might suggest that it's not even my narrative," she said. In fact it is, but it's also universal.
See W's most popular videos: