Exclusive Music Video Premiere: Léon Braves the Elements in "Léon's Lullaby"
Sweden's next great pop export has a neo-soul voice and a jazz soul.
---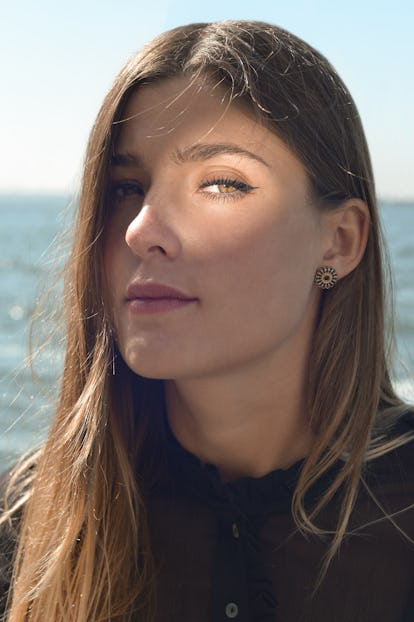 Léon has been writing love songs since she was nine years old. A Stockholm native, the singer-songwriter was having dinner with her parents and sister in mid-September when she uncovered childhood diaries filled with song lyrics.
"It doesn't even make sense," Léon, born Lotta Lindgren, told me on a recent New York morning. "I was very thirsty for love… I just made things up." The 23-year-old singer, substantially more seasoned, is still writing love songs. She released a four-track EP entitled Treasure last year; the lead single "Tired of Talking" rocketed to the top of Hype Machine's rankings, and the four songs have earned more than 40 million cumulative listens on Spotify in the past year. Now, ahead of a tour hitting New Orleans's Voodoo festival, Miami, and Toronto, she's releasing a video for the EP's closing track "Léon's Lullaby," premiering exclusively on W.
Filmed in mid-July just outside Stockholm, the video is abstract, ambient, and moody, comprising solo shots of Léon roaming a rural Swedish landscape. Léon and director Ted Malmros braved rain, thunder, lightning, and curious passersby to gather simple, minimalist scenes of the singer in her natural habitat. But while the backdrop for the video is all rural Sweden, the song itself is a lilting jazz composition intended to evoke mid-century California.
"I came to the studio and we just wanted to vibe," Léon recalled. She and her producer Agrin Rahmani pulled up a photo of San Francisco in the 50's on a projector in a darkened studio; he started riffing an electric guitar line and she began singing. Within 15 minutes, "Léon's Lullaby" was born. It's a tranquil, blissful track: Over a syncopated guitar line, Léon conjures a scene of youthful infatuation. "Some keep saying we're way too young," she croons, "with you, you're my world, I'm safe and sound."
It's the most soulful of the four songs on her Treasure EP, and perhaps reflects her musical roots more than her more pop-oriented tunes. The daughter of a Symphony Orchestra cellist and an experimental composer, Léon grew up playing cello and singing in choirs from a toddler.
"I wanted to be a singer," she said. "I think that's what took a lot of my time away from practicing cello, that I wanted to sit in my room and write music instead." By 17, she had started a 10-piece neo-soul ensemble, playing her own compositions; after high school, she moved north to attend Musikmakarna, a small music school in Örnsköldsvik. It was at Musikmakarna that she met Rahmani, with whom she's written and produced music for two years now, meeting somewhere in the middle between her jazz and soul influences, like Etta James or D'Angelo, and his pop sensibility.
As Léon started releasing solo material, she also developed her stage persona — Lotta Lindgren is a fairly common name in Sweden, and she wanted something gender-ambiguous that would pop. (It's why she styles her name in all caps, as LÉON.)
"It's nice to have this character you can go into," she said. "It is me, it's just kind of an extended version of me." Léon is a bit more serious, a bit more mysterious, than Lindgren, who laughed easily and often as we talked. She wore a sheer black mock-neck top with wide-legged ankle pants; though she's not yet a fashion insider like her countrywoman Lykke Li, she has a latent interest in the industry, having modeled Philosophy di Lorenzo Serafini for a Barneys editorial last year.
Next up is a full-length follow-up to the Treasure EP on the horizon, with its lead single dropping in a couple weeks. The album will be less pop, more jazz — essentially, less synth, more cello — which make's "Léon's Lullaby," with its retro sensibility, the perfect articulation between EP and LP. And, though Léon is poised for a breakout moment, she's still keeping it in the family: her mother and uncle alike are both featured in the 11-piece string section.
"It's just going to be big," she said.