Exclusive Song Premiere: Hear the First Single From Swimsuit Issue, the New L.A. Band Fronted By Model Miles Garber
"Look Now" marks their big debut.
---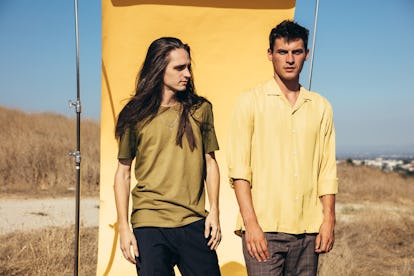 Photo by Aaron Feaver. Stylist: Jessie Jamz. Courtesy Swimsuit Issue
When Miles Garber and David Gagliardi of the Los Angeles band Swimsuit Issue played their first ever show, it was in front of 1,200 Cat Power fans at Philadelphia's Electric Factory.
"It was the most ridiculous thing ever," recalled Garber, sitting inside The Satellite in L.A., as he prepared to take the stage in his hometown recently. "We had done a demo. It was my first time in a studio, and I had sent it to friends I trusted. Three days later, they were like, 'Hey, so we sent it to our friend Chan, she really likes it, and she wants you to open for her tomorrow.' I was like, 'Cool, who's Chan?'"
As in Chan Marshall, aka Cat Power of course. "I called David and was like, 'Dude, we gotta go to Philadelphia right now," Garber, who was living in New York at the time, continued. "We put a van on credit card and [left]."
If you follow men's fashion, you'll recognize Garber as a prominent model. Though born in Staten Island, he grew up in Hollywood, and was first scouted on Fairfax Avenue at age 14. Now, at 27, signed to Ford Models in L.A. (and DNA in New York), he's back in L.A. after seven years of living on the other coast.
It was outside of an art show on the Bowery that he first met his bandmate Gagliardi, of the hardcore punk band Trash Talk: "I knew he played guitar, and I was like, 'Hey man, I'm writing these stupid songs, can I send them to you?'" Garber recalled. "Two months later, we did the demo."
They went on to call their band Swimsuit Issue. A reference to his modeling, perhaps?
"Yeah, it pretty much comes from that," Garber said. "Why not make fun of it? We just thought it was a funny play on what I've been, and has a nice ring to it."
They've been recording on and off for almost two years in New York, he said, playing one-off shows here and there. They're now signed to 108 Music (D.R.A.M, Run the Jewels), and on this night, inside The Satellite, the scene is packed with some familiar faces—the actor Garrett Hedlund, Rainey Qualley (Garber's girlfriend at the time), models, skaters, all manner of pretty people. It was Swimsuit Issue's first time playing in L.A. as a full band, with Garber and Gagliardi joined by three others on bass, drums, and a third guitar. Garber is on the mic.
"I always sang secretly," he said when I brought up his singing voice. "I always wrote things on acoustic guitar in my room, but it was really not until I met Dave that I started singing… Someone of his caliber thinking I was worth playing with made me think, OK, maybe I should do music, you know?"
The recording process for the EP, out this fall, has been led by Gagliardi, he said. "Dude is a psycho genius, and I just do what I'm told. We'll write on our own but really it's Dave orchestrating the entire band."
When I met Gagliardi after the show, he was being bombarded with compliments. "Thanks for coming," he responded simply to all the praise.
He's a man of few words, and when I brought up Garber's declaration of his "psycho genius," Gagliardi chuckled: "I feel like I shouldn't say anything 'cause I'll ruin it as soon as I open my mouth."
Swimsuit Issue's first single, "Look Now," premiering here exclusively on W, was among the first few songs they ever recorded together.
"It's personal," Garber said of the lyrics. "A lot of people in our lives are addicts, and we've lost a lot of friends… It's near and dear to us, but I'm ready to get that thing out. I'm so sick of listening to it at this point."
The rest of the record follows a similarly somber mood, he said. "I was talking about this today; it's funny, we're pretty sad dudes, after listening to the album. It's very cathartic, though."
With everything going on, what was he looking forward to most?
"Tonight? Singing on key," he said with a laugh. "I don't know, just doing it. I really want to put out our record. I want to tour and just be a band, you know? I can't wait to start putting out music, and if people like it, great. If they don't, we'll still do it."
For Her Birthday This Year, Martha Stewart Is Getting Her Very Own Musical: