Exclusive Track Premiere: Steven Tyler's Daughter Chelsea is Getting Him Into Electronica With Kaneholler's "Lite Brite"
Newly married musical couple Jon Foster and Chelsea Tyler, better known as Kaneholler, are crafting their own brand of "electro-soul." Meet the duo and hear their new single, here.
---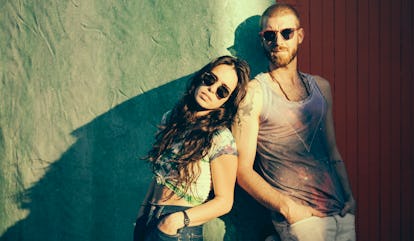 Courtesy of the band
Even though Jon Foster and Chelsea Tyler both grew up surrounded by music — it's a bit hard not to when, in the latter's case, your father is Steven Tyler — it wasn't until the couple met a little over five years ago that they hit their musical stride. "I started making music when I was really young," said Foster, who like his brother Ben is an actor. But when he heard Tyler singing in the shower, shortly after their mutual friend Zoe Kravitz introduced them, he brought out his stores of instrumental tracks from his years of producing and playing drums, and the pair got to work.
Almost as long as they've been together, they've also been Kaneholler, an electro-soul group that's since put out three EP's, and is gearing up to put out its first full-length album next year. "Lite Brite," premiering here on W, is the first of a string of singles hinting at what's to come — a "brighter direction," as Tyler said, partly inspired by writing mostly during the summer.
The story behind the new track came from Tyler's sister Mia, who told them a story about how, as a kid, she'd hang out with a neighborhood boy who had a crush on her just to steal his toys. Both 90's babies, Tyler and Foster, who just got married last year, decided to write an homage to Tyler's number childhood toy of choice: a Lite Brite. But, she noted, the song's also about how as you grow older, love displaces toys as currency.
While together the pair have definitely found their own sound a world apart from Aerosmith — heavy electronic instrumentals topped off with jazzy, bluesy vocals more in the way of Billie Holiday or Etta James — the Tyler legacy still shows up in the band. "He always says, Turn the vocals up! Turn the drums up!" Foster said of Tyler's father. And though he's keen to give guidance when it comes to touring and playing live, too, the seasoned pro's advice can only go so far: "To be honest, it's been kind of funny because it's such a different era of music, and he digs it and he loves it, but we're almost sharing equally with each other because the electronic scene is not something that he's ever really spent time in," Tyler explained.
After all, for Kaneholler, making songs often means camping out in front of a screen, not jamming out on guitars. It's an "extremely collaborative" process, Foster said, that they carry out most often at their cozy home studio in Venice Beach. They cowrote the lyrics to "Lite Brite," for example, with Foster finishing up production after recording while Tyler worked on hand-drawn animations for an upcoming video in the next room. "Any chance we can get to be back in Venice, in that vibe, in that space, in our home, in our home studio, that's the number one," Tyler said.