Russian Redux
Kicking off with a dazzling high jewelry collection, the legendary House of Fabergé reinvents itself.
---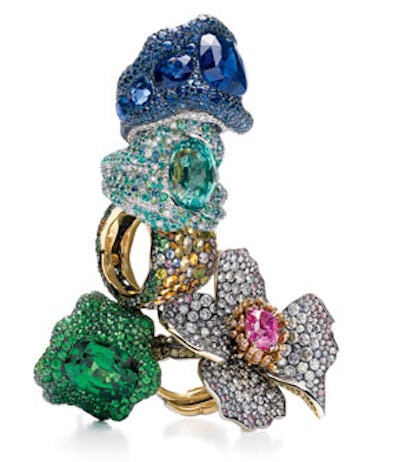 In St. Petersburg at the turn of the 20th century, there was no dearth of jewelers making Easter eggs to celebrate the Russian Orthodox holiday—but there was only one Fabergé.
Until 1918, when the Bolsheviks confiscated Carl Fabergé's exquisite shop on Bolshaya Morskaya, the house was the epicenter of extravagance, a veritable treasure trove of bespoke bejeweled eggs, carved stone animals and apple-shaped ink pots tricked out with glittering worms.
More than 90 years since, those eggs still have legs, flying out of auction houses at prices that far surpass estimates. (In just one example, the famous Rothschild egg, put on the block at Christie's London in 2007, fetched nearly $18.5 million.) And now, under the auspices of new investors and CEO Mark Dunhill, the storied house is attempting to recapture a bit of its early glory with a sparkling collection of high jewelry. "Our mission," says Dunhill, "is to re-establish Fabergé as it was before the Russian Revolution."
To achieve this lofty goal, Dunhill has assembled a crack team, some of whom will work out of the elegant Georgian town house in London's Mayfair district that serves as company headquarters. Katharina Flohr, most recently jewelry editor of Tatler, has been named creative director. Fabergé
historian and author Géza von Habsburg is acting as a consultant, as are two great-­granddaughters of Carl Fabergé: Tatiana Fabergé, who has spent decades researching and writing about her ancestor's work, and Tatiana's cousin Sarah Fabergé, who, with her late father, Theo, designed and sold jeweled eggs under the label St. Petersburg Collection.
Absolutely central to the operation is French jeweler Frédéric Zaavy, who has been appointed high jewelry designer. Not only has Zaavy been commissioned to produce some 80 one-of-a-kind pieces, but nearly 20 of his existing jewels, a number of which appeared in a Phillips de Pury show in 2007, have been purchased by Fabergé for inclusion in the new collection. Both Flohr and Tatiana Fabergé are longtime admirers of Zaavy's highly detailed work. Inspired by nature's curves, his creations are filled with the rainbow variety of gemstones that, in Carl Fabergé's day, used to make the czarinas swoon. "His fire bird and sea horse were so magnificent, it would have been terrible to miss out on them," says Flohr, referring to Zaavy's jaunty bird glowing with pink and black diamonds, and a slightly evil-looking green garnet fish. "He uses jewels like a painter uses paints."
In addition to the gems, which start at about $49,000 for a chunky sapphire-encrusted ring, there is other news: a Web site, an 1,100-square-foot shop opening in Geneva in November, and more collections set to debut later this year and early next, namely a white diamond jewelry line and men's watches created in tandem with Mohr Time, a German jeweler.
Commercial considerations aside, Tatiana Fabergé is looking forward to the revival. But she's in no hurry. "The House of Fabergé was not developed in one week," she says. "We need time."