For Two Nights, the Guggenheim Will be Transformed by a Groundbreaking Dance Performance
Combining the forces of an ABT principal dancer and Dior, "Falls the Shadow" is one of the most innovative dance projects in years.
---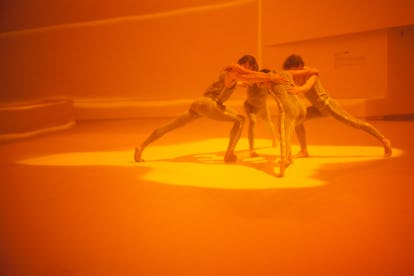 Photo by Samantha Casolari for W Magazine.
On a recent summer evening, if you managed to stick around the Solomon R. Guggenheim Museum just 15 minutes after it closed for the day, you might have spotted a sudden flurry of activity in the central rotunda. At 6 p.m., a cadre of dancers, a choreographer, a museum conservationist, and a crew of technicians would emerge to begin setting up for an evening rehearsal of "Falls the Shadow," a new collection of eight contemporary dance pieces choreographed by Alejandro Cerrudo, who previously collaborated with Wendy Whelan on "Restless Creature," and with costumes by Dior's artistic director Maria Grazia Chiuri. The dancers would rehearse until midnight, then returning to do it all again after the museum had closed another day.
"Falls the Shadow," which premieres Monday and runs two nights at the Guggenheim, is the brainchild of Daniil Simkin, a principal dancer with the American Ballet Theater who also co-produced and performs in the production. He began work on the project early last year, after staging a January workshop of "Intensio," a contemporary dance performance featuring fellow ABT dancers like Isabella Boylston and James Whiteside and incorporated video projections on the stage floor.
With the Guggenheim staging, Simkin aimed to push the video projections even further, incorporating five separate projectors aimed down at the rotunda floor beaming down visuals that respond to the movements of the four dancers on the circular stage in real time.
"Nobody has really used this video technology with this high-level dance before. It's always been sort of a proof-of-concept thing," Simkin said. "Here, we're trying to combine very high-level fields with each other and see that, hopefully, the piece of art we create is integral and is more than just the sum of its parts."
The performance subverts the normal relationship between audience and dancers: Where, at a more conventional ballet or contemporary show, the viewer looks up at the stage at a slight elevation, for "Falls the Shadow," viewers occupy the upper ramps of the Guggenheim rotunda, gazing down at the four dancers below. This, in itself, presented a choreographic challenge.
"Normally, dancers perform to be viewed through a fourth wall. Here, we almost have a fifth wall, which is the ceiling," Simkin explained. "We, as dancers, are trying to create lines with our bodies," he added, "and these lines change drastically if viewed from above." That is, some shapes and phrases devised in the studio simply did not translate to the rotunda stage, and the dancers had to innovate. The inverted staging also means their faces are not visible to viewers, limiting their expression.
So where traditional choreography might feature acrobatic leaps and elastic extensions, "Falls the Shadow" features pas de deux in which dancers drag each other across the length of the floor. And as the dancers move across the gallery, the shapes projected down on the floor metamorphose like figures etched in a sand dune that are then blown into the ether by a desert wind. They're abstract and fleeting, quivering shadows that are often as expressive as the dancers themselves. A late act opens with the sound of rainfall; a patchwork of black spatters bathes the floor in eddies and vortices. They scatter as the dancers approach, splintering up the walls of the rotunda itself.
The dancers' costumes—grey pants and tops patterned with abstract, organic shapes that wind up the garments like tendrils—mirror the projections and even the escalating spiral of the Guggenheim rotunda itself. Last November, around the time of the Dior and Guggenheim International Gala, Simkin approached Dior about designing costumes for the performance. Chiuri attended a studio session and began sketching; other members of her design studio came to a rehearsal in the rotunda. She listened to the score, comprising eight pieces of music by the likes of Andrew Shapiro, Max Richter, and Nils Frahm; she read T.S. Eliot's celebrated poem "The Hollow Men," from which "Falls the Shadow" takes its title. (If the title isn't familiar, its closing lines certainly will be: "This is the way the world ends," Eliot writes, "Not with a bang but a whimper.")
An early version of the costumes featured draped panels, but given how much the dancers tug each other across the floor, these proved impractical. Embellishments like paillettes and crystals were verboten for the same reason.
"I imagined the costumes beginning with the body's expressive role in dance: they're skintight and above all support the subtle gestures, flexible poses, and sinuous movements," Chiuri said in a statement. "I was also thinking of shadows and how they're an integral component in architecture, especially at the Guggenheim: a flat, reflective, seemingly passive surface can actually have its own contrasting identity."
Like Dior, other brands have increasingly taken an interest in classical and contemporary dance: Humberto Leon of Opening Ceremony designed the costumes for Justin Peck's "The Times Are Racing" at the New York City Ballet with a score by Dan Deacon; Rodarte costumed Darren Aronofsky's Black Swan; and Chanel featured American Ballet Theater corps member Courtney Lavine in a video for its fine jewelry collection last year. Conversely, labels have also sought inspiration in dance silhouettes—for example, while still at Valentino, Chiuri and her then-design partner Pierpaolo Piccioli presented a Fall 2016 collection rife with ethereal tulle and blush pink.
"We try to create something that is almost an alternative reality," Simkin said of the parallels between dance and fashion, crediting their mutual "fascination" for the industries' connections. "It is a way of expressing yourself through a different outlet; it's an artistic expression."
But for Simkin, "Falls the Shadow," with its myriad parts working in synergy, isn't just dance; it transcends the medium, incorporating technology, architecture, music, and fashion in a novel way. "I think the costumes contribute to the architecture of the performance and are tools to define the body," Chiuri said in the statement.
Though the piece is site-specific, Simkin envisions the concept outlasting its two-night run next week. In his view, it's out of necessity that dance must innovate: "As a field, we compete with so much competition these days in entertainment and screens and spectacles," he said. "In our very media- and attention-saturated world, dance has to evolve and adapt."
What Goes On Behind the Scenes of a Dance Rehearsal with Dior, an ABT Dancer, and the Guggenheim Museum
Photo by Samantha Casolari for W Magazine.
Photo by Samantha Casolari for W Magazine.
Photo by Samantha Casolari for W Magazine.
Photo by Samantha Casolari for W Magazine.
Photo by Samantha Casolari for W Magazine.
Photo by Samantha Casolari for W Magazine.
Photo by Samantha Casolari for W Magazine.
Photo by Samantha Casolari for W Magazine.
Photo by Samantha Casolari for W Magazine.
Photo by Samantha Casolari for W Magazine.
Photo by Samantha Casolari for W Magazine.
Photo by Samantha Casolari for W Magazine.
Photo by Samantha Casolari for W Magazine.
Photo by Samantha Casolari for W Magazine.
Photo by Samantha Casolari for W Magazine.
Photo by Samantha Casolari for W Magazine.
Watch: A to Z with Fabrice Calmels, Model and World's Tallest Ballet Dancer
A to Z with Fabrice Calmels, Model and World's Tallest Ballet Dancer