Having Conquered CL and Grimes, a Jeweler Sets Eyes on Dior
Taro Hanabusa, the Tokyo-based dentist and designer of custom jewelry label Fangophilia, has lofty goals to win over the world of couture.
---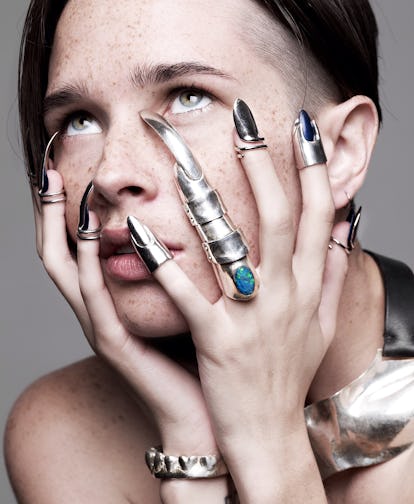 Conflicting accounts exist as to the precise history of the grill. The general consensus seems to be that the tooth embellishments originated in particular neighborhoods in Brooklyn like Bed Stuy and Fort Green in the '80s and migrated south to Atlanta as southern rappers rose to prominence in the '90s before moving into the mainstream with Nelly's 2005 chart-topper "Grillz."
Yet nowhere in that history is there a mention of the grill's success in Tokyo, which makes the trajectory of jewelry designer-slash-dentist Taro Hanabusa all the more unlikely, as unlikely as designer-slash-dentist might already sound. Hanabusa is the designer behind the jewelry label Fangophilia, a Harajuku, Tokyo-based operation that cranks out custom-made, custom-molded grills, rings, face plates, and ear cuffs. Nicki Minaj, CL, and Grimes are all fans.
Eight years ago, Hanabusa received his license to practice dentistry in Japan from Tohoku University Graduate School of Dentistry. Possessed of a long-held morbid fascination with surgery and autopsy, he entered dental school for the prospect of working with cadavers.
Medicine might also afford this opportunity, but "it's very, very hard" to be a doctor, Hanabusa said of his preference for dentistry.
Dentistry eventually bored him, too. He noticed, though, that jewelry designers were beginning to move in on his turf, creating all kinds of custom trinkets for the mouth. From molding teeth as part of his practice, it was a short leap to making grills, and his came equipped with fangs to boot. The brand was born: Fangophilia, a love of fangs.
His work differs from others in the grill-making field, Hanabusa said, because he has a grill-maker's equivalent of classical training. Other jewelers tend to be self-taught, but Hanabusa's skills come hard-earned. And he noted he still practices dentistry, somewhere around one or two days a week, and spends the rest of his time making jewelry.
Hanabusa, now 35, recently embarked on a month of travel, seeing the world and showcasing his designs in Los Angeles, New York, and Singapore throughout March and April. Few of his customers are based in Japan; though his dental clinic and his jewelry design studio occupy the same building in Tokyo's Shibuya district, he estimated that 90 percent of his business comes from abroad.
"My jewelry style is kind of strange," he said. "Japanese people are not so interested in my jewelry." Instead, he connects with his fans through Instagram — the @fangophilia account boasts 35.4k followers. (The account for his dental clinic account has just 109.) Among those fans he counts 2NE1's lead singer CL, Grimes, Caroline Vreeland, and model Fernanda Ly. One of his face plates appears in Nicki Minaj's 2014 "Only" video. His designs have been modeled by members of Madonna's dance crew for Ginza magazine and by Marilyn Manson in the pages of Paper.
When he arrived in New York on a recent Thursday, Hanabusa set up a pop-up shop in one corner of a lower Manhattan salon. He had a few ready-to-wear pieces on display, but he also planned to fill custom orders throughout the pop-up — he could take molds, he said, gesturing to the back of the shop. The pieces retail starting at around $350 for an ear cuff, and upwards of $1,000 for face plates and larger, more intricate designs.Though the next couple of days were rain-soaked, his long-distance admirers still trickled in to admire the designs. Ly visited the shop one day and walked away with a full set of nail rings and a few quality Instagrams for good measure.
A friend, Sean Ralston, accompanied Hanabusa on his travels. Ralston (wearing a Fangophilia cuff in the shape of a butterfly wing on his ear) jumped in occasionally to finish a sentence when Hanabusa's English failed him — though nearly fluent, he speaks in fits and starts and sometimes moves from English to Japanese without warning. While a couple of potential customers browsed the nearby jewelry display, Hanabusa explained the inspiration for his designs.
"I like the culture of tattoos and piercings," he said. "I like body modifications." He took the opportunity to show off his own: His tongue is split ever so slightly (he pierced it himself at 18); he's got an implant in his arm in the shape of a horseshoe; an abstract tattoo runs up the length of his right leg and another in the shape of Marilyn Manson's initials (tattooed by Manson himself during the Paper shoot) is scrawled across his left arm; a glint of silver occupies the space where his septum used to be.
There used to be more, but they've phased in and out over the years. He tends to cover them up on his days in the dental clinic, wearing long sleeves and tying his shoulder-length hair into a bun. Were he to have attended medical school, he says, he would have faced even stricter expectations about his appearance, and that just wouldn't do.
"I was not interested in normal jewelry," he said. "My jewelry style is kind of a body modification."
If Hanabusa is aware of the contradictions inherent in his dual role, he doesn't show it; for him, it's a logical transition. And he has larger ambitions. He's content with the cult following he's achieved — Instagram has facilitated connections within the realm of celebrity — but he hasn't yet penetrated the fortress of high fashion. He's set his sights on couture, and his goals are lofty. Next up, he says, he's aiming for Dior and Alexander McQueen.
Photos: Having Conquered CL and Grimes, a Jeweler Sets Eyes on Dior
Taro Hanabusa in his own designs. Photo courtesy Fangophilia.
Rapper Brooke Candy in "The Rap Pack" wearing a Fangophilia ring. Photographed by by Andrew Kuykendall, styled by Seth Pratt; W magazine April 2015.
Photo courtesy Fangophilia.
Photo courtesy Fangophilia.
Photo courtesy Fangophilia.
Photo courtesy Fangophilia.
Photo courtesy Fangophilia.
Photo courtesy Fangophilia.
Photo courtesy Fangophilia.
Taro Hanabusa with Marilyn Manson. Photo courtesy Fangophilia.