Iconic Fashion Moments You Can Watch on YouTube
From Naomi Campbell's unforgettable runway fall to candid interviews with Kate Moss and Karl Lagerfeld.
---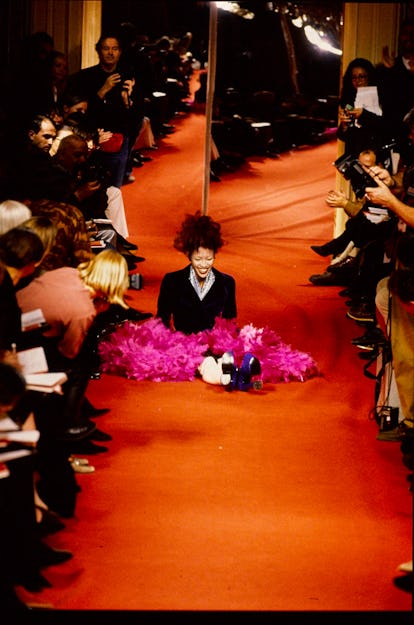 Getty Images
Sometimes, watching a full movie feels like an undertaking—even if it's an unforgettable fashion film like Prêt-à-Porter or Unzipped. Fortunately, there's an equally rich trove of fashion material on YouTube, which comes with the added bonus of being free. Are you vaguely aware that Marc Jacob's spring 1993 show was historic, but secretly hazy on the details? Have you always wondered what it was like to watch Kate and Naomi on the runway at the peak of their '90s fame—or why Tyra was decidedly not a part of their crew? Educate and distract yourself from the pitfalls of social distancing with the below, which range from full-on documentaries to brief clips.
Tyra and Naomi Hash Out Their Feud
Years and years before the coronavirus forced talk shows to do away with live studio audiences, Tyra Banks kicked out everyone but herself and Naomi Campbell so that they could resolve their longtime feud in (relative) peace.
Kate Moss on Mario Sorrenti's Obsession With Her
This interview with Kate Moss last less than 10 minutes, but it's one of her most candid. Nick Knight kicks off with Mario Sorrenti's iconic photo of Kate stretched out completely naked on a couch for Calvin Klein's Obsession. You might never think of the image the same way after Kate details the uncomfortable ways in which it came to be. "He was obsessed," she says of the photographer, whom she was then dating.
Kate Moss Eats a Popsicle on the Runway
Back when fashion shows were truly spectacles, Vivienne Westwood passed out popsicles for models like Kate Moss to share with each other and front-row guests.
Naomi Campbell Revisits Her Runway Fall
An even more memorable Vivienne Westwood runway moment: Naomi Campbell taking a tumble. The pair reunited to look back on that fateful day in 2019.
A Taste of Thierry Mugler's Couture Shows
You don't have to watch all 46 minutes of Thierry Mugler's spring 1997 show, but there's a reason it has 1.2 million views.
Brooke Shields's Early Calvin Klein Ads
A quick but essential watch: A teenaged Brooke Shields writhing on the ground in her Calvins. She was just 16 when she informed viewers that nothing comes between her and her Calvins, in another of Richard Avedon's ads that got banned on networks like ABC and CBS.
Highlights of the Isaac Mizrahi Doc Unzipped
You have to pay $3.99 to watch Unzipped, the incredibly '90s Isaac Mizrahi documentary in full. But you can watch some of the highlights via this 10-clip playlist, or this glimpse of the chaos before the show backstage.
Supers Lip Sync George Michael at Versace
Allow Tim Blanks to take you back to 1990, when Gianni Versace tapped Lindsay, Christy, Naomi, and Cindy to lip sync George Michael on the runway. (While you're at it, watch Donatella's tribute to Gianni in 2017, which marked a reunion for supers like Naomi, Carla Bruni and Claudia Schiffer.)
Donatella's Ice Bucket Challenge
In August of 2014, Donatella tapped two shirtless male models to film the most memorable "ice bucket challenge" in history.
'90s Chanel's Ode to Hip-Hop
Another Tim Blanks summary of an iconic runway show: Karl Lagerfeld's fall 1991 homage to…. hip-hop. Blanks is quite kind to the collection, and to be fair, it was far from the Chanel designer's only runway controversy.
Karl Being Karl
There's plenty of Lagerfeld content on YouTube, though not all of it in English. Here's 15 minutes's worth of the late designer sounding off on "stupid things like the iPad and iPhone."
MTV's House of Style
You might as well get lost in the entirety of Cindy Crawford's House of Style oeuvre at MTV. Start off with the super interviewing Jerry Seinfeld, as well as Kate Moss.
Coco Rocha Does the Irish Jig
Never forget when Jean Paul Gaultier tapped a then 18-year-old, kilt-wearing Coco Rocha to do the Irish jig for his fall 2007 show, five years after she was discovered at an Irish dance competition. Of course, it's just one of JPG's many memorable moments on the runway; you can also watch a clip of a topless Madonna joining him for a runway finale here.
John Galliano Nails High Camp
Camp and all its extravagance is manifest in '90s and early aughts John Galliano, before his tenure at Christian Dior came crashing to an end. For the house's fall 1998 couture show, he rolled a functioning steam engine into a room of "lost luggage" tagged with names like Cleopatra and Brad Pitt. While you're at it, watch a recap of 10 years' worth of Galliano's Dior couture, and one of his backstage moments with a young Kate Moss.
Alexander McQueen's Best Moments on the Runway
A recap of Alexander McQueen most iconic runway moments. You can also watch Haute le Mode's much sassier take, here.
Marc Jacobs's Infamous Grunge Show
The above is a quick recap, but you can also watch the full version of Marc Jacobs's legendary spring 1993 show for Perry Ellis. Both will make you marvel at the fact that show got him fired—not to mention that it was ever thought of as "grunge" in the first place.
Gigi and Bella, Before They Were Famous
"Modeling is my job. Volleyball is my sport," Gigi says in this time capsule of her life before becoming a supermodel. But it's her brutally honest mom Yolanda who's the breakout star. "I thought that my daughter was a lesbian," she says of Gigi, describing her as the "white swan" and Bella as the black.
Glenn O'Brien Interviews Leandra Medine
Name a more unexpected duo than Glenn O'Brien and Leandra Medine, aka the Man Repeller. The blogger was one of many to join O'Brien on his candid series Tea at the Beatrice, the full episodes of which have very unfortunately disappeared since the beloved downtown wit and "Style Guy" died in 2017. (Less fashion-related, but also worth watching if you can track them down: Episodes of O'Brien's public access show TV Party.)
Lady Gaga Meets Azzedine Alaïa
Another fun pairing: Azzedine Alaïa and Lady Gaga. It's a very brief sighting, but extremely worth it to see Gaga towering over the 5'2" designer in her then go-to platform heels.
Twiggy Gets Ready for the Runway
A quick, silent look at Twiggy preparing for a runway show in the 1960s.
The Battle of Versailles
Robin Givhan's 2015 book the Battle of Versailles is dramatically subtitled "The Night American Fashion Stumbled into the Spotlight and Made History" for a reason. On November 28, 1973, French and American designers gathered for a showdown at the Palace of Versailles. It's hard to overstate how much of an impact the competition—Yves Saint Laurent, Hubert de Givenchy, Emanuel Ungaro, Pierre Cardin and Christian Dior vs. Halston, Oscar de la Renta, Bill Blass, Stephen Burrows and Anne Klein—had on the industry. Made to Measure surprisingly tapped Stanley Tucci to narrate its 2016 documentary, which features interviews with some of the same supers—China Machado and Pat Cleveland—that contributed to another Battle of Versailles doc in 2012. (That version costs $2.99, on Vimeo.)
Scorsese's Take on Giorgio Armani
A clip of Martin Scorsese's documentary on Giorgio Armani, which captures the '90s Italian fashion scene at its melodramatic best.
A Closer Look at Hedi Slimane's Legacy
Even if you're one of the die-hards who will forever resent Hedi Slimane for taking over Phoebe Philo's Céline, there's no denying the designer's impact on menswear and the industry overall.