Unusual Suspects
Which designers do fashion insiders rely on to fill out their fab wardrobes? Hint: Their names aren't Raf, Alber, or Riccardo.
---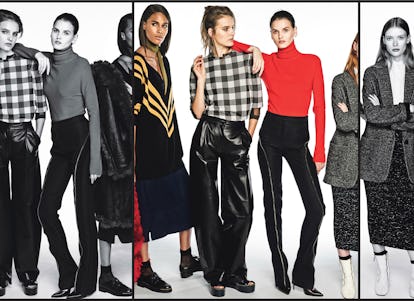 Photographer: Matthew Kristall Styled: Felicia Garcia-Rivera
As a stylist for many glossies—including this one—Jessica de Ruiter spends much of her time putting models and celebrities in the latest trends. When it comes to dressing herself, however, the Los Angeles resident takes a more timeless approach. "I tend to wear a uniform," she says. "Men's shirts, high-waisted pants; lots of black, white, navy." Her closet is filled with Acne jeans and Equipment sweaters—"I have every neutral-colored cashmere crew neck they make." And when a certain runway look jibes with her aesthetic, she'll seamlessly add it to the mix. A mid-length pleated Céline skirt, for instance, has been in heavy rotation since the winter; she pairs it with an oversize sweater or a white button-up shirt from Nili Lotan—one of her go-to's for wardrobe staples.
Vamping street-style stars aside, many fashion insiders dress similarly to de Ruiter, acquiring a few statement pieces each season—those color-block Givenchy pants, that Prada shearling coat—and turning to more low-key and reasonably priced labels for basics.
"The women who buy from me can buy anything they want," says Lotan, an Israeli-born, New York–based designer whose practical, well-made clothes (chunky alpaca knits, the aforementioned button-up shirt) have drawn fans like celebrity stylist Leslie Fremar and J. Crew's Jenna Lyons. "They come to me because I give them what they need." That Lotan, a Ralph Lauren alum who launched her label more than a decade ago, has maintained a quiet profile, despite a devout following, has only added to her appeal. Her two stores in TriBeCa are guarded secrets among those in the know. "I'm not hiding," she clarifies. "But I do well from a business perspective, so I never felt the need to make myself famous."
If Adam Lippes's name, on the other hand, sounds familiar, you can thank Oprah, who put Adam, a T-shirt-plus line that he dissolved in 2012, on the mass-market map. His new eponymous label, launched last year, represents a return to his roots, combining the impeccable sense of quality he learned as the former creative director of Oscar de la Renta with the kind of easy American sportswear his mother favored. "It had nothing to do with trends," he says of the way she dressed. "But she liked beautiful things and would look just as refined in jeans and a white shirt as in her dressiest outfit." His clients, who include magazine editors, and It girls like Meredith Melling, Elettra Wiedemann, the Brandolini sisters (Lippes is godfather to Coco's daughter Nina)—as well as half of *W*'s fashion department—assume a similar air of chic. They look to him for elegant, unfussy clothes like wide-leg leather trousers or boxy cotton-twill shift dresses. "They're wearing that wild coat from wherever," Lippes says. "But the pants and tops are mine."
For Kate Young, stylist to Natalie Portman and Michelle Williams, "that wild coat" will be a black and white wool one from Isabel Marant or a tailored herringbone number from Saint Laurent—both of which top her fall wish list. She plans to wear them with '80s mom jeans ("I'm over the skinny," Young says) she scored at the NoLita vintage boutique Resurrection, Equipment silk T-shirts, or semi-cropped cotton blouses from Apiece Apart, a New York label that serves as a middle ground between "Céline and all the contemporary-floor clothes with doodads on them," says its cofounder Laura Cramer. Young, who describes her look as "a little more conceptual than Brooks Brothers," appreciates Apiece Apart's simple, architectural designs. "They're not the type of pieces you wear for only one season," she says, noting that her tops are from two years ago.
Similarly, the year-old London brand Atea Oceanie specializes in beautifully spare—and surprisingly affordable—classics like wool-twill pantsuits and crisp Swiss—cotton tuxedo shirts that have drawn fans like Vanessa Traina Snow and Morgan Wendelborn, who picked up the label this season for their retail site, TheLine.com. The fact that Laura Myers, who founded Atea Oceanie, designs with her own sartorial needs in mind, might have something to do with its popularity. "I love Céline," she admits. "But I'm not going to buy my whole wardrobe there."
Hair by Andre Gunn at Brydges Mackinney; makeup by Kristi Matamoros for Chanel at Kate Ryan Inc. Models: Cindy Bruna at Wilhelmina Models; Katlin Aas, Tilda Lindstam, Julia Hafstrom at IMG Models. Photography assistants: Max Bernetz, Maximilian Hoell. Stylist assistant: Cody Pan.