Gay Talese Doesn't Own Jeans, Man Repeller Doesn't Get Vetements
Dissidents and disrupters of the fashion world take the stage in today's style highlights.
---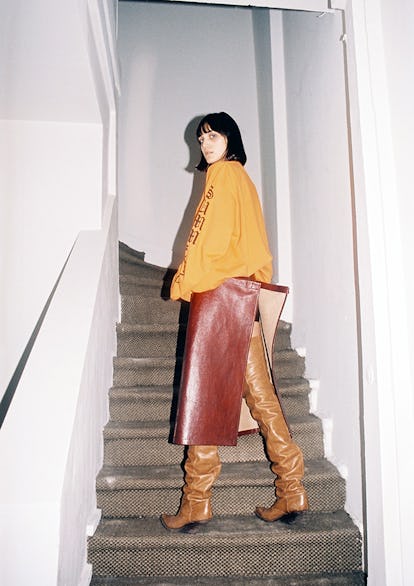 Earth, Elle On The totally bonkers tirade against Elle — and hit piece on all of New York media — by a previously unknown writer named Jacques Hygazi, who reportedly secured a notoriously reclusive Rei Kawakubo for a rare profile. "ELLE on Earth" debuted on the Observer yesterday, and people are still abuzz — some wondering whether it was all satire.
Park, Ivy Beyoncé's new athleisure line for Topshop; Nike and Under Armour collaborators bow down before Queen Bey's expanding empire.
Redzepi, René What's starting over when you're coming from the top? — The top restaurant in the world, that is?
Talese, Gay The enduring legend of narrative journalism doesn't own blue jeans, doesn't know what normcore is, doesn't go out of style.
Vetements Fashion's newly minted, oh-so-meta, crown jewel. Turns out, fashion's other darling, Leandra Medine of Man Repeller, confesses she's not a fan.
Willis, Tallulah The youngest of the Demi Moore-Bruce Willis progeny; has 28 tattoos, regrets one.
3 Paris Provocateurs: Vetements, Jacquemus, and Courrèges
Clothes Encounter
From left: Vetements designer Demna Gvasalia, with stylist Lotta Volkova and DJ Clara 3000, at a friend's apartment in Paris. Volkova wears Vetements parka. DJ Clara 3000 wears Vetements jacket.
Gvasalia, in bed, with Vetements model and muse Maud Escudie at her apartment in Paris. Escudie wears Vetements.

Photographer: Colin Dodgson
Vetements fit model Lily Standefer, at home in Paris, wearing pieces from the Vetements spring collection.
Styled by Lotta Volkova
DJ Clara 3000 wears a Vetements jacket and pants.
Styled by Lotta Volkova.
Photography assistant: Simon Wellington; fashion assistants: Ting, Laura Tanzer.
Mixed Breed
Simon Porte Jacquemus, with Baco the horse and the model Hayett McCarthy, in Paris. McCarthy and Porte Jacquemus wear Jacquemus.
The actress and singer Joana Preiss, wearing Jacquemus.
Styled by James Valeri.
Hair by Alexis Parent; makeup by Kathy Le Sant at Airport Agency; photography assistants: Simon Wellington, Christian Bragg; fashion assistant: Lamia Lagha.
Future Perfect
Top, from left: Courrèges style director Lolita Jacobs, wearing a look from Sébastien Meyer and Arnaud Vaillant's debut collection, with Meyer and Vaillant at their home in Paris.
Jacobs wears Courrèges.
Hair by Joseph Pujalte at Atomo Management; MakeUp by Mayumi Oda at Calliste; production by Laura Holmes Production; photography assistants: Simon Wellington, Christian Bragg.