Fashion's Biggest Scandals of 2015
From Alber Elbaz's exit from Lanvin to North West's tantrum at Kanye West's Yeezy show, it was a year to remember.
---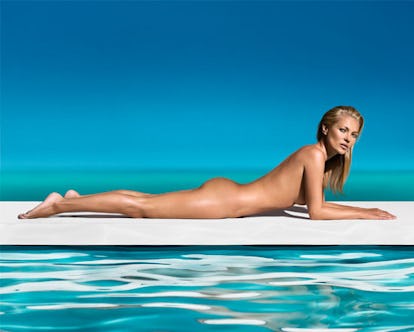 Oh, what a year it was. Not only was there a revolving door of designers at some of the biggest houses in the business but our favorite tabloid titans continued to hold our attention with their usual antics. From Kate Moss's 'Basic bitch' outburst to Miley Cyrus' outlandish shenanigans and North West's New York Fashion Week tantrum, 2015 left 2014 in the dust in the sheer number of moments that had the fashion industry talking.
'Basic' Instinct
Leave it to Kate Moss to make an exit. When the supermodel was denied vodka on a flight from Turkey to London, she imbibed from the secret stash and caused a stir. The flight attendants were not impressed, and when they asked her to stop Kate called the pilot a 'basic bitch.' She was escorted off the plane upon landing. Bottoms up.
Elbaz Elbowed Out
After 14 years as the beloved creative director of Lanvin, Alber Elbaz was forced out from his prestigious post due to corporate turmoil. The designer, who was responsible for reviving the label, is still reeling over the supposed "business decision."
He Said, She said
Donatella Versace criticized Giorgio Armani for a comment he claimed her late brother, Gianni, said to him over 20 years ago, "I dress sluts. You dress church ladies," According to Donatella, this is the second time Mr. Armani uttered this particular phrase – the first was after Mr. Versace's death, for which he had reportedly apologized to her.
Speaking of Armani
After Madonna fell at the BRIT awards, Giorgio, who designed the cape the singer was wearing, candidly told reporters after his Emporio Armani show in February, that the diva was "difficult" to work with and his cape should not have been difficult to open. She has not worn Armani since.
Stealing the Show
Kanye West's second Yeezy collection was bound to get attention. But no one counted on North West stealing the spotlight with an epic fit in the front row that mom Kim Kardashian couldn't control and that was almost certainly more memorable than the collection itself.
Butt Out
In an attempt to send a direct message to a guy he met on Instagram, Marc Jacobs accidentally posted a photo of his derriere on his public account. While the photo was quickly deleted, he can rest assured we'll never forget. And it was just one of Jacobs' eye-grabbing moments on the social platform.
Donna Karan Zens Out Donna Karan, known for her female empowerment ensembles, stepped down after 31 years at her namesake label to focus on her luxury lifestyle and wellness line, Urban Zen. The brand has yet to replace a head designer, but has tapped Public School founders Maxwell Osborne and Dao-Yi Chow to take control as creative directors of DKNY.
Elton John Boycotts Dolce and Gabbana
The feud started when Elton John took offense at Stefano Gabbana's comment condemning in vitro fertilization. Several celebrities quickly joined the D&G backlash party, including Ricky Martin, Courtney Love, and Victoria Beckham, who tweeted their love and vowed to burn her D&G threads.
Raf Simons Signs Off
After a mere three and a half years designing for Dior, Raf Simons bid adieu to the house, stunning the industry. "It is a decision based entirely and equally on my desire to focus on other interests in my life," he said. Dior has not yet named a successor, though Elbaz has frequently come up as a candidate.
She's Just Being Miley
Miley Cyrus has made quite a mark this year. Besides her regular Instagram antics, the wild child shocked late night television audiences when she wore heart-shaped nipple pasties on Jimmy Kimmel. But it didn't stop there. Their chat covered such tasty morsels as when Paul McCartney stared at her boobs to her love of sex shops on Hollywood Boulevard. All under 6 minutes.
Zendaya at the Globes
E! network correspondent Giuliana Rancic made headlines with comments about teen darling Zendaya's Golden Globe awards hairdo: "I feel like she smells like patchouli oil and weed," Rancic said in January. So much for any remaining red carpet etiquette.