How Low Can You Go?
From Calvin Klein combat boots to Chanel sneakers, flats are where it's at for fall. But do they fly for black tie?
---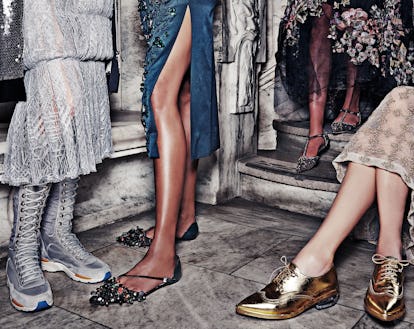 Photographer: Steven Pan Stylist: Lindsey Frugier
On a Friday evening this past spring, the ballroom of the Pierre Hotel in Manhattan was verdant with sprawling centerpieces, blossoming dogwood branches, and a bevy of socialites sprouting flowers head-to-toe. The occasion was the Save Venice masquerade ball, and though my red, white, and blue sequined Chanel bolero and matching navy silk charmeuse tea-length dress didn't really fit the Enchanted Garden theme, I was wearing the requisite mask, a sharply cut copper number studded with crystals. So when a socialite acquaintance dashed across the dance floor to ask me, in a voice full of concern, "Are you okay?" my first thought was that my face piece had drawn blood. Then I realized the real source of her solicitude: my chunky white Chanel sneakers. What possible excuse could there be, save serious injury, for sporting trainers at a black-tie gala? I reassured her that my footwear choice was driven by fashion, not orthopedic woe. Clearly, she hadn't been paying attention to the fall 2014 collections.
If she had, she would have noticed that top designers from New York to Paris showed eveningwear—even decadent ballgowns—with all manner of flat shoes. Chanel paired variations on tennis kicks and boxing style knee-highs with printed, ruffled dresses and tiered, metallic numbers. At Calvin Klein, models clomped down the runway in gossamer frocks and combat boots. Lanvin's Alber Elbaz sent out oxfords with his handkerchief-hemmed silk dresses. And the dark-fairy-tale princesses at Alexander McQueen wore crystal-studded lace-ups under exuberant chiffon. Suddenly, stilettos seemed headed for the endangered species list.
The runway, of course, is not reality. And neither—if we're honest—is New York's black-tie charity circuit. But eager to see if I could really retire my evening heels, I chose this scene as my testing ground. Which is how I found myself at the Pierre in sneakers. The jury was out, even before I left my apartment building. My porter, Frank, was nonplussed. "You're going to wear those?" he asked. "I don't believe you. You never go out like that!" He was right. I had felt cool during my fitting at Chanel, but once in the ballroom, I feared I looked out of place. And the fact that people actually thought something was wrong with me didn't help. But then I received some much needed encouragement. "Genius!" remarked Italian social royal Bianca Brandolini d'Adda. "I wish I were in your shoes!"
There were certainly practical advantages. I navigated the cocktail hour with the ease of an athlete, my stilettoed friends barely able to keep up. And when I woke up the next morning, my feet—which usually feel as if I'd spent the previous evening dancing en pointe—felt great. That freedom and comfort can be addictive, according to Vbeauté founder Julie Macklowe, who's a regular at galas. "Mr. Cunningham claims I started the black-tie sneakers trend," she says, referring to the iconic New York Times style photographer Bill Cunningham. "I really hate high heels."
It was while getting ready for the 2013 Style Awards that Macklowe decided on a whim to forgo her "draconian pointy-toe shoes" in favor of gold Louis Vuitton high-tops, the color perfectly matching her vintage Prada gown. Buoyed by the reaction—"Everyone thought it was the coolest thing they'd seen. I thought it was the most reasonable thing I'd ever done"—Macklowe has since been sporting Nikes to formal events on a regular basis. Recently, she wore a wedge-soled pair, nearly the same blue as her Vuitton gown, to the American Ballet Theatre gala. "When I can get away with high-tops, I always go that way," she says, adding that the silhouette of the outfit is more of a consideration than the fanciness of the event. "The dress has to either have structure to it or be calf-length. A silk gown to the floor with a high-top popping out looks stupid."
Macklowe stays away from more-traditional styles, like ballet flats—"To me, that's sort of a no-man's-land. I don't find it as interesting"—but I was more than game to test-drive Lanvin's patent leather oxfords at the annual New Yorkers for Children April Fool's Fete. Paired with a short tuxedo-style dress from the Lanvin pre-fall collection, they seemed like the perfect twist on men's wear for women—and no one mistakenly assumed I'd sprained an ankle. But at five foot three rather than my usual, stiletto-assisted five foot seven, I did feel a bit like the last girl in her high school class to go through puberty. When I greeted the event's statuesque honorary chair, Dayssi Olarte de Kanavos, I actually had to stand on tip-toe to kiss her cheek. Still, once my self-consciousness subsided, I was happy I'd worn the oxfords. I danced for twice as long as normal (which means I danced, period). At the end of the evening, my designer friend Bibhu Mohapatra escorted me to a cab and instinctively grabbed my arm as we approached a metal subway grate, lest my heel slip through the bars. "Oh, I forgot—you're in flats!" he said, glancing down at my feet. "You're so smart."
I did feel that way, but women's fashion choices are rarely motivated by reason, particularly when it comes to eveningwear. If you're not five foot ten in stocking feet, wearing flat shoes—however elegant—can feel as counterintuitive as going Spanx-free beneath a clingy gown. "The instinct is to lift yourself up, to lengthen the line," explains celebrity stylist Cristina Ehrlich, whose clientele ranges from the model-height Canadian actress Jessica Paré to the more petite Penélope Cruz. "But I think if you have your shoulders back and know how to work the camera, anyone can pull off flats." Ehrlich emphasizes the need for a well-draped, architectural dress with a defined waist and, when it comes to her clients, is very specific about the type of footwear that will fly. "You need an evening flat, something that has satin on it or some kind of embellishment," she insists. "I'm never going to to promote any of my girls wearing a tennis shoe on the red carpet—even if it's Chanel."
According to the fashion historian Caroline Rennolds Milbank, it wasn't until the mid–20th century that people began to differentiate between the height and shape of day and evening shoes. Up to that point, women wore sensible one- or two-inch heels all the time, varying the material and level of decoration from day to night. The first stilettos appeared in the '50s, thanks to the invention of a steel spike capable of supporting the body's weight. And then the '60s brought a profusion of more-casual styles, including flats and chunky heels, that persisted through the '70s. Even as late as the early '90s, designers regularly offered dressy flats for evening, but in the late '90s—think Sex and the City—teetering heels became the norm for nighttime. That trend has persisted, due in part, suggests Rennolds Milbank, to the omnipresence of photographers (be they of the professional or Instagramming variety) at social events. "Everyone has to think about whether they're going to look short in the photo," Rennolds Milbank says. "They don't care if they can walk."
Maybe it's because I'm used to being the smallest girl in the picture, but for me, looking short isn't nearly as worrisome as appearing wildly inappropriate. And when I walked into the staid and ladylike New York City Ballet spring gala in combat boots, that was a real possibility. Calvin Klein designer Francisco Costa told me that he had the '80s SoHo art scene in mind when he opted to pair evening-wear with the heavy black lace-ups. "We elevated the look by doing the shoes in unconventional fabrics, textiles, and skins," he said. "It's cool, but still very luxurious."
As I left the Calvin Klein showroom in an intricately knit chiffon-skirted sleeveless dress and a pair of calf-hair clodhoppers with silver laces, my concerns about looking like an extra from Some Kind of Wonderful were soon eclipsed by a more pressing worry: I was running late, very late. When I spotted a cab in the distance, my first thought was that someone else would probably get it first. But then I remembered: In these shoes I could run! I flat-out sprinted a block and nabbed it. That high stayed with me as I glided into the fete, lithely sidestepping the full-skirted, skyscraper-heeled ladies whose footwear had rendered them as immobile as chess pieces. A fellow journalist rushed up to tell me, "I'm so jealous of your shoes!" And even when a friend gave me the once-over and remarked, "You look like how I did in high school," it didn't shake my confidence. True validation came in the bathroom, where I happened upon a guest complaining to her friend about her aching feet. "I don't think I'm gonna make it," she moaned. "They feel like they're gonna break."
"Why didn't you wear flats?" asked her companion, as the hobbled woman eyed my boots like a starving model at an all-you-can-eat buffet. "You totally can with that dress." But really, I wanted to tell her, it's not about the dress. It's about the attitude. Yes, flats are often more comfortable, but if you are self-conscious in them, physical pain is simply replaced by psychological discomfort. And who's to say which is worse? The only way to pull off a flat sole is to hold your head high, no matter how low to the ground you are.
Photos: How Low Can You Go?
Chanel dresses and boots. Rochas dress and flats. Valentino gown; Dolce & Gabbana flats. Simone Rocha dress and shoes.

Photographer: Steven Pan Stylist: Lindsey Frugier
The writer in Chanel sneakers at the Pierre in April. Photograph by Sherly Rabbani.
Boots at Alexander McQueen, fall 2014. Photograph by CNP Montrose.
Inès de la Fressange at the Cannes Film Festival in May. Photograph by George Pimentel/WireImage.
Sensible footwear at Christian Dior Couture, January 2014. Courtesy of Christian Dior Couture.
Oxfords at Lanvin fall 2014. Courtesy of Lanvin.
Combat boots at Calvin Klein Collection fall 2014. Photograph by CNP Montrose.
A barefoot Lena Dunham at the Met Costume Institute Gala in May. © Splash News/Splash News/Corbis.
Makeup by Tracy Alfajora for DiorShow at Art Department. Models: Valery Lessard, Veronica Jacques, Vera Casagrande, Skylar Mcmurray, Erica Smith at Parts Models; photography assistants: Paul Park, Maru Teppei; fashion assistant: Esther Kim; location: Astor Hall, The New York Public Library, Stephen A. Schwarzman Building.