The New Guard: Fausto Puglisi
With his over-the-top sensibility, Italian maverick Fausto Puglisi aims to bring the house of Ungaro back into the spotlight.
---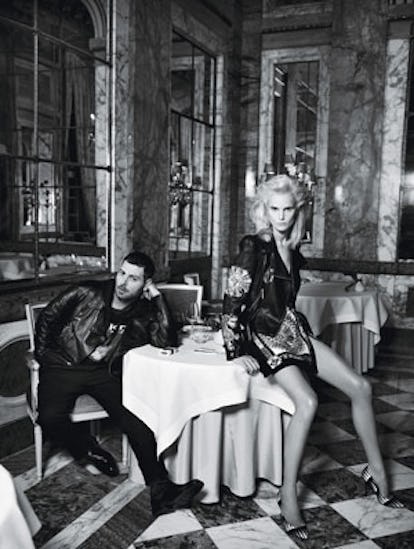 Fausto Puglisi seems about 50 percent more alive than the rest of humanity—not manic, just a young fashion designer at the happy point in his career where ideas are sprouting from every pore like flowers on a giant Jeff Koons sculpture. Though below his cropped hair his face has a certain gravitas—he's from Northeastern Sicily, after all—his eyes are like those of a kid on Christmas morning, gleaming with irrepressible, anarchic joy.
It's not hard to picture the now 37-year-old at 18, the age at which he moved to New York and then Los Angeles with dreams of working in fashion. He assisted the photographer David LaChapelle and the stylist Arianne Phillips, among others, and eventually began designing stage clothes and accessories for Phillips's longtime client Madonna. The Material Girl's fellow divas took notice, and Puglisi started dressing Katy Perry, M.I.A., Nicki Minaj, and Beyoncé. In 2006, he debuted a ready-to-wear collection, and an icon of a different realm—the widely photographed Italian fashion editor Anna Dello Russo—began sporting his dramatic designs all over town. Today he considers the hugely influential Dello Russo his "muse and sister" and has credited her with "launching my style."
That style, a modern take on Greco-Roman glitz, marked by gold-trimmed gladiator tunics and smatterings of black leather, has many insiders calling him the new Gianni Versace. It's the kind of flattering but daunting comparison a rookie can overcome only by becoming an icon. And now Puglisi is facing his sword-in-the-stone moment: an attempt to rescue the beleaguered house of Ungaro.
"It's clearly a huge honor and a huge challenge, but luckily I'm in so deep I don't have time to get stressed," says Puglisi over coffee in Milan, dressed in a cashmere sweater and a black leather jacket, a slim diamond bracelet on his tattooed forearm. "I feel at home in the Ungaro aesthetic—maybe it's because Emanuel Ungaro [who was born in France to a Pugliese family] has a mixture of Southern Italian roots and an international background, as I do."
Puglisi's aesthetic was shaped during his childhood in Messina. His mentor was his grandfather ­Giuseppe, who bought him copies of French Vogue, encouraged his love of classical history, and taught him about Sicilian tailoring. "Sicily is about clashing extremes," Puglisi says. "Violence and beauty; riches and poverty; sexiness and religion. And it all comes back to history. As a kid, I wanted to be Caligula!"
Some might say that the only thing Ungaro hasn't endured in recent years is the tyranny of a mad Roman emperor. Emanuel Ungaro built his reputation on ultrafeminine elegance, couture craftsmanship, bright prints, and sexy silhouettes. But since the designer retired in 2005, the label has become a cautionary tale for what happens when a great brand loses its identity. Ungaro is hemorrhaging money—it lost $6 million in 2011 alone—and has been forced to close its Paris and New York flagship stores.
Meanwhile, in the hands of various young designers, the company's image has been put through an unseemly series of contortions. The Ungaro revolving door admitted and ushered out in quick succession Giambattista Valli, Vincent Darré, Peter Dundas, Esteban Cortázar, Estrella Archs (whose collaboration with Lindsay Lohan will go down in the annals of fashion debacles), and Giles Deacon. Asim Abdullah, a California Internet entrepreneur, acquired the label in 2005 and has looked haunted ever since, as if he'd unwittingly purchased Edgar Allan Poe's House of Usher. This past fall, Abdullah sensibly turned over production of the line to the Italian conglomerate Aeffe Group and tapped Puglisi as creative director.
The handsome newcomer might just be the man to turn things around. His rambunctious exterior overlies a solid self-confidence. And his signature collection is a pastiche of playful exhibitionism and subtle formality that feels as fresh and sexy as Ungaro did at its peak. For spring, gaudy medallions mingle with skinny glam-rock leather pants, oversize black and ivory prints inspired by "the marble at ­Fontainebleau," and swingy minicoats reminiscent of early-'60s bon genre.
"A designer these days has to mix sensibilities," Puglisi says. "I always draw on my Italian roots, and at the same time, I'm obsessed by America in the 1970s—not Studio 54, more like the '70s White House!" But despite his diverse inspirations, he says, he designs every piece with one goal in mind: "At the end of the day, I love making people beautiful. To me, that's what fashion is—beautiful women and men getting up in the morning and saying, 'Wow, let's go seduce the world.' "
Model: Anmari Botha at IMG Models. Location courtesy of Hôtel de Crillon, Paris.