Fearless Girl Statue Vandalized With Pro-Trump Apparel
Trolls have targeted the statue for a second time. emphasized text
---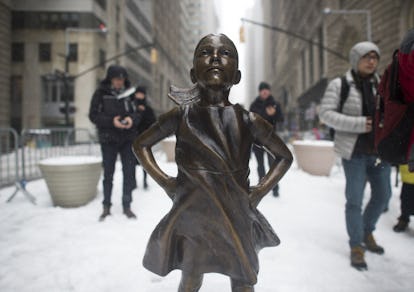 DON EMMERT/AFP/Getty Images
The Fearless Girl statue has had to stand up to a lot more than just a bronze bull.
In her short time on display (the bronze figure in the likeness of a defiant little girl first appeared on March 8, which also happens to be International Women's Day) in front of Wall Street's famed Charging Bull statue, a man was photographed simulating a lewd act with the statue, and now she's weathering yet another act of vandalism.
According to photos sent to Gothamist by an anonymous tipster, two unidentified men sporting red "Make America Great Again" caps—signature garb worn by supporters of President Donald Trump—and sunglasses were seen placing a MAGA hat on the statue's head and draping an American flag around her body on Monday morning just after midnight.
The men also arranged several pro-Trump signs around the Fearless Girl, including one that read "VETS B4 ILLEGALS" and one featuring a drawing of the meme Pepe the Frog, which has been dubbed a symbol of white nationalism by the Anti-Defamation League.
State Street Global Advisors, the world's third-largest asset manager, is behind the installation of the statue, in cooperation with New York City officials. The Fearless Girl appeared on the heels of State Street Global Advisors' campaign to empower women and advocate for greater inclusion of women in the corporate world. A plaque accompanying the statue reads: "Know the power of women in leadership. SHE makes a difference."
Based on recent photos posted to social media, the statue has now been relieved of her pro-Trump garb.
The statue is set to be in place until only April 2, though there are those pushing to make her a permanent fixture on Wall Street. If the politicization of this girl is any indication, the world needs her now more than ever.
"Women's Rights Are Human Rights": 62 Fashion Insiders Speak Out in a Powerful Video for International Women's Day: