February 2016 Editor's Letter: Authentic Selves
W's editor in chief on The Movie Issue.
---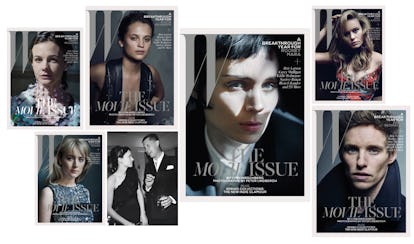 In the age of the selfie, what makes a memorable celebrity portrait? That was the question in the back of my mind months ago when I started thinking about our annual Movie Issue. In years past, we have featured Inez and Vinoodh's elegant portraiture, Juergen Teller's raw imagery, and Tim Walker's dreamlike scenes. Who was the right photographer to capture 2015's stars in an impactful way?
As I started doing visual research, I felt overwhelmed by the endless stream of Instagram and Google images of dressed-to-the-nines (or barely dressed) celebrities. I felt the need to step back from all that glossy banality and return to the pure and simple drama of black and white photography. I wanted to allow the actors to be themselves, without props or pretense. The legendary Peter Lindbergh, whose authenticity I have admired for 30 years, was the man for the job. With his old-school approach to cinematic storytelling, Lindbergh created our 34-page "Best Performances" portfolio.
It was a great year for breakthroughs, as many of the newcomers Lindbergh shot can attest to. The year was also generous to female actors, thanks to a wellspring of challenging scripts and intriguing roles. Rooney Mara and Cate Blanchett played lovers in conservative times in Todd Haynes's Carol; Alicia Vikander dazzled as the wife of a transgender pioneer in Tom Hooper's The Danish Girl, as an android in Ex Machina, and as a war survivor in Testament of Youth; Saoirse Ronan was a young immigrant in John Crowley's Brooklyn; Brie Larson stepped into the big leagues as a captive mother in Lenny Abrahamson's Room; Charlize Theron took no prisoners as a one-armed badass in George Miller's Mad Max: Fury Road; and Jennifer Jason Leigh returned to the spotlight as a dangerous fugitive in Quentin Tarantino's The Hateful Eight.
According to Editor at Large Lynn Hirschberg, who handpicks our cast from hundreds of films, a desire for authenticity was an undercurrent in many of this year's best movies. The sober mood on the silver screen mirrored the challenging times we are experiencing: Gender, politics, and immigration are hot topics. As the director Adam McKay, who, until debuting his latest film, The Big Short, was known for his comedic genius, tells Hirschberg in "Funny, With a Chance of Politics": "There is too much going on right now to not try and say something important."
To round out the issue, we highlighted the most romantic—and edgiest—looks from the spring collections; perhaps just the thing for our breakthrough favorites to wear this awards season. And the writer Christopher Bagley caught up with the artist Alex Israel, who addresses L.A.'s manufactured seductions and issues like image and identity. Israel recently finished filming a teen movie titled SPF-18, and his newest exhibition—a collaboration with the best-selling novelist Bret Easton Ellis—will open at Gagosian Gallery, in Beverly Hills, during Oscars week. "In art, I don't think we're very used to earnestness," says Ellis about Israel's work. "So it can be confusing to some of us." One could also argue, especially in the context of Hollywood, that earnestness can be a wonderfully clarifying thing.
Covers by Peter Lindbergh; Rooney and Tonchi: Donato Sardella/Getty Images.