How Italy's Fashion Tech Titan Built His Empire
For Federico Marchetti, the founder of Yoox, the key to his multibillion-dollar success story lies in combining entertainment with retail.
---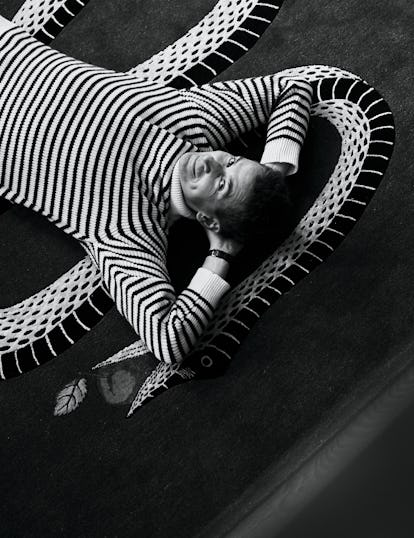 Photographs by Adrian Gaut; Styled by Akari Endo-Gaut; Grooming by Mia Santiago at celestine agency and Astor Hoxha at Close Up Milano; Photography Assistant: Yasunori Matsui; Fashion Assistant: Shayna Arnold
Whoever wants to get inside the brain of the mogul Federico Marchetti, head of the multibillion-dollar online fashion empire Yoox Net-a-Porter Group (YNAP), should watch Amarcord, his favorite film. One of Federico Fellini's masterpieces, it is profoundly Italian yet universal in its aspirations: a sumptuous rendering of boyhood memories, where dreamworlds and reality overlap. Marchetti says he recognizes himself in almost every character.
You may not know Marchetti by name, but if you're an online shopper, you've probably bought something from him. The 48-year-old Italian entrepreneur is the business maverick who revolutionized retail by bridging the formerly oppositional universes of high fashion and the Internet to create what he defines as a digital luxury conglomerate—one that is worth, after a recent buyout by the Swiss luxury conglomerate Richemont, about $6.4 billion. Not only did he create the world's largest online retail platform, servicing roughly 3 million shoppers in 180 countries, but he also ushered luxury labels like Armani, Valentino, Missoni, and Alexander McQueen into global markets by building and running their online stores.
One wintry afternoon in December, Marchetti is drinking coffee at the YNAP headquarters in Milan's trendy Navigli district. He resembles a reserved scholar, exuding a subtle air of authority: Today he is dressed in a gray Dries Van Noten suit, enlivened by quirky green oxfords. He has a wiry frame, spiky black hair, a puckish grin, and, behind tech-wizard-y glasses, eyes that turn laserlike when something interests him. "Perhaps one of my greatest talents is putting together varied things, even if they are all very different from one another," he remarks. He certainly has an instinct for style: The fashion critic Suzy Menkes has praised the way he mixes business acumen with an "exquisite taste for objects." Raised on opera, he also listens to indie rock, Beyoncé, and Japanese jazz. Unlike most Italian businesspeople, who are hopeless with foreign languages, Marchetti speaks fluent English, French, and Japanese.
Around him buzzes the nerve center of his 4,500-employee company, the hub that links YNAP's robotized warehouse and distribution center in Bologna with its vast new West London tech complex. The open-plan office brings to mind a San Francisco start-up transplanted to Milan, save, perhaps, for the dramatic swath of red curtains (an homage to Fellini) in the executive area. Marchetti's modest desk, adorned only with a picture of his 6-year-old daughter, Margherita, sits democratically among those of his team. Teamwork—the opposite of the ­patriarchal Italian business model—and unpretentiousness form the basis of his philosophy. "Marchetti is a man who does much but doesn't show off: qualities I have always admired," says Giorgio Armani, one of the earliest fashion titans to go digital with Yoox. Margherita ­Maccapani Missoni praises his "humble approach." And Marchetti himself confesses to being embarrassed by the publicity he has attracted as the face of Italy's sole "unicorn"—tech talk for a billion-dollar start-up. "I feel almost like I'm in the zoo," he says.
Marchetti grew up in Ravenna, a small Byzantine city on the seacoast near Rimini, which also happens to be Fellini's birthplace, and the setting in which Titta, the adolescent boy at the heart of Amarcord, grows up. Marchetti had a classic provincial childhood: His father was a warehouse supervisor at Fiat, and his mother worked for the phone company. It was his grandfather who nurtured his appreciation for opera and took him to the movies. As a kid, Marchetti effortlessly achieved perfect grades and was always concocting lucrative schemes—like the time he set up a stand to sell his used Disney comic books to vacationers on the nearby beach. He also had a knack for predicting future fads. At 12 he was wearing Timberlands, discovered on a trip to England, and sporting a Moncler ski jacket, well before the brands became teenage crazes in Italy; he haunted a nearby vintage store in search of cool American-style casual wear. "I've always been crazy about fashion, as a way of differentiating myself," he says.
Ravenna had always felt too small, and at 19, Marchetti left to study economics and business at Milan's prestigious Bocconi University, later joining Lehman Brothers as a financial analyst. Next came business school at Columbia University, in Manhattan, where he lived downtown, across from the glamorous Police Building, and watched the comings and goings of film stars, artists, and supermodels. (Today he owns an apartment in that very building.) His dream was to work in entertainment production, preferably at Paramount or Disney, but no one wanted to hire a fledgling Italian businessman without a green card. So, following a brief stint at Bain & Co. in Boston, he returned to Europe. "Every entrepreneur needs a moment of desperation as a window of opportunity to start out, and I reached my moment of desperation in 1999," he tells me. "I was doing work I didn't like. Finally, I said: 'Basta. At this point, I have to invent something for myself.' "
Marchetti cast about for a start-up project. "Italy's strengths are the famous three F's," he says. "Food, furniture, fashion. So I said to myself, 'Internet is a revolution, and retail is my passion. It is obvious that these two things are starting to go together. The competitive advantage to being in Italy is fashion.' I thought, I'm not an insider. I don't know anybody. But I have a great project, and I think they will listen to me. I thought, If I have a dream, they will dream with me. And eventually they did."
What he came up with was Yoox, a discount fashion e-commerce site whose name, famously—and nerdily—Marchetti derived from the symbols for male and female chromosomes combined with the zeroes of binary language. The company's unique appeal arose from the ease, thrill, and approachability of designer bargain hunting that Marchetti brought to a youthful generation already glued to the Internet and hungry for affordable luxury; the rest is shopping history. But what's unusual about Marchetti's story is that he built his brand on his own—many great Italian companies owe their success to the prosperity of previous generations. "The American part of me drove me to construct a company based on venture capital, then go public, so you could call it the classic American business path," he says. As for himself—"I am not the typical Italian. I don't watch soccer. I don't eat spaghetti. It's true that I feel American in some ways, not as to culture, but as to ambition and determination. I never give up."
Days later, Marchetti is lunching with his family at home in Milan. He has three residences: the aforementioned pied-à-terre in New York, a weekend house on Lake Como, and this grand apartment, the main base for him and his partner, the English writer Kerry Olsen, and their daughter. It has an epic view of Castello Sforzesco and is hung with artworks by the likes of Lucian Freud, John Currin, and Marc Chagall, but its comfortable decor, a mix of contemporary and antique furniture, feels casual and lived-in. Margherita's child-size desk, scattered with books—including a beginner's guide to computer coding—is smack in the middle of the living room. Olsen's study is tucked away, accessible only through a secret door in a bookcase. In the front hall hangs the first piece of art Marchetti ever bought: a Mark Kostabi piece composed of numbers, titled Against All Odds. "I saw it in 1998 and thought, It's perfect," says Marchetti. "Numbers form a part of my life, and this picture in some way symbolizes my career, because we did it against all odds."
It was either luck or instinctive timing that led Marchetti to pitch his proposal to Italy's first venture capitalist, Elserino Piol, just before the dot-com crash at the turn of the millennium, which saw the demise of early Net fashion companies like Boo.com. Yoox broke even in just three years, and after that the company's growth was vertiginous. In 2009, Marchetti took Yoox public and began thinking about merging with the U.K. online luxury retail giant Net-a-Porter, the digital mecca of high fashion founded by the style guru and pioneering businesswoman Natalie Massenet.
The merger, six tumultuous years in the making, was finalized in a swirl of controversy in 2015, when Yoox purchased Net-a-Porter for less than its estimated value, and Massenet found herself unceremoniously ousted. (Marchetti, in spite of his avowed commitment to cooperation in the workplace, gave a terse comment: "There can be only one boss.") Melding two huge tech companies—one upscale, the other discount—was an enormous job, requiring the development of an entirely new platform. But today, customers can tap their phones to buy both a pair of discounted Missoni tights and a $22,000 Fendi shearling coat.
"Federico is a risk-taker, and thinks about 10 steps ahead," says Eva Chen, Instagram's head of fashion partnerships, recalling that YNAP was one of the first fashion companies to enable shopping directly from Instagram. If it seems like a visionary move, that's because it literally was—for Marchetti, the obsession with mobile technology began about 30 years ago. "I believe I was among the first in Italy to use a cell phone," he says. "You know, one of those huge ones! I was fascinated by them. And it is interesting that now nearly half of our orders are placed on phones."
This past fall, Marchetti shared business advice with an eager young audience at the Wired Next Fest, in Florence. "The first thing I said is to not look just at Italy but to look at the world, to be global, because we are living in a world that is too big and cannot be focused only on one country. The second important thing is the team, because the one-man show does not exist anymore; the world is too complex and too fast. The third thing is to distribute the value you are generating also to your team." He smiles shyly. "And that is the story."
The next time we meet, Marchetti is taking his boat for a spin along the shoreline of Lake Como. The 26-foot gozzo, a traditional Italian wooden boat, is called Red Snapper, after Margherita's favorite fish, and is a bit like Marchetti: luxurious yet modest. "It's quite small—nothing special, really," remarks Marchetti, as he points out the grand ­villas owned by neighbors, including Sir Richard Branson and Moncler's Remo Ruffini. Also nearby is an old lakeside silk factory, which he and Olsen are presently converting into a villa with generous gardens. Later, ­sitting outdoors and drinking a beer at a trattoria, he muses about the scope of his concerns, which proves so vast that it's hard for a listener to contemplate it all at once. There is a newly inked venture with a Dubai-based tycoon, to cater to high-end Middle Eastern shoppers. (The deal was struck, in true Marchetti fashion, via WhatsApp.) Over the past few months, rumors of a partnership with the Chinese giant Alibaba have peppered the business sections of the press and caused YNAP's stock price to rise. Marchetti recently signed a multiyear deal to sell Ferrari merchandise, and he dreams of offering the actual sports car online. There is a push to better understand and cater to the EIPs, or Extremely Important People, by sending consultants into their homes—either directly or digitally—to give advice and suggestions for purchases. Marchetti has established relationships with artists and influencers who appeal to YNAP's millennial buyers, and has developed charitable projects that burnish the company's image—together with his lifelong friend the artist Francesco Vezzoli, he launched a fundraiser to rebuild areas of Emilia-Romagna after the devastating earthquake in 2012. (Vezzoli says Marchetti is "a hero in the province.") He is also intent on hiring more women in YNAP's ever-expanding tech sector, and he recently teamed up with London's Imperial College to create a program known as Imperial Codelab, which offers free coding and computing classes to local children and teens, especially girls from underprivileged backgrounds. (The one thing Marchetti fails to mention is the Richemont buyout deal, which leaves him in place as CEO of YNAP.)
This evening, though, Marchetti is focused on an important standing appointment: reading a bedtime story to Margherita, back in Milan. The next day he is due in Turin at a meeting of Italian business leaders, hosted by John Elkann, the head of Fiat. Marchetti admires Fiat—one of Italy's most emblematic companies—because it started out locally and then went international, and also because it's where his father worked. During the drive, the conversation shifts once more to Marchetti's love of cinema. Recently, he produced his first short film, directed by and starring his friend the actor Stefano Accorsi; it won a prize at the 2014 Taormina festival. Three years ago, YNAP funded the restoration of the original print of his beloved Amarcord. His eyes get that laser look as he tries to explain what Fellini means to him. "Well, it is because he was from my region, and he was a dreamer—I am a Pisces, and although there is a part of my brain that is organized and lucid, there is a whole other part that is supercreative and dreamy. I'm always seen as the classic businessman, the man of results, superfocused. But the aesthetic and creative side usually goes unobserved. So, by definition, Fellini is an inspiration for me."
Marchetti believes that his life's project—the multiplicity of services and experiences, the enjoyment he is bringing to fashion lovers—has a kinship with Fellini's métier. "At the end of the day, it's all entertainment for the clients. I even invented—and trademarked—a name for what we are: 'entertailers.' That's entertainer and e-tailer together. That's what we do." He settles back in the seat, and for a minute the dreamer in him is clearly visible. "So," he adds, "in a certain way, even though back then they didn't hire me in America, every day I still feel a little like I'm working in cinema."