Rihanna's Latest Genderless Fenty Drop Lets The Clothes Do The Talking
The brand is keeping things business as usual, no tone-deaf promo necessary.
---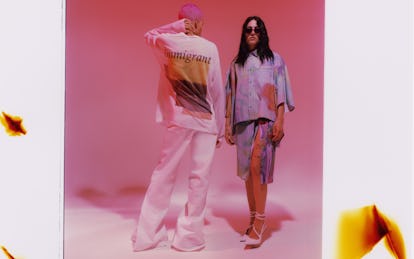 Lea Colombo, courtesy of Fenty
Rihanna just might be the only celebrity who could roll out a new collection amidst a pandemic and national uprising without seeming tone-deaf. This week brought the latest Fenty drop, which is only the first of a three-part series that will continue through mid-July. It's not so much the actual content of the drop as the way that they dropped it—especially when so many brands and celebrities are making missteps.
Rihanna's posts on her personal Instagram have been exclusively sociopolitical since the killing of George Floyd on May 25. At one point, she did mention Fenty—but only when pledging "we ain't buying shit!!! and we ain't selling shit neither!!" on #BlackOutTuesday, which Fenty observed by closing globally. From the look of it, Rihanna knows there are currently bigger fish to fry.
Fenty's official account managed to get #BlackOutTuesday right, too. "Fenty as a brand was created to elevate beauty, power, and freedom," its first post began, announcing donations to Movement for Black Lives and Color of Change. "At this very moment racists are attempting to rip those values away from black people and we will not stand by and let that happen. We are too powerful, creative, and resilient." Its follow-up post wasn't an apology, but a reminder that "this is not a day off … this is a day to #PullUp": "We are not staying silent and we are not standing by. The fight against racial inequality, injustice, and straight-up racism doesn't stop with financial donations and words of support."
In that context, the message behind Release 6-20—"celebrating the irrepressible creativity, hope, and spirit of youth"—isn't actually that corny. The press release doesn't really ring hollow, either. And when it mentions that "as with every release and especially now, Fenty celebrates freedom, diversity, unity and solidarity," it doesn't seem like a pat on the back.
Also of note: Fenty's explanation of how the drop's message ties into the collection doesn't seem like a stretch. The thigh-high hems, psychedelic prints, baggy rave silhouettes, grunge hoodies, form-fitting asymmetrical dresses, and other '90s subculture references are "inspired by decades of youth aesthetics and styles that emerged during periods of steep social change."
Naturally, youth also star in the first part's campaign. The South African photographer Lea Colombo shot the models Assa Baradji, Lilian Barru, and Daniel G, as well as the French musician Coucou Chloe, whose work has soundtracked several Fenty shows. (She's apparently the first of several artists and musicians to come.)
The casting is another reminder that it's just like Rihanna not to make a big deal. Fenty has never stressed the fact that its designs are genderless, which only helps to further normalize the idea.
Related: What Should We Expect From Rihanna's $25 Million Documentary?