Feud Episode 2 Recap: Joan vs. Bette Is Less Fun When It Is This Sexist
Can a woman really win this feud?
---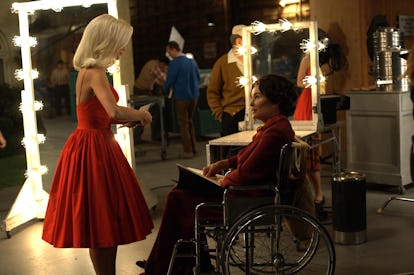 Copyright 2016, FX Networks. All rights reserved.
We're obsessed with figuring out whether Bette Davis or Joan Crawford will win this epic old Hollywood feud, but does that make us part of the problem? After opening the curtains on the duo's animus last episode, Ryan Murphy is now as interested in the specifics of this epic battle as he is in the implications. This week, he makes it clear that there is only one winner when the two of them square off: Men.
As Bette Davis is putting her cigarette out in the middle of the gold star on Joan Crawford's dressing room, the person who is really laughing all the way to the bank is Jack Warner. Not only did their rivalry allow Jack to get Joan to work for far less than she is worth—and to deliver better performances in movies that might have been duds—it also made Bette more manageable because it robbed her of some of her clout and power on the studio lot. Meanwhile, he is the one cashing all the checks from the box office receipts.
Jack profited off of their hatred in the '40s, and he's trying to do it again in the '60s, during the "Indian summer of their careers," as Hedda Hopper called it. The problem is they're getting along now. Joan is initially embarrassed when the young actress playing her next door neighbor in Whatever Happened to Baby Jane? comes over and asks for an autograph "for her grandmother." To make it even worse, this chippy is pulling the focus of all the men in the crew, which was Joan's role in her heyday. When Bob refuses to fire her, she goes to Bette to make her case.
And would you believe it—not only does Bette agree with Joan, she puts on a remarkable display to get this ingénue fired. "I'm going home sick," she tells Bob, even though she doesn't look ill. "This makes me want to vomit!" she shouts about this young starlet receiving better treatment. Bob has to agree to let her go; Joan and Bette walk across the set triumphant, even as they are two actresses whose careers are in survival mode.
But Jack thinks the scintillating footage from the Baby Jane set is a result of these two hating each other so much, so he tells Bob that he needs to get them at each other's throats again. Bob doesn't want to—it seems cruel—but his need to reassert his own power over the movie wins in the end. He goes to Hedda Hopper and spills some dirt candy about Joan's fake boobs, and how Bette is afraid she's going to fall into them and chip a tooth. (I mean, really?)
Back on the set, Bette denies her part in spreading the rumor. "Who gives a shit, Lucille," she says to Joan, referring to her by her real name again. "Everyone knows you pad your bra. You've been doing it for years." Of course if they could just let it go, but Joan takes the bait, as she was meant to do all along. She goes on the record with Hedda's rival Louella Parsons (another rivalry in need of its own Feud season) and says that Bette looks as old as her grandmother. "One look at her face and you'd think she hasn't had a happy day or night in her life," Joan says. Bette is pissed, but at least has the spine to confront Joan face-to-face in her dressing room. She tells Joan to own up to what she did and knock it off because she can't tolerate Joan "taking a shit of sunshine and moonbeams and whatever else comes flying out of your ass."
Here is one the most interesting things about Feud so far. Both of the characters are set up to face the same obstacles: fading beauty in an industry that demands it; the insecurity of not having a true romantic partner; and a sense of self-worth that is way too predicated on public adoration. However, each tackles these issues in opposite ways.
When Joan is challenged by others, she tries to smother them with offerings, including daily gifts to Bette and attempting to seduce Bob, which is how she's always won power over men. Sadly, it no longer really works. She just wants everyone to love her.
Bette, on the other hand, wants everyone to respect her—or, if they don't, to be afraid of her. Her defense mechanism is to get mean, lashing out with temper tantrums and harsh words. Neither of these methods is necessarily effective, but it sure makes Bette a lot more fun to watch as she delivers zinger after zinger at "Lucille's" expense. However, Bette also uses her own vulnerability. Where Joan tries to bed Bob, Bette tries to get him to coach her performance because she's suddenly unsure as an actress. (He literally controls her movements through "I've Written a Letter to Daddy.") Later, she calls him after a row with her daughter BD and ends up seducing him without much effort at all.
However, Bette's victory isn't just at Joan's expense, it's at Bob's wife Harriett's (Molly Price), as well. Even though Harriet fought for Bob to keep the Joan and Bette together, she end up the victim of their damaged egos, lying awake at night with her husband in Bette's bed.
Indeed, each triumph of female solidarity comes at another woman's expense. It is throwing a younger actress off the movie that cements Joan and Bette's relationship. When Hedda is pissed that Joan gave an exclusive to Louella, they form an alliance in order to get Joan another Oscar—and Hedda a whole bunch of exclusives. This happens only because they can sacrifice Bette. As Joan Blondell (Kathy Bates) says in her interview, "Women will do what they always do when cornered. Eat their own, and then pick their teeth with the bones."
Where women lose in this vicious rivalry, men profit. As Jack Warner put it to Bob: "It's the open market. It's vigorous competition. The more they despise each other, the more each one tries to crush the other one, the greater they get." In the end, is the greater ill in Hollywood sexism, or is it capitalism?
The Scorecard, Episode 2:
Joan:
Is her new costar's grandmother's favorite star: -3
The director won't fire the hot new ingenue: -3
Teams up with Bette to achieve her goals: +5
Won an Oscar for a role Bette turned down: +10
Takes the bait in the tabloid war: -6
Louella Parsons prints her sassy line about Bette: +2
Has Mamacita relay the gossip about Bette getting close to Bob: +2
Fails at seducing Bob: -2
Kicks out her hot daddy piece Peter, which is crazy: -2
This week's total: +3
Tally from last week: +17
Feud total: +20
Bette:
Throws an amazing hissy fit on set to get the new girl fired: +6
Laughs off the tabloid attack on Joan: +3
Tells Sylvia to f— off in the parking lot: 0 (but boy was it amazing)
Confronts Joan rather than retaliating behind her back: +3
Does it by telling Joan she's going to steal the picture from under her: -1
Is upstaged by her own daughter on her set: -2
Relationship with her daughter is souring: -1
Has a big fat gay love interest: -1
Is becoming a real life Margo Channing: -2
But got to play Margo Channing in one of the best movies of all time in the first place: +3
Seduces her director after Joan fails: +4
This week's total: +12
Tally from last week: +16
Feud total: +28
Round 2 Winner: The Patriarchy (ugh)
Hollywood's Juiciest On-Set Feuds, from Dustin Hoffman vs. Meryl Streep to Sarah Jessica Parker vs. Kim Cattrall
Dustin Hoffman reportedly took up method acting just in time for Kramer vs. Kramer, Robert Benton's 1979 film that saw Hoffman star opposite Meryl Streep. That meant, when it came time for the pair to fight, he actually punched Streep while filming—and took it upon himself to get her appropriately riled up for her performance by teasing her about her boyfriend's lung cancer diagnosis and later death.

Columbia Pictures/Getty Images
The Icelandic enigma that is Björk made it more than clear than she could act by stealing the show—even from Catherine Deneuve—with her performance as a struggling factory worker saving up for her son's eye operation in Lars Von Trier's 2000, Palme d'Or-winning film, Dancer in the Dark. Still, even though she took home the Best Actress award from the Cannes Film Festival, Björk hasn't acted since: her experience on-set with von Trier was so fraught that she vowed to never make another movie—even though it was actually Björk, according to the director, who missed their first meeting because she had to jet off to a Greek island and took up greeting him by spitting on the ground.

Pool BENAINOUS/DUCLOS
Though Cameron Diaz, Drew Barrymore, and Lucy Liu all seemed to get along just fine on the set of 2000's Charlie's Angels, Bill Murray took it upon himself to liven things up mid-scene by reportedly turning to Liu and telling the actress she couldn't act. Liu, for her part, stayed in character by throwing Murray a punch—and came out on top by landing a role in the sequel, which Murray definitely did not.

Archive Photos/Getty Images
Not many would characterize Bruce Willis as an "emo b—h," but that's exactly how the director Kevin Smith described Willis after working with the actor on his 2010 buddy cop film Cop Out, which also starred Tracy Morgan. The experience, according to Smith, was both "soul-crushing" and "terrifying," thanks to Willis's intimidating demeanor and diva-like preference for the real movie-star treatment.

Abbot Genser, © 2010 Warner Bros. Entertainment, Inc.
Decades before Faye Dunaway added a heavy dose of drama to this year's Academy Awards, the actress starred in Chinatown and reportedly got so heated with Roman Polanski, who allegedly pulled a hair out of her head that was getting in the way of his shot, that she threw a cup of urine at him when he wouldn't let her pause to pee.

© Paramount Pictures
George Clooney and David O. Russell apparently got so heated shooting Russell's 1999 film Three Kings that the pair got into a physical fight. Russell, apparently, was not taking well to a cutback in the film's budget, and in the final days of shooting, threw an extra—and, later, Clooney—to the ground in a supposed demonstration. Four years later, in 2003, Russell was still holding a grudge: for a comment on the actor for a Vanity Fair profile, the director offered up, "George Clooney can suck my dick."

Getty Images
Jake Gyllenhaal's role as a political cartoonist plagued by letters from a serial killer in David Fincher's 2007 film Zodiac required quite a bit of vetting: Fincher initially met up with Gyllenhaal, whom he'd taken a liking to from Donnie Darko, and recorded his mannerisms before offering the actor the part. Once cast, though, filming was still hardly a breeze for Gyllenhaal: he'd repeatedly act out scenes for Fincher, only to hear the director call for the last 10 takes to be deleted immediately and everything to start again—an offense Gyllenhaal unabashedly recounted to the New York Times.

Tony Barson Archive/Getty Images
In 1991, Julia Roberts reportedly landed herself the nickname "Tinkerhell" thanks to her role as Tinkerbell in Steven Spielberg's Hook, a live-action version of Peter Pan. "It was an unfortunate time for us to work together," Spielberg later said of the experience on 60 Minutes. (Roberts had just broken off her engagement with Kiefer Sutherland a few days before.)

Getty Images
"Once and for all, what's my opinion on Jamie Foxx?/He pussy/Pussy ain't funny as Chris Rock," a line in LL Cool J's 2000 song "U Can't F–k With Me," is just as explicit of a call-out as it sounds. The pair took their fight scene in Oliver Stone's 1999 football film Any Given Sunday a little too literally, getting so physical that the crew eventually called the police.

Getty Images
George Clooney is hardly the only actor with whom David O. Russell's lost his cool. Before the director made Amy Adams cry on the set of American Hustle, but three years after his 2004 film I Heart Huckabees already came out, footage emerged of Russell calling Lily Tomlin, one of its stars, a "b—h" and a "c–t" and sending things flying behind the scenes. Tomlin later acknowledged the director was under pressure, while Russell made sure to tell the New York Times that the pair "love each other" in 2013.

Jason LaVeris/Getty Images
Though they were the best of friends on Golden Girls, Betty White and Bea Arthur didn't exactly vibe off-screen. Arthur reportedly called White a "c–t" when she was receiving a lifetime achievement award, and wasn't too pleased that White was the first of the show's four actresses to win an Emmy (an award they'd all eventually end up with).

Desiree Navarro/Getty Images
It took a dozen years, but Sarah Jessica Parker and Kim Cattrall's reported difficulties with each other when filming Sex and the City hit a peak when the pair was filming the series's film sequels, which only magnified their dispute over unequal salaries. Not that they've brought any of it out into the open: Parker, for one, has made public peace offerings in the way of well-wishing Instagrams.

Kevin Mazur/Getty Images
Infamous Hollywood Feuds: