Fifth Harmony Announced They Are Taking a Break To Focus on "Solo Endeavors"
The group made the announcement on Instagram.
---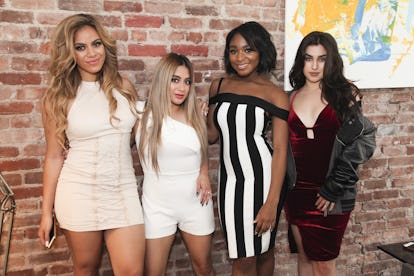 Getty Images
Fifth Harmony is officially following in Camila Cabello's footsteps, just as fans suspected. On Monday, the group announced on Instagram that they would be going on an indefinite hiatus so that individual members can pursue their solo careers. They kicked off their post with a huge shout-out to their fans. "Reflecting on the past six years since we started on X-Factor, we've realized just how far we've come and we appreciate everything so much, more now than ever," they began. "We've really had one hell of a memorable journey together and can't begin to express our gratitude to y'all for coming along with us on this wild ride!"
"After six years going hard, non stop, we also realized that in order to stay authentic ourselves and to you, we do need to take some time for now to go on a hiatus from Fifth Harmony in order to pursue solo endeavors," the note continued. "We are all very excited and grateful to be able to take this time to learn and grow creatively and really find our footing as individuals. In doing this we are allowing ourselves to gain new experiences, strengths and perspectives we can bring back to our Fifth Harmony family."
After thanking their fans once again, the group then clarified that they would finish performing in upcoming shows as planned.
The announcement comes around a month after fans first began speculating about a possible break-up. In February, rumors of an impending split began to circulate after fans noticed all three shows on Fifth Harmony's 2018 Australian Tour had been canceled. The day after, group member Normani Kordei released her first solo single, further fueling the rumors.
According to Fifth Harmony's website, the group has three more shows planned in May for Hollywood, Florida, San Juan, Puerto Rico, and Reykjavik, Iceland. It is unclear whether those will be the last Fifth Harmony shows before the hiatus.
Related: Camila Cabello Performed "Havana" Dressed as Marilyn Monroe at the 2018 iHeartRadio Music Awards