Watch the Full Fifty Shades Freed Trailer
Wedding bells for Ana and Christian.
---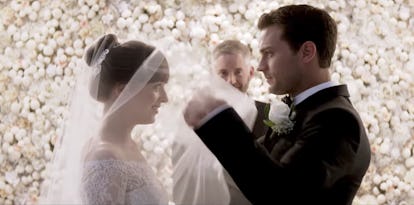 FiftyShades/Youtube
The climax of the Fifty Shades trilogy is almost here: The trailer for the last film of the series, Fifty Shades Freed, was released Monday, and it's equal parts steamy, sweet, and scary. The official trailer shows Christian Grey (Jamie Dornan) and Anastasia Steel (Dakota Johnson) exchanging vows in their long-awaited wedding ceremony—complete with a flower wall à la Kim Kardashian and Kanye West's nuptials. The wedding is just the beginning of the drama-packed last installment. Arielle Kebbel makes her debut as an architect lusting after the now-off-the-market Christian Grey (whom Ana shoots down with, "You may call me Mrs. Grey"); Jack Hyde (Eric Johnson) is back and still pining after Ana; and, of course, the Red Room makes it's triumphant return.
Fans previously got a glimpse at the third installment in May, but the extended trailer gives many glimpses into the couple's not-so-blissful foray into matrimony. (A nice juxtaposition to their lust-worthy European honeymoon.) Among the additional thrilling tidbits revealed in the trailer: Christian throwing punches, Ana getting a gun, a high-speed chase, and a new home for the couple.
For those who just can't wait until Valentine's Day for the next dose of Mr. and Mrs. Grey (and don't want to say goodbye to the blush-inducing series), author E.L. James has a cure: The second sequel from the male lead's point of view, Darker: Fifty Shades Darker as Told by Christian, will be in stores on November 28.
Watch the trailer for Fifty Shades Freed—which hits theaters on February 9—below. And, be warned, it's rightfully NSFW.
Related: Dakota Johnson Reveals Her Tips for Buying Lingerie
See What's Trending in W Video: